Ah, high school. The place where fun, embarrassing and awkward memories collide.
Even with due date approaching and an insistence on not attending, Jane arrived at her high school reunion ready to tell everyone about her life on Jane the Virgin Season 1 Episode 21.
Below, TV Fanatics Terri Clark, Amanda Steinmetz, and Mary Kate Venedam discuss thoughts on their own high school reunions, Petra's return to bad ways and Xo's romantic interference.
Ready? Let's begin.
Were you happy Jane changed her mind on the custody agreement?
Terri: Yes, most definitely. I didn't want the heavy negativity that would've brought to the show, plus I'm still hoping Jane and Rafael will work things out.
Amanda: I'm glad she did. It would have been unnecessary drama, and she mostly did it out of anger to begin with.
Mary Kate: Yes. Jane certainly got frustrated with Rafael about the breakup and knew this would hurt him the most. Not the best tactic, but at least she realized it before she went too far.
Will you/did you attend your own high school reunion?
Terri: I actually missed my one and only high school reunion, but I'd absolutely attend. It would be nice to catch up with people in person.
Amanda: Hahaha no! I will not be attending my high school reunion. I wanted nothing more than to graduate and never go back. Don't get me wrong, I had some nice memories, but not enough to make me want to go. Besides, you see everyone's entire lives on social media now. I already know who's gotten married and had kids.
Mary Kate: I'm not sure. Part of me says yes, the other, not so much. I was so happy to leave high school and move on, but there are those times when I wouldn't mind revisiting. I just hit five years, but who knows how I'll feel at say 10 years.
Do you think it was a good idea for Xo to intercept Rafael's call to Jane?
Terri: I didn't think it was a big deal. She afforded them some privacy in the moment, but it's not like she is playing continual interference or anything. That would be a problem. And knowing she has a soft spot for Michael she could start to do that, but hopefully not.
Amanda: Probably not in the long run, but I understand why Xo did it. She has always preferred Jane to be with Michael, and she saw her daughter smiling with him.
Mary Kate: No. Even though Xo is looking out for Jane, she should let Jane make her own decisions romantically, even though she obviously prefers Michael.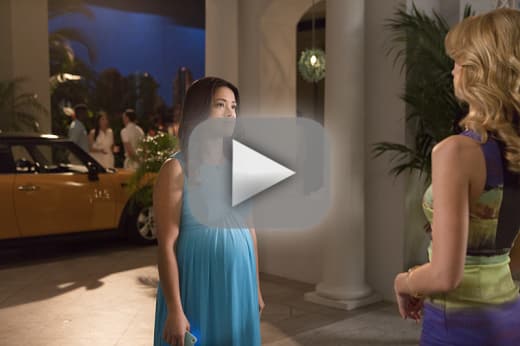 With Petra's mom out of the picture, can she finally break free of the bad influence?
Terri: I don't think so. Petra is who she is. She's always going to look out for herself first and foremost. I do think she has a heart and can be soft at times, but her upbringing has ingrained her with a certain selfishness and I don't see that changing.
Amanda: Petra is back to her scheming ways, and it makes me sad. Her mom may be out of the way, but Petra is still trying to get Rafael back by manipulating Jane. At least Jane became aware of how the mean girl's mind worked and used it to her advantage.
Mary Kate: I think her mother's return just re-ignited the bad decisions she made at the beginning of the season. Petra wants Rafael back and it seems she'll do anything to win him back even if that means causing trouble with Jane.
Any last predictions for the season finale?
Terri: We'll see a happy, healthy baby and then I think both men will profess their love and Jane will need to take a step back to just be a mom and figure out her love life later. I think Xo and Rogelio will start working their way back together, but I'm hoping it'll be Alba who we'll see happily in love. I can't imagine what the bombshell will be, but I look forward to it! Maybe the baby isn't Rafael's.
Amanda: The baby will definitely be born. I predict Jane will either get back together with Michael or be single by the end of the episode. Xo and Rogelio will reconcile. Some major bombshell will be dropped in the final few minutes.
Mary Kate: I'm excited for baby Villanueva-Solano to join this crazy, fun group of people. Other than that I have a feeling Rogelio and Xo will come to their senses and decide they really want to be together. I think it could go either way with who Jane is with (if anyone). I'm interested to learn what this bombshell is that will be revealed.
What was your favorite moment/quote in the episode?
Terri: I really liked the Jane using the mean girl mentality on Petra and that Rafael went along with it.
Amanda: Even though I wasn't crazy about the reunion scenes, I loved Jane's nametag speaking as her inner monologue.
Mary Kate: I thought the nametag bit was great. It was so funny to see and hear what Jane really thought about being at her reunion. Rogelio's fear of heights was also another fun part of the episode.
Mary Kate Venedam is a staff writer for TV Fanatic. Follow her on Twitter and on Google+.