Chicago PD Season 2 Episode 23 Review: Push the Pain Away
Paul Dailly at . Updated at .
What is the right way to deal with the death of a loved one?
That sentiment echoed through Chicago PD Season 2 Episode 23 as Lindsay continued her descent into her old ways and the case involved a family avenging the death of a loved one.
Yes, there were some clear contrasts between both different ways shown to us this evening. Let's start with Lindsay. I knew there was a very high possibility of her returning to her old life in the wake of Nadia's death. She continues to blame herself for the death and that's why she is letting herself down.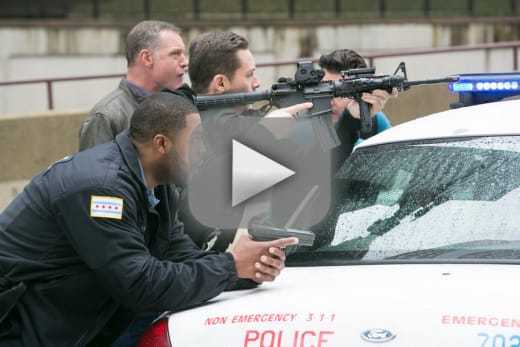 Much of the hour comprised of her trying to solve the case, but you can tell from her body language that she SO OVER IT. She doesn't care what happens to her. Just look at the scene in which she is scouring for the suspects. She barely bats an eyelid at corners and is inevitably captured by Nick.
She then proceeds to tell him to shoot her while trying to get him to lower the gun.
Would she really have bothered if she took a bullet? I'm not so sure. If you thought her day couldn't get any more worse, then you are sadly mistaken. Enter Landon, a kid from her past who just so happens to be into drugs and sleeping with people he hasn't seen for years.
Yes, Lindsay went the whole nine yards with him and there was drugs on the table to prove it. I'm going to assume she took them. I don't see why she would let them lie on the table staring her in the face if she didn't plan on taking them.
How will Halstead deal with this reckless version of his former flame? I have no idea and it has me intrigued for the season finale. There are a lot of different ways this story can go and I hope Lindsay gets the help she so desperately requires or she might not make it to next season.
Back to the case of the week. It was perhaps one of the most confusing yet. A family was on a killing spree because one of their own was killed by the toxic waste that Lancaster Chemical put into the water. This whole plot seemed rather forced.
Sure, things like this have happened in the past, but you don't hear of it anywhere near as much as you used to.
I did like that it showed us that the family was doing these killings for a reason. Case in point, Nick. There was no way he was pulling that trigger as much as Lindsay wanted him to. He was genuinely concerned for the chick at the beginning of the hour and it sort of humanized his character.
Owen: You don't know a damn thing.
Voight: Well tell me.
The head of the company was vile. After everything his company has done, he thinks he can get away with killing innocent people and then asks Voight to help him form a united front at a press conference.
Although I am very skeptical of some of Voight's tactics when it comes to dealing with criminals, I would have had no compunction with him hitting the guy at least once.
The day I stand next to you is the day I walk you into a cell.

Voight
Meanwhile, Burgess' first day on the job started badly when she couldn't get upstairs and Platt wasn't willing to help her out. Platt loves a good joke every once in a while, so it didn't surprise me that Burgess had trouble getting upstairs.
Burgess liked the job and told Ruzek she didn't want to go back to the beat, but her boyfriend had some harsh words for her when he told her that Atwater will be returning as soon as he is cleared. In other words, he's telling her not to get too comfy.
Will Burgess be able to return to her old job, or will she fight to stay in Intelligence? I can't wait to see how this all plays out.
"Push The Pain Away" was another solid episode of this NBC drama. With the finale next week, there is sure to be a lot going on, so it will be a must watch installment.
Remember you can watch Chicago PD online, right here on TV Fanatic. Get caught up now!
Note: Chicago PD Season 2 Episode 24 airs Wednesday May 20 at 10/9c on NBC.
Paul Dailly is the Associate Editor for TV Fanatic. Follow him on Twitter.