Chicago PD Season 2 Episode 22 Review: There's My Girl
Paul Dailly at . Updated at .
Well, that was another tearjerker.
Chicago PD Season 2 Episode 22 found the team trying to move on in the aftermath of Nadia's death, and damn, it was difficult to watch. It really was nice to have a character like Nadia who had a connection with so many different characters. Lindsay was throwing herself into the deep end with work to take her mind off of it, but by the end of the hour, we knew that Lindsay blamed herself.
I really can't blame her. It is surely the stages of grief that any normal person would go through. Nadia could have been days away from overdosing if Lindsay didn't save her. Although Nadia died a premature death, at least she was striving to make a change in her life and it's just unfortunate how it was cut short. I'm betting I'm not the only one to struggle with the opening scene which showed us her death again.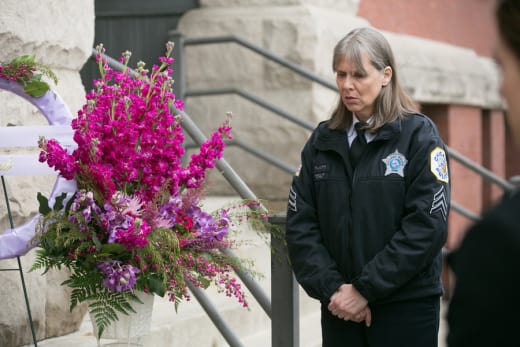 I think tonight was the first time I've seen Platt cry. The character had to let her guard down this week because of how stunned she was. She forged a fantastic relationship with Nadia over both seasons of the show, so we knew it would affect her badly knowing that Nadia is gone. I especially liked the way she was persistent with George about the memorial.
The guy wasn't the nicest and didn't appear to show his compassion for the job. It was a little obvious that Voight would intervene because he always gets results. Just look at the way he owned the villain of the week.
He's a heartless bastard.

Platt
The villain had me fooled. We knew him as Mason, but he had more than one identity and it honestly floored me. The graphic scenes of the aftermath of the bomb were disgusting and I felt bad for him when he was on the lookout for his wife. I love that we get to see so many different types of cases on this show. It's not just murder, but bombs, which I wouldn't have expected. Maybe on Chicago Fire, but not here.
Does anyone else feel like Atwater has barely been on the show this season? His days may be numbered at the PD after leaving his empty can of juice in the interview room. Obviously, it was an easy mistake, but it was a fatal one. It'll be interesting to see what it will be like with him and Burgess swapping jobs. I felt bad that Burgess felt the need to try and explain herself to him. He was the one that set all of this in motion when he took that BIG risk.
How will Roman react to swapping partners? He was annoying when he first joined the squad and the only decent thing about his character is his friendship with Burgess. I just don't see him and Atwater being all that friendly.
"There's My Girl" was another solid episode of this NBC drama. I can't help but wonder how the show will conclude Chicago PD Season 2.
Remember you can watch Chicago PD online, right here on TV Fanatic. Get caught up now.
Note: Chicago PD Season 2 Episode 23 airs Wednesday May 13 at 10/9C on NBC.
What did you think of the episode? What's next for Lindsay? Will she head down a dark path?
Paul Dailly is the Associate Editor for TV Fanatic. Follow him on Twitter.