Castle Season 7 Episode 23 Review: Hollander's Woods

Christine Orlando at . Updated at .
This season finale may have had one of the shortest opening scenes but it was also one of the scariest as Castle Season 7 Episode 23 had us running with the terrorized victim into the path of an oncoming truck.
As shocking as her actual death was, it was the figure chasing her that turned out to be the true horror story and it had haunted Rick Castle since he was 11 years old. 
I've been waiting to hear this story since Castle Season 2 Episode 6 "Vampire Weekend" when Castle pretended to tell Beckett the story of why he writes about murder, then turned it into a joke.
There was obviously so much he was hiding under the surface and we've had to wait over five seasons to find out what it was. 
I'm driven to figure out the story because I could never figure out that one.

Rick Castle
There was a lot going on in this episode. Martha was headed to a friend's father's funeral and hoping to snag a rent controlled loft in Chelsea. I got a kick out of that because it's a very New York thing to do. I'm also secretly happy that Martha is still at the loft as I'm in no hurry to see her leave. 
Castle had giant photos of his big head ready to be displayed for his Poe's Pen career achievement award, but we'll get back to the ceremony a bit later. First, let's get to the dead body.
What struck me most about Rick remembering the events in Hollander's Woods was the look of terror on Kate's face as he described that frightening mask as though it had been burnt into his brain. In some ways I suppose it had. 
Castle had spent so many years of his life trying to prove that memory to be true that when there was no evidence, he began to wonder if it had never happened at all. I can't even imagine the shock of having it suddenly come to life before him. 
When the investigation led them to Connie Lewis' home, I immediately thought of Norman Bates. Turns out I wasn't far off and all of those creepy dolls might just end up giving me nightmares. Like Castle, I doubted that Noah was the killer, but when Rick recognized the doctor's voice, I knew there wouldn't be much to go on. 
Beckett had Castle's back every step of the way, even when he thought she didn't. She never gave up on his theory, but she recognized that his memory wasn't going to be enough to catch the killer, so she dug deeper and found the barn. 
The barn, the mask, the dolls, and the photos all created a truly creepy scene. As Castle ended up with the knife to his throat, I had no idea how he'd save himself or how Beckett would come to his rescue. Handing him the gun underneath the door was brilliant. Watching the mask shatter was the perfect ending to the story. 
Beckett had her own issues to deal with as she was called in for a mysterious meeting at One Police Plaza. This was the part of the story I didn't like. First off, I find it far-fetched that the powers-that-be (whomever they actually were since it was never specified) would focus on a detective for senator, but this is TV so I'm willing to let go of my incredulity. 
Secondly, I hate the idea of Kate Beckett going into politics. It involves too much of the murky grey area she disliked so much when working as an investigator for the Attorney General. I just don't see Beckett being happy as a politician and I despise the idea of her dragging her entire family into that world with her. I want to see Castle and Beckett continue to find their happy ending, but this feels like they'd be heading in the opposite direction. 
The one upside of this plot point was how Kate defended her relationship with her husband in this Castle quote…
I'm proud to have been his inspiration and I am proud to be his wife.

Kate Beckett
Finally, there was Castle's award ceremony. It was wonderful to see Michael Connelly once again, even though it made me long for those poker games that included Stephen J. Cannell before his passing.
Castle's speech was perfect. His mother will always be his star, Alexis, his amazing daughter and the two are his red-headed pillars of unconditional love. He thanked Ryan and Esposito for letting him be a part of their team at the 12th and embracing him as their brother in arms. And most of all there was Kate Beckett. 
Seven years ago she walked through his door and changed his world at a time when he never thought he'd write again. When she said he had no idea, she was right, but now he does and always will. 
This season finale was written and filmed before they knew whether the show would be renewed and I'm thankful they ended it with the focus on camaraderie, family and love. However, I'm even more thrilled to see how the story continues in the fall with Castle Season 8!
Check back in later in the week for our Castle round table, season finale edition, and if you're already missing your favorite show, you can watch Castle online here at TV Fanatic.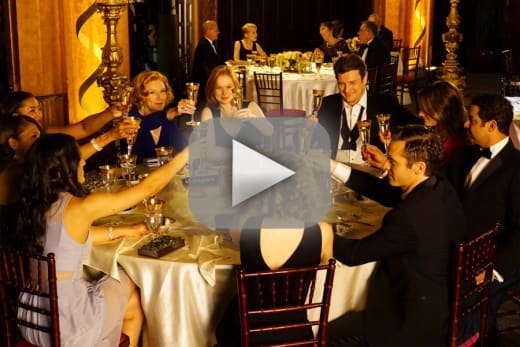 C. Orlando is a TV Fanatic Staff Writer. Follow her on Twitter.