Bitten Season 2 Episode 5 Review: Rabbit Hole

Carissa Pavlica at . Updated at .
There is no doubt Dr. Sandra Bauer was one freaky chick, but did you expect her to wear out her welcome so soon?
It was really surprising that the weird doctor made it the entire was through her first change in Bitten Season 2 Episode 5 only to go nuts. Well, more nuts than she already was, and have to be put down.
What the heck? I guess there's more to the process than surviving the physical aspect of it. For a few hours, anyway, Elena wasn't the only female werewolf in existence.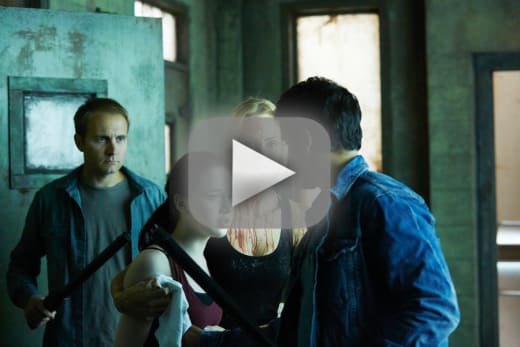 You have to wonder why so much time was wasted getting to know her during the hour only to have Aleister give her what she wanted so badly, the ultimate pain explosion. Maybe the blood crown didn't kill her? 
Before I drop her as a subject matter and move on, considering how much she loved, loved, loved pain...isn't it odd that she screamed in holy terror when she was in agony? I would have expected more of a sensuous cry or something. Oh well. Until we see her again, she's off the table. 
Jeremy and Ruth continued their journey to discover what was up with the male witch which led them to an old friend of Ruth's who was, apparently, supposed to take care of a little problem Ruth had back in the day.
I like how the stories overlapped because now we have to wonder how the whole thing played out in the first place. Paige told Nick and Clay male witches never make it to birth, which means Ruth should have aborted a male son. We have no idea what's going on with the story other than that he was born, but that will be an interesting one. 
Somehow allowing a male witch to be born unwittingly sets about the very demise of their species and with it the werewolves, who are only in existence because of dark magic. Honestly, the guys took their rewritten history pretty well, didn't they? I guess it's because things are so crazy that they just don't have time to worry about that right now. Surely they'll care later down the road.
Elena got through to Clay and it was once again really cool how Paige's voice inflected completely different while channeling Elena. That has to be one of my favorite things in  while. Way to go Tommie-Amber Pirie for continuing to wow me! 
Speaking of wow moments, Paige and Nick going at it in the woods was a nice one, wasn't it? And how funny was the look on his face when he pretended he hadn't done any research on Ginger rushing along love affairs. He's so darn cute.
It's a little disheartening that Aleister managed to make Savannah into a killer already because she's going to have a lot to overcome when she's freed (we don't think he's going to win, do we?). 
The gang is going to try a rescue attempt and none too soon since Aleister just discovered the right formula to inject to complete his undoing. Honestly, I just don't have any faith in him. He picks the worst people to work with him and the others he has to brainwash. Poor Rachel. 
I'm betting on the good guys.What about you?
Don't forget, you can watch Bitten online via TV Fanatic to catch up if you've fallen behind!!
Carissa Pavlica is the managing editor and a staff writer and critic for TV Fanatic. She's a member of the Critic's Choice Association, enjoys mentoring writers, cats, and passionately discussing the nuances of television and film. Follow her on Twitter and email her here at TV Fanatic.