Aquarius Preview: Claire Holt on Battling Charles Manson, 1960s Fashion & More
Jim Halterman at . Updated at .
She's spent some time in Rosewood on Pretty Little Liars and, of course, she's made us swoon as Rebekah on The Vampire Diaries and its spinoff, The Originals.
But Claire Holt is now  going to the 1960s.
On the new NBC series, Aquarius, the Brit is playing an American cop trying to make her mark in during a time when women were not respected as police officers.
However, on the plus side, as the actress told us recently, working on a show set in another era means cool outfits, make up and hair... as well as working alongside co-stars David Duchovny, Grey Damon and, as Charles Manson, actor Gethin Anthony.
What challenges did Holt face in this new role in a new genre? Let's see what she had to say about the new series, which premieres tonight on NBC...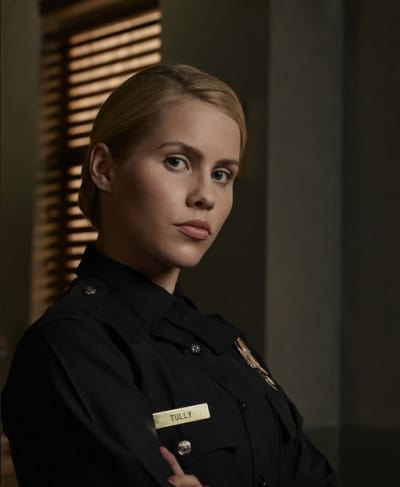 TV Fanatic: I know Charles Manson, of course, is a real person but what about your character in the show?
Claire Holt:  It's based off of a real woman but I think what John McNamara, the showrunner, is trying to do in the show is fantastic. Even Charles Manson, he's not trying to make historical non-fiction so every part of it is enhanced or developed in a way that is right for the show and so I think the plot and the characters are generally based off of someone. We've taken liberty here and there with the characters as well.
TVF: Charmain is innocent in a lot of ways so was that a challenge for you to play? Obviously, Rebekah is very self-assured and very in control.
CH:  You know it was really appealing to me because it was so different than anything I've played before. I think what's nice about Charmain and what's inspiring about Charmain is while she is naïve and while she's really in what really is a man's world, she's driven and she wants to do good and she wants to make a difference in the police world. She doesn't see her gender as limiting in any way, in terms of her brain capacity or her ability to do the brief like the men do and so that's what I really like.
I think it's also very interesting to play a character in a time when women had no rights and they weren't able to just work their way to the top and it was eye opening for me and definitely difficult and it showed really how far we have come but also we have a really long way to go.
TVF: I noticed in one scene you're basically helping with the case but then the next one they're asking you to get coffee and that sort of thing.
CH:  Right and I can only imagine how frustrating that would have been for a woman as bright as Charmain and as determined as Charmain to have to do the filing and make the coffee and really accept the fact that she doesn't have a say and she has to do what she's told.
TVF: Do we get any backstory into what drives her to be a good cop and get involved more?
CH:   No, we really don't learn too much about her backstory and that's something that I've discussed with John in the sense that should we be lucky enough to get future episodes hopefully we'll delve more into that. But I think she just has a really strong spirit and a fine spirit. She wants to do good and she sees that Shafe (Grey Damon's character) is somewhat on that path to the best of his abilities and I think she's quite inspired by that, and she looks up to him in that sense.
TVF: How was it just wearing some of the outfits? Outside of the cop uniform you also get to dress up and you get this great 60s hair at times.
CH: It was so fun, oh my gosh. I never had worn those types of clothes before, of course, because I wasn't born in the '60s. It was really great to immerse myself in them and it really helps you get into character as well but I loved some of those high-waist pants and the little tops. All of the costumes and all the hair and makeup on the show are so amazing. We have such talented designers and so it was easy to really reference that time period.
TVF: Did you get into the music of that era at all? It's definitely a part of the show as you watch the episodes.
CH: For sure. Yeah. It was something that I wasn't too familiar with. I was familiar with some of the music from the late '60s but not a lot. I definitely tried to listen and, of course, music was really important to Charles Manson so that's a huge part of the story.
TVF: Was there a challenge for you to be in this kind of cop genre? You've been in the vampire/wolf genre for such a long time.
CH:  The entire style of the show is so different from the acting to the writing to the camera shots. I wouldn't call it difficult. It was different and it was exciting to me because as actors we're creative beings and we like change and we like all different things so it was really nice to be able to venture down a new path. 
Aquarius Season 1 Episode 1 and Aquarius Season 1 Episode 2 both air on NBC tonight, starting at 9/8c.
Jim Halterman is the West Coast Editor of TV Fanatic and the owner of JimHalterman.com. Follow him on Twitter.