Vikings Season 3 Episode 8 Review: To The Gates!

Henry A. Otero at . Updated at .
This week's Siege of Paris was easily the most ambitious battle we've ever seen on Vikings.
Though Ragnar's forces demonstrated a tremendous amount of ingenuity, the Frankish Empire's defenses ultimately won out on Vikings Season 3 Episode 8.
Despite the massive scale and CGI work, it was the fate of our characters that mattered most.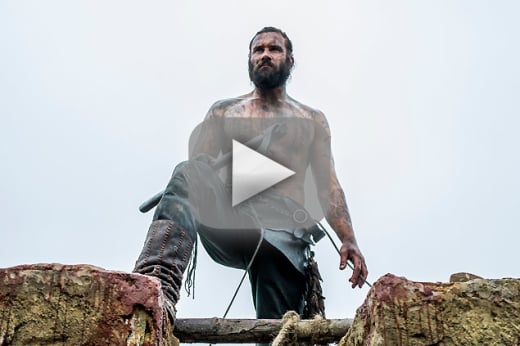 I'd like to start by pointing out that the music in this installment was phenomenal. Not that the score hasn't been powerful or impressive in the past, mind you. It's just that with so much of the attack on Paris not having dialogue, the music was front and center here. It very much helped set the tone for the rest of the episode.
For a modestly budgeted series, the shots of the ships and Floki's towers approaching Paris were comparable to anything on Game of Thrones. Yes, that wide-shot of the attack was obviously CGI, but it looked pretty damn good.
Since Athelstan's murder, we've been wondering if Ragnar had an idea who was responsible. I loved the way he watched Floki again this week and his excitement as Floki's fear crept through.
Lagertha's attack on the gates with the battering ram was intense. It was clever that they had cover, right?
They arrive! Prepare yourselves. We will be victorious.

Count Odo
There was a raw energy to this battle and the shaky camera work made you feel like you were there in the thick of things. I think too many times, battle scenes tend to be far too rehearsed (or CG), leaving the audience disconnected in a way. That wasn't the case here. I felt like I was living this event, even wanting to duck the arrows.
Speaking of disconnected, while Rollo, Bjorn and Floki led the charge, Ragnar remained curiously removed from it all. Of course, we now understand he set Floki up to fail. Also, he jumped in when Bjorn needed him but was able to enjoy his son proving himself a leader.
Inside the city, the Emperor hid behind a creepy mask and we learned his daughter, Princess Gisla, was the one wearing the pants in that family. She single-handedly reinvigorated their troops, yet Daddy dearest took the credit later. Politicians never change, do they?
Soldiers show no mercy. Fight on. Fight to the death.

Princess Gisla
When Count Odo said "Prepare the oil," it was clear the tide had turned. I was glad to see Kalf take over and prove himself by bringing those gates down. He also saved Lagertha's life, so I'm forever grateful to the slimy usurper. Hey, she rewarded him, right? She was also pretty straight forward about how things between them would end. Do you think she'll kill Kalf eventually?
That scalding oil hurt, didn't it? Watching Floki cower inside that burning tower, I couldn't help feeling relieved his time had come. Gustaf Skarsgård has done an amazing job this season and though most of us despise Floki now, his loyalty to the Gods never wavered. Well, until this week, that is.
Rollo was an animal in battle, but I loved that quick moment when he caught sight of the Princess. Historically, Rollo married Gisela of France after he became ruler of Normandy. He treated his wife cruelly though, and this episode is laying the foundation for that relationship.
It was rough watching Ragnar tumble off that tower into the water. The same with Rollo and Bjorn. Luckily we know they're all safe for the moment.
Lagertha: Is he alive? They told me the news. Is he dying? Is my son dying?
Woman: I don't know.
Lagertha: What happened?
Ragnar: He was proving that you don't need a title to be a leader.
Rollo: You should never have let him climb the ladder. Now he may die.
Ragnar: Both of you stop treating him like a child. He is a man. So let him be one.
The French victory felt good; it was time someone put the Vikings in their place. They couldn't go around pillaging and raiding without serious consequences. Of course, we still have two episodes left and this isn't the end of the events in Paris.
I loved hearing Ragnar confess his agenda to Athelstan's ghost. He is a patient man, and he's waiting for Floki's guilt and madness to get the better of him. He won't have to lift a finger; Floki will take himself out in the end.
Once again, Travis Fimmel moved me with his closing words. "I wish you were here. Paris is everything you told me it would be and I am bound and determined to conquer it."
With Athelstan gone and Ragnar's death on the horizon, I can't help wonder what this show will be like post Ragnar Lothbrok. Did you know Michael Hirst planned to kill him off in Vikings Season 1? Will the other Lothbrok's story engage audiences in the same way? Time will tell, I guess.
What did you think of "To The Gates"? Were you surprised the Vikings took such heavy loses? Did you think Floki would burn in that tower? Were you convinced Ragnar knew Floki killed Athelstan? You're up, hit the comments below and share your thoughts on tonight's Vikings.
As always, remember you can watch Vikings online via TV Fanatic if you need to catch up. There's only one episode left before the finale.
NOTE: Vikings Season 3 Episode 9 is titled "Breaking Point" and airs on Thursday, April 16.