Vikings Season 3 Episode 7 Review: Paris

Henry A. Otero at . Updated at .
This season's been an emotional rollercoaster, so this week Vikings Season 3 Episode 7 gave us a bit of a breather.
Not a whole lot happened as far as advancing the story if you think about it. The Northmen arrived and set up camp down river from Paris. Ragnar behaved oddly, while Floki had his moment to shine. Everyone missed Athelstan terribly, well everyone except his killer.
We met Emperor Charles of France, his daughter, Princess Gisla, and Count Odo as the city wide panic set in.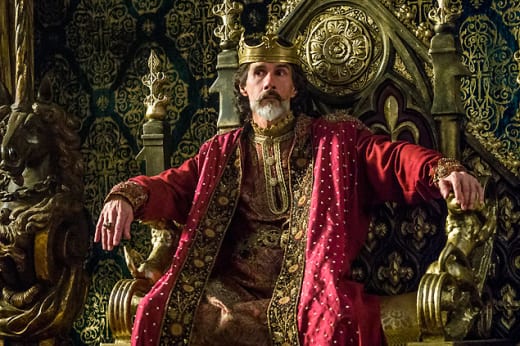 The opening stare down between Ragnar and Floki was rather interesting. Throughout the installment, I kept wondering if King Ragnar knew that Floki was responsible for Athelstan's murder. He must know it deep down in his bones, don't you think?
We quickly got a sense that Paris was prepared for any Viking attack, thanks to Count Odo. Emperor Charles didn't strike me as a powerful leader, like say King Ecbert. Seriously, he needed his daughter to advise him that staying in Paris was the only option?
The Emperor stubbornly refused to seek his brother's assistance in the upcoming battle.
I will not ask either of my brothers for help. I must prove myself better than my brothers Count Odo, and these Northmen have provided the opportunity. Defeat them, and I will be seen as a worthy successor to my grandfather; the great Charlemagne.

Emperor Charles
The physical change in Ragnar was quite apparent. From the shaved head, to the dark monk-like clothing; he was channeling Athelstan. In Wessex King Ecbert, Aethelwulf and Judith argued over the former monk. Baby Alfred is also a constant reminder. So, Athelstan might be gone, but he's certainly not forgotten.   
Why Ragnar put Floki in charge of the Paris raid and then walked silently around the room is unclear to me. Though I no longer care for Floki, you've got to hand it to him; the towers were astonishing.
What is Ragnar playing at? Is he setting Floki up to fail? Or was he speaking from the heart?
I know we've had our differences of late. Perhaps it is my fault, I have not been myself. But I want you to know Floki that I need you, now more than ever. I have always believed in you.

Ragnar
Meanwhile in Mercia, Queen Kwenthrith went back on her arrangement with Ecbert; choosing to rule alone. I don't think she's as mad as everyone claims. She's just a powerful woman tired of being taken advantage of by men. Besides, we already know she's onto King Ecbert and she told Ragnar as much. Aethelwulf didn't fall for her charms, but he did meet Prince Magnus. Is the boy really Ragnar's son?
Speaking of strong women, Princess Gisla refused to leave Paris opting to stand by her father during the conflict. She manipulated Count Odo really well; the girl knows how to play the game. I think I like her already; but the Emperor? Not so much.
Wasn't it silly of Floki to confess killing Athelstan to Helga? Yeah, things are not going to end well for the kooky shipbuilder, but I no longer care to be completely honest. If you feel differently, I'd love to hear your thoughts in the comments below.
Ragnar: Everything ready Floki?
Floki: Yes, everything is ready. Tomorrow we attack Paris.
As I mentioned at the top, this was a fairly uneventful installment. It felt more like setup for the final three episodes.
The infamous siege will begin next week and I'm looking forward to it as much as Floki is. He certainly stepped up this week and not only proved his worth once again, but impressed those that never take him too seriously.
What did you think of "Paris"? Were you disappointed this episode was all preparation and no attack? Does Ragnar know Floki killed Athelstan? Is Kwenthrith's son really Ragnar's as well? Your turn guys, hit the comments below and share your thoughts on tonight's Vikings.
Remember, you can watch Vikings online via TV Fanatic if you've missed an installment or want to binge-watch before the finale.
NOTE: Vikings Season 3 Episode 8 is titled "To the Gates!" and airs on Thursday, April 9.