The Walking Dead Season 5 Report Card: Grade It!

Sean McKenna at .
Might The Walking Dead Season 5 have been the best season yet of TV's most popular show?
Kicking things off with those killer Terminus cannibals and winding up in the surreal world of Alexandria, Rick and company went through a lot this season. And that included character deaths that made TV Fanatic's list of 12 shocking deaths on The Walking Dead.
Scott M. Gimple returned for a second round as series showrunner, and while there were some missteps, there also were numerous things to enjoy including all the blood, guts, walkers, new characters and new direction of the story.
So how did the fifth season fare? Read on for our latest TV Fanatic Report Card...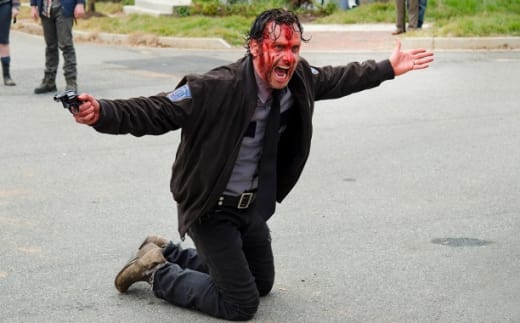 Best Episode: The second half of the season has to be my favorite with a very fresh and entertaining take that took the survivors out of Georgia (finally!) and introduced a great new location in Alexandria, a potential new threat in the Wolves and the return of Morgan! There was so much to like in each of those episodes, but overall, the best episode has to go back to The Walking Dead Season 5 Episode 1.
That graphic and tense intro scene of the bat-to-the-head slaughter row still sticks out, and the action-packed and fast-paced rest of the episode was the perfect way to get the season started and have me enthusiastically looking forward to what was to come. 
Worst Episode: I'll give this one to The Walking Dead Season 5 Episode 7. Nothing major really happened in this episode besides being a setup for the midseason finale. I didn't hate it, but it was very forgettable and felt like filler before we got to the big face off against Dawn. It came. It went. The series moved on.
Best Character: Carol for sure. She's become such a badass, and it's hard to even imagine her as the character in The Walking Dead Season 1. She not only helped save the group from Terminus, but she was on Rick's inner circle, she played the Alexandria game perfectly and made asking for her cookies a scary thing. She is definitely a top-notch character on the show, and I hope she's around for a while to come.
Worst Character: I had such a hard time liking Dawn. Maybe because she was a part of the whole hospital story or that her power and leadership involved a weird hierarchy of creepy cops, but she never stuck with me as a character I wanted to see more of.
Best New Character: Aaron takes this title. He's been such a sincere and honest addition to the show right from his introduction. I've enjoyed his interactions with the other characters, especially with Daryl, and he's someone I'm continually looking forward to seeing and growing as a character on the series.
Best Walker Death: The Walking Dead does such a great job with its effects and delivering some really graphic and bloody walker take downs. While maybe it's the most recent that I can recall, Rick ripping apart the walker so it basically explodes all over him in The Walking Dead Season 5 Episode 16 was a memorable walker "death" and one that was just disgusting, too.
Hopes for Season 6: I'm sure there are characters and stories from the graphic novel that fans are eager to see, so if those translate to the series, I hope it's at least done well and right for the show.
Really, I'm looking forward to seeing the battle against the Wolves, but I hope that they distinguish themselves as very different from the other opponents that Rick and company have faced. I'd also like to dig deeper into the Alexandria setting, especially with Rick sort of taking charge and Morgan showing up. New life feels like it's been breathed into The Walking Dead, and I'm excited again to see what's next.
Overall Grade: A-
Your turn TV Fanatics! What would you grade The Walking Dead Season 5?
Sean McKenna was a TV Fanatic Staff Writer. He retired in May of 2017. Follow him on Twitter.