The Simpsons Season 26 Episode 18 Review: Peeping Mom

Stacy Glanzman at . Updated at .
Was anyone else hoping Bart actually didn't steal the bulldozer?
I mean, yeah, okay, it's Bart, of course he stole it, But still, it would have been interesting if Marge found out she was wrong at the end of The Simpsons Season 26 Episode 18. 
Following Bart around 24/7 until he breaks is kind of like badgering the witness into confession, isn't it? Granted, he decided to tell the truth after she stopped following him, but she still got into his head.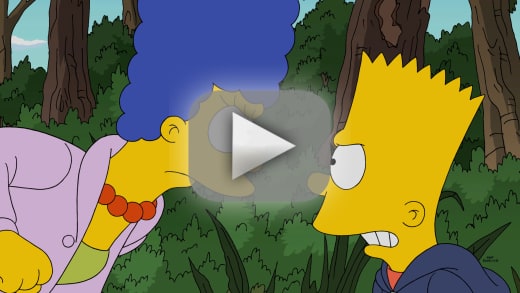 Marge's tactics were successful in the end, but I'm still pretty sure there's no way Bart's confession would hold up. Sorry Chief Wiggum. 
The story gave us some funny moments. How great was Maggie's pacifier silencer? It's the little details like that one that make this show brilliant. 
Thanks to Marge's constant attention on Bart, Lisa was feeling the "middle child syndrome." Luckily, Homer came to the rescue with a super sweet moment on her bed. I love that Homer adapted to what Lisa was doing to make her feel better. Worked like a charm!
Lisa wasn't the only one feeling jealous. Poor Santa's Little Helper was feeling left out when Homer started playing with Ned Flanders' new dog. Homer came through on that front, too. Seriously, he was a champ tonight! 
Ned was so distraught over the new puppy liking Homer better that he was ready to give him up, but Homer insisted that he keep him. I loved his reasoning that Ned would need him when his kids eventually ran away from home. I don't think Rod and Todd would survive one day on their own. The dog would have a better chance. 
Not only did Homer make up with Santa's Little Helper, but the two dogs even became friends in the end. That's probably a good thing since that little puppy didn't stand a chance against SLH.
In the battle of Maggie versus the wack-a-mole: wack-a-mole 1, Maggie 0. That was pretty hilarious and so random, but that's what made it funny.
Is anyone else disappointed we didn't get to see any of Homer's Sumo League? I would have loved to see a flashback or memory instead of just a picture. The writers could have gotten a whole episode out of that if they wanted. I can't say I blame Marge for not wanting to wash a bunch of stranger's sweaty loin cloths. 
Don't forget, you can watch The Simpsons online any time!
NOTE: The Simpsons Season 26 Episode 19 will be titled "The Kids Are All Fight" and airs on Sunday, April 26.
Stacy Glanzman was a staff writer for TV Fanatic. She retired in March, 2019.