The Real Housewives of Atlanta Season 7 Episode 23 Review: Reunion Part One
Miranda Wicker at .
Get ready for the shade wars on The Real Housewives of Atlanta Season 7 Episode 23! 
Kandi and NeNe are going head to head tonight and Phaedra Parks will drop a bomb about her marriage to Apollo Nida. 
Let's get to the recap now!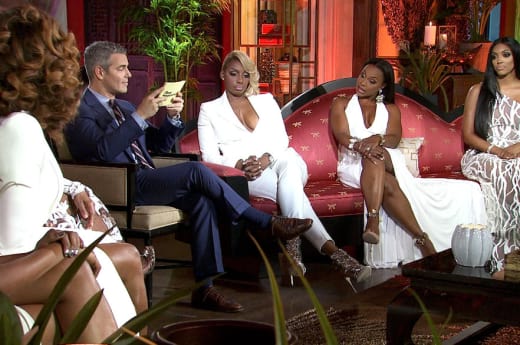 NeNe Leakes has a "bigass new house" and she's actually moved into it, unlike Sheree who started building a mansion she never lived in. Andy Cohen gets a minus 5 for asking Kandi if Todd is filling up her love tank.
After watching a fake commercial about the wigs worn on The Real Housewives of Atlanta this season, we have to spend some time talking about who sells weave and who sells weave care. (Porsha and Kenya respectively.) 
When NeNe starts talking about her time on Broadway, Claudia starts rolling her eyes, and so does Kenya. No one on this show likes her. 
NeNe called Kandi a hater on Twitter and Kandi just has to laugh saying she's only hating on someone who is, herself, a hater. She gets the jump and says she doesn't hate NeNe but she hates NeNe's superiority complex. That's pretty legit. Plus 3.
NeNe just keeps going "Okay, okay, I'm the problem" and acting superior, just like Kandi accused her. It's like she can't even see how terrible she is sometimes. Minus 10.
For Kandi to get heated about NeNe is a big deal because Kandi doesn't really get heated about anything. Her motto is no more drama. 
And now it's time to talk about Apollo and Phaedra. 
Andy asks if she's taken the kids to visit Apollo and she says no, she hasn't. All the other women except NeNe give her looks like they can't believe she hasn't taken them yet, and she tells Andy there are restrictions regarding taking an infant and toddler to a prison, plus cold weather and waiting outside, and all sorts of things none of the people who've never been there can understand. 
Phaedra Parks has not yet filed for divorce from Apollo Nida. She's just thinking about the children and the legacy she's leaving behind for them. They'll be able to see how she's handling all this one day and she wants to make sure she makes them proud. Plus 6
Andy was disturbed by what he saw the day Apollo rolled up to their house and Phaedra was changing the locks. When Andy asks if Apollo ever got physical with her, Phaedra takes a few seconds and then says she doesn't think it's a good idea to discuss that. 
Andy lets Claudia and Porsha go at it and Claudia continues to talk about how Porsha's dating a married African man and Porsha continues to deny it, saying she's talented and Claudia must admire her or something. 
Claudia came in hard after Porsha this season for reasons I don't really understand. There had to be some things going on behind the scenes that put Porsha on Claudia's radar. 
Porsha says they're getting into slanderous territory and she doesn't want to continue the discussion. Claudia tells her to go ahead and sue. 
"My legs are closed to married men, okay?" --Porsha, "No they're not." --Claudia. Minus 20
Cynthia wants to know why Porsha felt compelled to talk about how Peter's sleeping around on her with every woman in Atlanta if she wants Claudia to stop being so reckless. Good question, Cynthia. Plus 4.
Andy asks NeNe how Cynthia's acting was in Kenya's pilot. NeNe goes "It's okay..." So serious, NeNe. So serious. 
When Andy asks about Porsha and Kenya's beef, Kenya starts invoking the memory of Porsha's grandfather in order to shame Porsha for her attack during the reunion show last year. Porsha tries to put a stop to it, but Andy let's Kenya continue. minus 2.
There's absolutely no way Kenya's ever getting an apology from Porsha now.
Kenya and Phaedra open up Whoregate 2015 and that's going to be one ugly fight as it plays out. Suffice it to say that peace agreement they found in the Philippines doesn't seem to have been very binding. 
EPISODE TOTAL: -24 SEASON TOTAL: -495
Next week on The Real Housewives of Atlanta Season 7 Episode 24, the men join the women on the couch and Peter's not holding back! Be sure to watch The Real Housewives of Atlanta online to see all the drama for yourself.
Miranda Wicker is a Staff Writer for TV Fanatic. Follow her on Twitter.