The Real Housewives of Atlanta Season 7 Episode 22 Review: Atlanta Twirls On
Miranda Wicker at . Updated at .
It's all come down to this. The Real Housewives of Atlanta Season 7 Episode 22, the season finale, features Kenya's screening of Life Twirls On, NeNe Leakes' Broadway debut, and Kandi Burruss Tucker making a shocking announcement. 
We're sure there's some shade being thrown in there somewhere. So let's recap it now!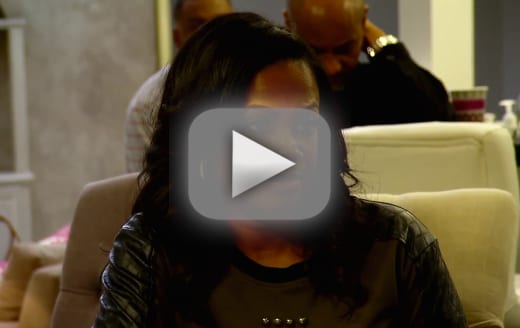 NeNe Leakes is in New York City preparing for her Broadway debut in just two days. The paparazzi are out in full force as she, Gregg, and Brentt head to rehearsals. Hers is actually a Cindrella story, so this is a full-circle moment for NeNe, a girl from Athens, Georgia who came from just about nothing. Plus 25.
Gregg and Brentt leave her to rehearsals. And tears.
Kenya and Brandon meet with an audio engineer for her voice over for Life Twirls On. She needs to get the project done in two days to send it to the networks and screen it for the girls. 
She keeps screwing up and even Brandon gets annoyed when it takes her 20 times to get one line right. Then she plays Diva and asks for water. Minus 10.
Cynthia and Peter's club, the old Bar One, is closing. The lease has finally ended and they're moving out. Peter gets a little emotional thinking about it. They take one last selfie in front of Cynthia's giant portrait before Peter takes it down. They'll probably hang it on the side of their house now. 
While that chapter in Cynthia and Peter's life is closing, Kandi and Todd are starting a new one. Todd's going to a big family gathering at Mama Joyce's house. Plus 8.
Todd stops to fix a light he drives over in Mama Joyce's driveway. That's progress. Plus 2.
Aunt Nora and Aunt Bertha cooked the meal but Mama Joyce took all the credit. But she gave the credit to Kandi for the house. Plus 15.
Kandi drops the bomb that Todd's show got picked up for a second season to much applause! And then she says she's thinking of moving out there for a few months a year. Riley's unamused and so is the rest of the family. 
Aunt Nora and Aunt Bertha are big fans of the idea but Mama Joyce just sits and stares. Then she apologizes to Todd for all the things she ever said to or about his mother to offend either of them. She says she learned a very important lesson about repeating the things she's heard from other people and apologizes for that too. Plus 30.
Did Todd take the apology? Time will tell. Right now he doesn't think it was genuine at all. Minus 15. You have to start somewhere, Todd.
Peter and Cynthia are getting ready to launch the new Bar One now that the old Bar One is officially closed. But before that can happen, they're going to start another bar called Peter's Room, and he's already rented the space without telling Cynthia first. Minus 15.
She's irritated that he's not focused on getting Bar One back up and running since that's supposed to be their priority number one. Peter says this new show is going to be his partner's responsibility when they get a phone call from...Apollo Nida.
Uh oh.
Peter accepts the call and puts it on speaker so Cynthia can hear too, and because that's a requirement for the show. He starts by saying he's holding up but he hasn't seen his children in six weeks. 
Phaedra Parks is holding downt he fort at her house with Aiden and Dylan. She's not sure when they're going to visit Apollo since Kentucky isn't close and there are restrictions on when she can even take the boys to see him. 
Apollo tells Peter that his brother has been there four times to see him and she won't send the boys with him. Ugh. Apollo. For real? Minus 10.
He's taking classes to get closer to Atlanta. Plus 4. 
Cynthia vows to stay out of it this time since the last time landed her in the middle of a "big Chocolate mess." Plus 10.
Phaedra says someone's going to be unhappy either way. Aiden's going to be upset to see his father in prison or upset he doesn't see his father at all. 
Peter drops the bomb to Apollo that Phaedra filed for divorce and Cynthia wonders if that was a wise idea. He says he knew through email and everyone else that she'd filed but doesn't really know what he can do about it. Ugh. That's...sh*tty.
The call cuts off in the middle. Apollo's time is up. 
Phaedra and the boys are moving on, baking cookies and making memories. Cynthia hopes one of Phaedra's other mom friends will be able to talk some sense into her about letting the boys see Apollo.
It's show day for NeNe Leakes! Their realtor sent them flowers. Plus 2. Phaedra is the only one who even sent her a text. At least so far. 
She's in her dressing room getting into hair and makeup and loving all her flowers and fan love. Mark Brokaw, the Cinderella director, stops in to give her some last minute notes. She's excited and thrilled and nervous and he says she could not be more ready. Plus 10.
She's a crazy broad but I am genuinely happy for her right now. 
Kenya, meanwhile, is getting ready to host the ladies for a screening. Cynthia and Claudia are all decked out to show up to the party. Servers toss rice at them as they walk in the door, there's an opera singer singing "life twirls on.." over and over and over and pictures of Kenya in a wedding dress are everywhere. 
This is a straight up wedding reception. Kenya has had drinks designed for and named after each of the women and Claudia's straight up throws shade at her feet. Plus 8.
None of the women have any idea what's happening at this thing, which is part of the fun. Kandi brings up the fact that NeNe came to Phaedra's event and Phaedra was just happy that NeNe flew in. Claudia calls herself a champion of truth and justice and laughs about the drama with NeNe at Phaedra's event, but Phaedra doesn't bring it up herself. 
Kenya comes out in a full-on wedding dress while the opera singer keeps belting it out in the background. They all still have no idea why she's in a wedding dress with ribbon twirlers and wonder if she might have sprung a secret wedding with a secret groom on them. But no. She did not.
Kenya calls action on her screening and NeNe begins her walk to the stage. The parallel of their levels of success right now, seeing how the two are mortal enemies, is pretty epic. 
The girls all have a great time laughing at Cynthia in her role in Kenya's pilot. Kandi thought Kenya did a great job, and that's high praise coming from the woman who is arguably the most successful among them all. Plus 10.
NeNe's curtain call occurs with a standing ovation. She killed it. Plus 10.
Kenya didn't get an adoring crowd full of paparazzi asking to sign her Playbill after the screening, but NeNe did. Plus 8. 
NeNe rode her Broadway debut right off into a $2.1 million palace in Atlanta and a spin-off show with one-time frenemy Kim Zolciak-Biermann. 
Kenya has a photo booth set up for the ladies. She gets them all dressed up in some funny props to take some silly pictures to memorialize the fact that they CAN get along when they try. Plus 6. 
Claudia's considering an open mic night tour. Cynthia and Peter are STILL renovating the new Bar One. Kandi and Todd made it to one year of marriage. She didn't end up moving out to LA.
Kenya is still shopping her pilot around but managed to find love on The Millionaire Matchmaker. Phaedra's keeping quiet about her divorce. That's probably smart.
Up next, the housewives all sit down with Andy Cohen for what promises to be a dramatic, tear-filled, sometimes angry reunion show. Don't miss The Real Housewives of Atlanta Season 7 Episode 23.
EPISODE TOTAL: 98 SEASON TOTAL: -470
Catch up on all the drama before the reunion shows and watch The Real Housewives of Atlanta online!
Miranda Wicker is a Staff Writer for TV Fanatic. Follow her on Twitter.