The Following Season 3 Episode 8 Review: Flesh and Blood

Stacy Glanzman at . Updated at .
The pace just keeps on moving forward as Ryan and the team close in on Theo on The Following Season 3 Episode 8.
If this were The Following Season 1, they'd be lucky if they even knew Theo existed at this point. They haven't caught him yet, but they've definitely gotten his attention. 
From what we've seen, Theo is not someone whose bad side you want to be on, but that's exactly where Ryan is now.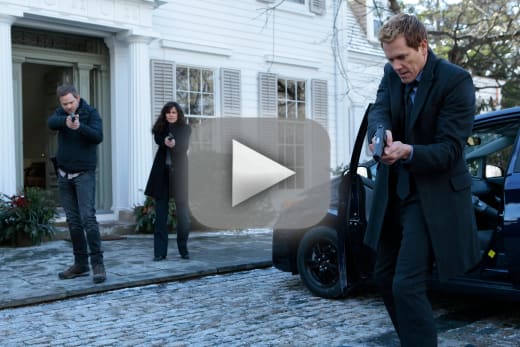 So the question is, what happens next? Theo's smart. He's always known he'd have to leave his family behind someday and I have no doubt he's prepared for it. He's not Mark or Daisy with nowhere to go. He's got what it takes to evade capture for awhile yet. 
Theo's clearly a psychopath and feels no remorse, but it begs the question, why would he leave his kids alive? Does he actually care about them somewhere deep down inside or just not feel the need to kill them? They're old enough to be questioned about him, so it is a little surprising. 
Okay, be honest, who thought Joe really broke out of prison until you saw Ryan pull up? They had me going there for a minute. 
Joe and Ryan seem to be simultaneously losing their minds. They're in some sort of warped relationship where they can't stop thinking about each other. Joe pictures Ryan driving the getaway car in his escape and is clearly upset to learn that he declined his invitation to attend his execution.
Ryan on the other hand is saying Joe's name in a Freudian slip and picturing him out in the field. What does this all mean? I hope Joe's execution goes forward by season's end. it's time to move on from that chapter. 
I guess Max has been cleared for field duty since she made the trip to Maryland. Granted she was the only one who could actually identify Theo, so she may have gone anyway. She's still mad at Mike, but she seems to be wavering considering the look she gave him when he was being treated for his cut. 
Tom was a no-show this week, so no new developments on that front. I am still curious to see where that is going to go. 
I'm sad to see Gina retire. I like her and the new boss is awful so far. I can't really say I blame her after all they've seen. She did offer Ryan some sound advice: 
This job steals your soul Ryan. You should get out too. Go live your life with Gwen while you still can.

Gina
I think we all know (and Gina too really) that Ryan won't take it. It's not in his blood to walk away. He may be chipping at the walls in order to let Gwen in, but there's only so much that can be expected of him. 
Though, being civil at dinner with her boss is one of those things. I get it was a tough day getting blown up and all, but throwing the man out was a bit extreme. 
What did you guys think? It wasn't one of the best, but it had its moments. 
If you missed any, you can watch The Following online any time. 
NOTE: The Following Season 3 Episode 9 will be titled "Kill the Messenger" and will air on Monday, April 20.
Stacy Glanzman was a staff writer for TV Fanatic. She retired in March, 2019.