Law & Order: SVU Season 16 Episode 20 Review: Daydream Believer
Paul Dailly at . Updated at .
Talk about an unsettling hour of TV.
Law & Order: SVU Season 16 Episode 20 concluded crossover week in the Dick Wolf drama universe with one shocking hour.
I think we all knew deep down that Nadia wasn't going to survive the hour. I commented in the review for Chicago PD Season 2 Episode 21, that the Chicago shows always kill off or hurt the female characters.
Sure, Nadia got a much worse death than Shay from Chicago Fire, but I think the fact that another female character was killed off will be a bitter pill to swallow for fans.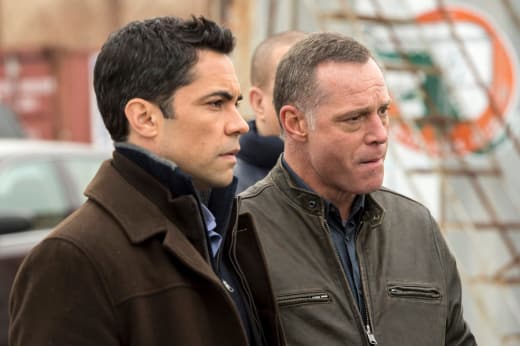 Nadia's colleagues and friends knew what was happening, even though they couldn't accept that she was already dead before her body was found. Voight called it pretty well early on in his talk with Benson, who tried to reassure him; but let's face it, she's been on the beat for 16 years, so she also knew she wasn't going to make it out alive.
It looked like Greg was set to go on a killing spree, but that came to a shocking halt when the team burst in on him with his wife-to-be. Where did that even come from? I expect her to be his next victim, not his freaking other half.
His other half was clueless. All the clues were right in front of her, but she chose to believe him, even when two different sets of officers of the law were telling her the same thing.
Greg Yates was a master manipulator. He was very confident in himself and that's why he decided to represent himself in the courtroom. He thought he could get away with it and considering the shocks in the rest of the hour, I actually thought he could have.
The way he managed to paint Nadia as a completely different character was horrific, but he did so convincingly. I never in a million years expected him to be caught so early in the final hour. If anything, I thought it'd be a big game of cat and mouse, but it was interesting that we got the courtroom scenes.
Poor Lindsay had to sit there and take a verbal beat down from the man who murdered her best friend. I can't begin to imagine her pain, nor would I want to.
Will Halstead's name was dragged up again and it wasn't for anything good. Greg managed to make the court think that the Chicago PD team lied about his alibi because he is Jay's brother.
Who knew that it'd be Greg's sick obsession that would ultimately get him sent down? Greg just couldn't resist getting his hands on the pictures of her corpse and then had to ask the medical examiner countless questions about what goes through the victim's mind in those final moments.
Being found guilty, I knew that Voight would be paying him a visit, sooner or later. I've gone on a lot about how unethical the Chicago PD characters are, but I gave him a pass on this occasion. I don't like that Greg got to survive because that means he could return at some point and I don't want him to. He needs to stay away from the ladies of New York and Chicago.
"Daydream Believer" was an unsettling episode that kept me on the edge of my seat throughout. The acting, writing and directing were all on point and I can't wait to see what's next. Also, I want another crossover soon!
Remember you can watch Law & Order: SVU online, right here on TV Fanatic. Get caught up now!
Note: Law & Order: SVU Season 16 Episode 21 airs Wednesday May 6 at 9/8c on NBC.
What did you think of the episode? Are you sad to see Nadia go? What's next for characters of both shows?
Paul Dailly is the Associate Editor for TV Fanatic. Follow him on Twitter.