Gotham Season 1 Episode 21 Review: The Anvil or the Hammer

Sean McKenna at . Updated at .
It turns out Barbara wasn't exactly the perfect match for the Ogre.
I was intrigued by their relationship in Gotham Season 1 Episode 20, especially after seeing her appear to be OK with the Ogre's dungeon play room.
I couldn't help but wonder what that would mean going forward for these seemingly kindred spirits. Might they partner up? Might Jim not actually have to save her?
But while the two had their late night tryst, that was about all Barbara was up for in Gotham Season 1 Episode 21.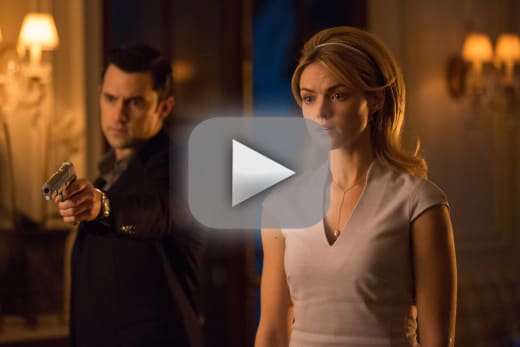 She wasn't really interested in some breakfast with him, let alone teaming up with him. And while the Ogre let Barbara live, she still was his traumatized victim.
The Ogre continued to be a super creep, going so far has forcing Barbara to pick someone to kill for her. She slowly descended into this weird daze, almost like she wasn't really there, even when her parents were killed or Jim finally showed up.
I guess I just expected more to come from Barbara's relationship with the Ogre, as I wish more would come of her character for Gotham Season 1.
I was even surprised that after Jim swooped in to save the day (I actually enjoyed the fight sequence between him and the Ogre), Barbara sort of got swept aside.
I'd be curious to see how she is able to move forward after such a traumatic event and if Jim will actually play a role in that. After all, even with Jim declaring his love for Leslie, comic book lore has Jim and Barbara together in the future. Unless, maybe this is where the series will change things up?
It just seemed weird that Jim ran straight to Leslie after saving Barbara, not sticking around after all that had just happened.
As for Edward and Oswald, those two are continuing on their path towards super villains.
Ed dealt with the abusive officer's body and then wrote a note to Kris Kringle to move on (with that clever "read between the lines" part). I expected him to be a bit more shaken up by the whole ordeal, but he's taking it all in pretty smooth stride.
So what might get him to kill again? Will he?
Oswald was brilliantly back to his conniving and plotting self. And that was far better to see than him dealing with trying to make his club a good one. It was obvious that he wanted Sal Maroni dead, but to pull a trick that starts an all out gang war between Sal and Carmine Falcone?
That was smart and perfectly fitting for the Penguin. I can totally see him soon rising up above Sal and Carmine.
Bruce continued his investigation into his own company, but he learned that his father kept quiet about some of the things the company did. I'm not surprised it angered him, but it was good to see Lucius Fox appear and let him know about having two sides.
I'm not sure Bruce is quite ready to take on something like that. But it was certainly a big deal that he opened up to Alfred about seeing his friend.
I still think I'd be OK with less Bruce focus until he gets older, but seeing as we have gotten a lot with him more recently, I'm wondering where his character will be in Gotham Season 2.
It's hard to believe that there's only one episode left of Gotham Season 1, and with the Ogre story wrapped up, it looks like we are headed back to focus on the Carmine and Sal battle. Let's just hope that the season finds a solid way to close things up and provide an intriguing reason to want to come back.
What did you think? Were you surprised about the Ogre and Barbara? Are you excited for the finale? Sound off below!
And be sure to watch Gotham online now to make sure you're all caught up before Gotham Season 1 Episode 22!
Sean McKenna was a TV Fanatic Staff Writer. He retired in May of 2017. Follow him on Twitter.