Game of Thrones Season 5 Episode 2 Review: The House of Black and White

Henry A. Otero at . Updated at .
This week, we checked in with the characters that were missing from the premiere.
We learned rather than being punished, Jon was promoted on Game of Thrones Season 5 Episode 2. Jaime decided to save his daughter from the Sand Snakes with Bronn's help and Tyrion continued on his merry way to meet Daenerys.
Arya was turned away at the House of Black and White, but ultimately entered. Yeah, I'm still not too sure what all that was about. How about you?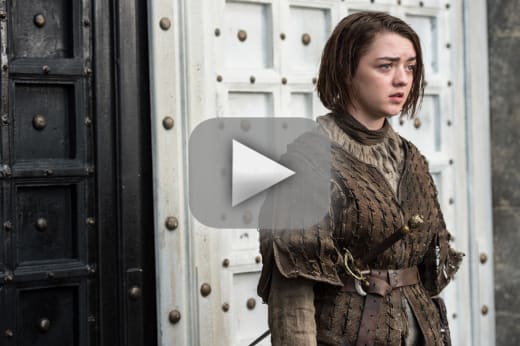 It was wonderful to catch up with Arya this week. I admit, she's the one character I missed in Game of Thrones Season 5 Episode 1. Braavos reminds me so much of Venice, which is a city I absolutely adore. I was surprised that after such a long trip, Arya was turned away from the House of Black and White. The man that opened the door looked at her like she was an alien. I couldn't help but laugh at his indifference.
Isn't it crazy how much shorter her list of names is? So many characters gone in just four short seasons. I couldn't believe she tossed the coin into the sea. Of course, you knew we'd see it again by the end of the episode.
The scene with Sansa, Littlefinger and Brienne did not play out the way I imagined. Either Sansa doesn't feel she's learned enough from Lord Baelish yet, or she truly resents Brienne.
Brienne: Lady Sansa, before your mother's death I was her sworn sword. I gave my word I would find you and protect you. I will shield your back and keep your counsel... and give my life for yours if need be. I swear it by the old Gods and the new.
Littlefinger: Please, Lady Brienne no need for such formality. You were Catelyn Stark's sworn sword?
Brienne: I was.
Littlefinger: Strange I knew Catelyn from the time we were children, she never mentioned you.
Brienne: It was after Renly's murder.
Littlefinger: Ah yes.
Littlefinger had a point, Brienne hadn't exactly been successful protecting folks. Wasn't it creepy to hear Littlefinger say he and Sansa are family now? Still, I was surprised Sansa turned Brienne away so nastily. She is certainly growing up, but Lord Baelish is not exactly a positive influence.
How about that sword to the neck? Pretty gruesome stuff eh? After watching Vikings Season 3 for several weeks now, I had forgotten how graphic Thrones can be at times. Bring it on, it's definitely part of this show's charm.  
Back at King's Landing, Cersei worried for her daughter. I've always had a hard time sympathizing with Cersei. She's just so damn unlikeable.
Cersei: There are only two like it in the world. The one I'm wearing and the one I gave to Myrcella.
Jaime: It's a threat.
Cersei: Of course it's a threat. Our daughter's alone in Dorne surrounded by people who hate our family. It's a threat.

It was great to hear that Jaime would be traveling to Dorne. He's always at his most interesting when he's on the road. Besides, partnering him up on this adventure with Bronn is going to be memorable. The ultimate buddy road trip!
Admittedly, I lost interest in Bronn when he turned his back on Tyrion. Perhaps, he'll redeem himself this season and get a fancier bride and castle in the process.
After hearing about it, we briefly visited Dorne this week, and Prince Doran seems like a fair ruler. Honestly though, I'm ready to meet the Sand Snakes.
Ellaria: The Sand Snakes are with me. They have the love of their people. They will avenge their father, while you sit here in your chair doing nothing. Oberyn is dead and this Lannister girl skips about the water gardens eating our food, breathing our air. How many of your brothers and sisters do they have to kill? Let me have her. Let me send her to Cersei one finger at a time.
Prince Doran: I loved my brother, and you made him very happy. For that, you will always have a place in my heart. But we do not mutilate little girls for vengeance. Not here, not while I rule.
Ellaria: And how long will that be?
In Meereen, Daenerys was counseled regarding the Sons of the Harpy. That's right, it was time for her to listen and completely ignore all her advisors. She definitely should have paid more attention to the story of the Mad King. How impressive was it after the beheading the way the crowd hissed at her? Unless she regains control of her dragons, she's not going to fare well as a ruler.
Tyrion and Varys' witty banter continued as they made their way to Volantis. Without getting too nasty, I've got to say Tyrion's comment about the best part of Cersi for the best part of him was brilliant. Peter Dinklage gets the best lines, doesn't he? It was nice to hear that Varys appreciated Tyrion as a leader, however briefly. I don't know about you, but I'd love to see Tyrion sitting on the Iron Throne.
Cersei sitting at the head of the small council was just wrong. Her uncle certainly didn't appreciate it either. Qyburn as the new master of whispers wasn't a popular choice. We don't know much about him yet, but I'm already suspicious of the man.
Jon got off fairly easy, don't you think? I expected Stannis to be absolutely furious he put Mance out of his misery. It was great to see Jon chosen Lord Commander of the Night's Watch. He's one of the few good guys left on this series and you know what happens to them. Should we start fearing for Jon's life at this point? If they kill him off, I'll start a riot!
In the end, Arya was given her iron coin back. It was great to see Jaqen H'ghar again. When did we see him last Game of Thrones Season 2? She finally entered The House of Black and White, but what awaits her inside?
What did you think of "The House of Black and White"? Why was Arya denied entrance only to be allowed in at the end? Will Jaime save his daughter? Is Daenerys losing control of Meereen? You're up guys, please share your thoughts in the comments below.
As always, watch Game of Thrones online via TV Fanatic if you need to catch up or simply want to re-watch an installment.
NOTE: Game of Thrones Season 5 Episode 3 is titled "High Sparrow" and airs on Sunday, April 26.