Finding Carter Season 2 Episode 3 Review: We Are Never Ever Getting Back Together

Carissa Pavlica at . Updated at .
Oh Taylor. 
Certainly she didn't mean to push Max away and right into the very arms of the man she was so desperately trying to keep him away from, right? 
On Finding Carter Season 2 Episode 3, despite Max's attempts to make Taylor understand his position on forgiving Crash so that anger didn't overcome him, Taylor refused to keep him in her life.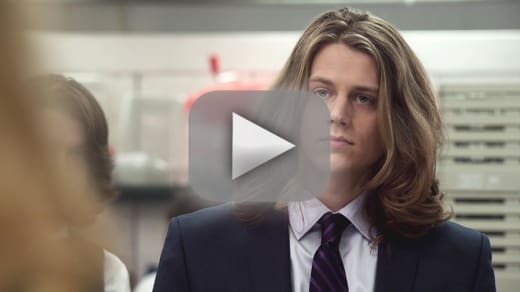 That's not to say Taylor wasn't somewhat conflicted on the subject, or pretty much every subject, during "We Are Never Ever Getting Back Together." Right now, there isn't much Taylor can count on.
She tried to switch her focus focus from Max to getting into Stanford and that left her feeling less than again when her Gammy's ridiculous friend from Stanford thought Carter was a better fit for the school because of all that she went through in her past with the abduction. 
If Taylor was a shuckster and could sell the gum off of the bottom of someone's shoe, and maybe if she hadn't started drinking as soon as she set foot in the door of the anniversary party, she might have been able to turn that situation around. After all, she had a pretty good story to share of her own.
Since Carter's return, she not only learned about her sister's abduction, but lived through the media circus, managed to maintain straight As, got a boyfriend who was shot by a street thug, had her sister kidnapped again and used herself as bait only to learn she was the daughter of the kidnapper all alone. Sure, she might not want to tell the egg donor tale, but desperate (drunken) times call for desperate measures.
Instead, she allowed herself to be labeled "the other sister," a terms I'm all too familiar with being the sister of a former FBI agent (Oooh how exciting! Are you the FBI agent or the other one?). Carter was trying her hardest to swing the conversation back toward her Taylor and all she's accomplished without the spectacle, but soon realized it was fruitless. It wasn't a great day for the twins.
From a viewer's perspective, it's both easy and hard to understand why Taylor is doing what she's doing. She was a good girl all her life and the Carter came home, being a bit of a wild child. As such, after the trauma she suffered, she was forgiven. Taylor probably feels she has a lot to make up for and she's traumatized herself right now. 
But when we look at Max (can someone please just give me his hair??), his kindness and ability to forgive is amazing. His capacity to love is beyond his years, and I know we will eventually learn a lot more about the mother who cares so little for him. When Carter said it scared her to think of the anger she holds for Lori, it made perfect sense why Max refused to do the same with Crash. 
It's not because it's easy, but because he won't allow the actions of someone else carve his path in this world and that's commendable. Now Crash has become his lifesaver; the lifesaver who tried to kill him. Out of odder circumstances have great friendships have been formed.
Taylor also unwittingly spilled the beans about her and Carter to her grandparents as a very crappy anniversary gift. For all the troubles the family has, they sure do manage to stick together when the times get rough. Joan even praised David for sucking it up and attending the party when it had to be very difficult for him to do so.
There are always bones to pick and my biggest is that I know Lori wouldn't be allowed to call the girls from jail. You have to have approval to call cell phones collect and the numbers wouldn't be on the list. You can't just call any old body from jail or prison y'all! Make a note of it. Especially your victims, so if that's your cunning plan, think again.
However, it's TV, so I'll let it ride for the purpose of dramatization. I'm still reeling from the fact Crash seems to have had no consequences at all over what happened with Max, so the law bends easily on Finding Carter.
Do you think Taylor is going to continue her wild ride in to crazy nights? Will it work well, the idea of Elizabeth and David sleeping on and off at the house? Is Grant up next to get a little out of control? What does Lori want? Will Taylor let Max back into her life before it's too late? Hit the comments and remember, you  can watch Finding Carter online any time via TV Fanatic!
Carissa Pavlica is the managing editor and a staff writer and critic for TV Fanatic. She's a member of the Critic's Choice Association, enjoys mentoring writers, cats, and passionately discussing the nuances of television and film. Follow her on Twitter and email her here at TV Fanatic.