Chicago PD Season 2 Episode 20 Review: The Three Gs
Paul Dailly at .
The police always win in the end.
That would be a wise bit of advice to take after Chicago PD Season 2 Episode 20 which featured a case that was close to Olinsky. The guy has been trying to take down Dennis Lee for several years and it must have been a sigh of relief when he finally did. As always, he had a little help from his friends.
Human trafficking storylines have been done to death in procedural series, but this one worked really well on an emotional level. You could see the trouble that Dennis Lee had caused Olinsky and all Olinskly wanted was justice. He witnessed the guys killings first hand and wanted to take action.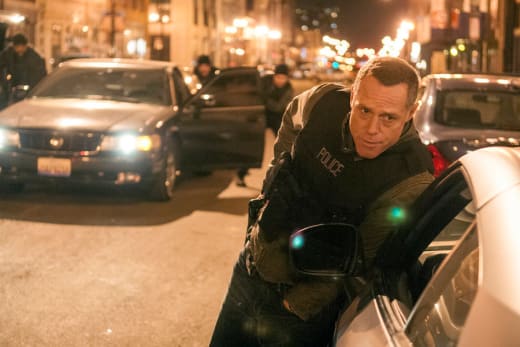 Come on, we all knew that he wasn't killing Dennis Lee, right? That would have just been a bit too far and there would have been no way to cover that up. Well, unless the team crossed the line, which is quite normal for our bunch of characters. I'd like to see the original applications for these jobs, if only just to see if there is a section which covers "going too far."
If I didn't screw up, those girls wouldn't be dead.

Olinsky
Voight really was Olinsky's constant throughout the hour. He tried his best to help and I clapped when he confirmed to Dennis Lee that there would be no plea deal. Anna would be spending time behind bars. Rightfully so; she deserves it.
Dennis Lee. CPD's most wanted fugitive for almost six years.

Voight
Is it the end of Roman and Burgess working together?
It sure seemed as much for a large portion of the hour. The other police guy was evil and had no compunction with Roman losing his job. Although Burgess acted like a kid when she ruined the guys sub, I don't know what else she could have done to him in that scene. He was humiliated in front of his partner, which is more than what I could have asked.
Elsewhere, Nadia isn't giving up on getting the job she wants. I was a little disappointed in Platt when she grilled her about the test score being 95%. Nadia's good luck was obviously too good to be true and it looked like the polygraph was going to cause problems, due to her troubling past, but who'd have guessed that good old Platt would come through in the end and save her? Not me.
Platt seriously put her neck on the line for Nadia and if she was caught, she would have lost her job. This is a testament to how highly Platt thinks of Nadia. She knows that Nadia will go on to be one of the best cops on the force and I agree.
"The Three Gs" was another solid installment of this NBC drama. The case was very engaging and kept me on the edge of my seat throughout. The next time we will see our favorites is on another three hour crossover event with Chicago Fire and Law and Order: SVU.
Remember you can watch Chicago PD online, right here on TV Fanatic. Get caught up now. 
What did you think of the episode? Did you like the case? Hit the comments below.
Note: Chicago PD Season 2 Episode 21 airs Wednesday 28th April at 10/9C on NBC.
Paul Dailly is the Associate Editor for TV Fanatic. Follow him on Twitter.