Favorite. Episode. To. Date.
It's been no secret how much I appreciate Dean Winters and his portrayal of Detective Russ Agnew, so bringing on Candace Bergen as his mother, Constance, for a Russ-centric hour was all good fun for this viewer!
In Battle Creek Season 1 Episode 7 we discovered a little more about why Russ might be so cynical. Not only did he grow up with a con woman for a mother, but he received knock-off shoes for every birthday and she finally wound up in prison. That's tough for a guy who lives by the law.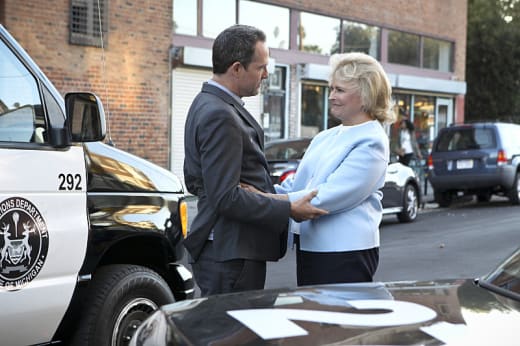 It was a really nice change of pace for Russ and Milt not to be fighting amongst themselves, wasn't it? Instead, you can see how Milt has grown to care for Russ and the idea that Russ grew up with a mother who may not have loved him rubbed him the wrong way.
It was even better finding out at the end that Milt had his own issues his mother, proving the two men have a lot more in common than either would care to admit.
Candace Bergen was well cast as Russ' mom and she met the requirements for the droll, sarcastic delivery of lines. It's too bad Constance is in prison for another five years, because it was obvious she lent a lot to the dynamic; kind of like Sharon Gless did for Michael Weston on Burn Notice. 
Constance was your typical con woman with a heart of gold; you couldn't tell if she was setting you up or solving your problems. As it turned out, it was a little bit of both. It was also apparent straight off that Russ and Constance made a hell of a team.
Milt: That was odd.
Russ: Bizarre. They've been ogling you since you and I walked through the door. But seriously, you didn't notice that? I mean, you've looked at you, right?
Milt: I don't rally think about that, Russ. Sure my parents pass on certain physical traits, but we all got stuff from our mothers, right? You were blessed with deductive reasoning skills from your mom.
Russ: Shhh. She's right there. Hey, listen, she and I may share the same DNA, but we're nothing alike. At all.
I loved that she was as wary of Milt as her son, merely because Milt is so damned good looking. Certainly she knows her own son is as good looking, too, but with an edge, right? Come on, people, I'm not the only one smitten with the man.
And while I appreciate Battle Creek's desire to show how attractive Milt is at every turn, his looks do not have the power to turn women into simpering idiots. That's downright insulting. In what world would any woman walk up to a man and give him her number, let alone a whole herd of them, one after another? Fantasy land, that's the world. Or, shall I say, Hollyweird.
I loved that Constance set up Holly to find out if she was good enough for her son, as much as I loved Holly was worried about Russ and the little smile she had on her face when Constance said there should be something going on with them. Maybe she'll be the one to make a move on Russ since he won't do it because of their working situation.
Constance pushed the envelope through the entire case, and Russ never believed her for a second, until the decided upon a lie detector test. It proved she was guilt of murdering her ex partner. After she failed that, Milt couldn't let it go and had to ask if she loved her son.
Milt: Sorry, Russ. I don't know what's worse, knowing your mother's a killer or knowing she doesn't love you.
Russ: I've always known my mother doesn't love me.
But Russ learned a lot more from his mother than that she never loved him and good deductive reason skills. He learned how to con a con. 
Constance: You've been tracking me?
Russ: Until the phone died. And then I realized...you would never save my damn hockey trophies.
Constance. You little bastard! You conned ME!
That ending was so perfect. I went from kind of crying at the look on Russ' face when the polygraph showed she really didn't love him (come on, that's heart breaking) to feeling emotionally triumphant as the two reunited as he sent her back to prison with a renewed relationship. 
What kind of whacked out show makes me feel better about a man sending his mother back to prison? Battle Creek, that's what. 
I'll say it again; it's a shame the series is on Sunday nights after two female skewing programs because it's the wrong night and the wrong pairing for the more male oriented program. Although the men are good looking and should draw women just for that, that's not how it was marketed. That's too bad, as it's really quite funny and well-written.
If you don't believe me, maybe you should watch Battle Creek online and give it a shot. You can check out the reviews to see which one would make the mightiest impact. 
Carissa Pavlica is the managing editor and a staff writer and critic for TV Fanatic. She's a member of the Critic's Choice Association, enjoys mentoring writers, cats, and passionately discussing the nuances of television and film. Follow her on Twitter and email her here at TV Fanatic.