American Idol Top 7 Recap: Classic Covers
Miranda Wicker at . Updated at .
We said goodbye to Qaasim Middleton last week thus preventing him from busting out some James Brown tonight as the American Idol Top 7 take on American Classics.
That's a pretty vast theme for the week, so we're sure to see a wide variety of vocals. We'll also see someone else go home. Who will rise to the top and who will say goodbye? 
Let's find out!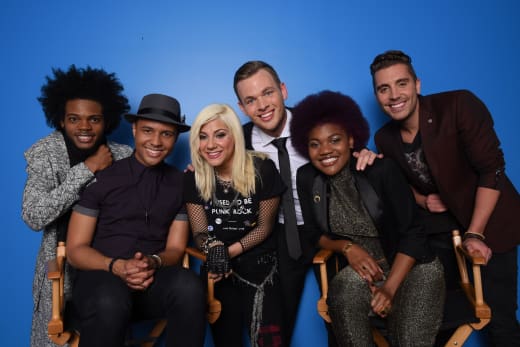 Tonight's songs, American classics, were all chosen by the viewers, and contestants will each sing two songs tonight. How will that work for the contestant who's going home?
Tyanna Jones won't have to worry. She's safe, as she should be. She's kicking the night off with "Why Do Fools Fall In Love." While she totally has the vocal chops to be a current artist, this could be a great week for her. This is an excellent vocal performance. It's not overly dramatic or theatrical, and she doesn't move around the stage, but it's very solid.
Keith calls it an interesting song choice and didn't think it showed off her incredible vocal skills. He wants to see more edge. Jennifer calls this a "taste" of the Tyanna we met during auditions. Harry throws a little history at her and talks about her rhythmic ease. He wanted more movement too. 9/10
Clark Beckham is also safe! He's picking up the guitar for "Superstition" and starts with the band before moving to the front of the stage. Stevie Wonder is a PERFECT song choice for him. His vocal gets a little lost in the music, but he's jamming and having a good time. This totally feels like his kind of music. 
Jennifer can't get started because the crowd won't stop. She compliments his looks and tells him it's all coming together. Harry has nothing to say. Keith loved the way he began with the band and tells him to drop the guitar 6 inches. 10/10
(ATTN: That was your Top 2.)
Up next, Jax​ takes the stage. She's tackling Janis Joplin's "Piece of My Heart." Again, my criticism of her is that everything feels so choreographed and practiced, right down to the way her hair blows in the wind machines. She can sing and play, and she has artistry, but right now a lot of her feels like she's imitating others. This is solid, but I don't feel anything.
Harry really liked her interpretation and thought she settled into the pocket. Keith thinks she sings really well with a band. Jennifer said she did her thing. 8/10
Nick Fradiani, a strong contender for Top 3, is singing "American Girl." It's a great song for his voice. He wants to rock out in the last five weeks, but if he's not careful, country music's going to have their eye on him. It's not his best vocal, for sure, but I think that's the song's fault. There are lots of lyrics that sort of get dropped off and he's not great at downshifting his voice. He definitely brought the energy, though.
Keith loved the song choice and was engaged the whole time. Jennifer danced along and says he has a radio-ready voice. Harry wants him to remember the feeling he had while on stage and tells him to keep doing this same thing. 7.5/10
Quentin Alexander is the next person safe. He's channeling his inner Lenny Kravitz with "Are You Gonna Go My Way." It's interesting because he has a Kravitz vibe, but he lacks the sex appeal of Lenny. This is maybe my favorite outfit of his, so that's something. The band is rocking out with Quentin, so that's fun, but...meh. He's not the strongest vocalist in the competition.
Jennifer thought the whole thing worked, but his pitch was all over the place. If Jennifer points it out, you know it's bad. Harry was captivated by the band more than Quentin's performance. Keith thought he held his own. 6/10
Quentin doesn't really want to talk after his performance and he just tells Ryan that seeing his best friend (Joey Cook) sitting in the bottom two with another of the best vocalists in the competition (Rayvon Owen) is "whack." Ryan tries to cheer him up and send him backstage to change when Harry calls him back.
If Quentin thinks this "whole thing is whack" he can go home. He's biting the hand that feeds him. This is a competition and somebody has to go home. OUCH. 
Quentin tries to explain that his comment was about Joey and Rayvon and not about the critique. He does a great on-the-spot job of defending himself and showing Harry to be a bully. Nice work, Quentin!
Joey Cook takes the stage first. She's singing for the Idol Fan Save here. She's chosen "My Funny Valentine," and she chooses to play it pretty straight. She has so much control over her voice. It's crazy! This is one of the prettiest performances she's ever had. 
Harry starts by saying she looks lovely and then wishes he could mentor her. He thought she did a damn good job. Keith loves that she goes beyond her comfort zone consistently even if he didn't feel that was his favorite performance. Jennifer says this is her type of song and her voice fit it, but she wasn't moved. 8/10
Now it's Rayvon Owen's turn to sing for the save. He's singing "Long Train Running" and does a little dancing with his backup singers. He's going to win the sing-off against Joey on energy points alone. This is probably my favorite performance of his. It's fun. He has fun. I have fun watching it.
Keith thought it was good and spot-on performance wise, but he didn't feel anything. Jennifer says it's not bad to be perfect and loves that he keeps fighting. Harry likes that he's a fighter but doesn't think he's making smart song choices. 8.5/10
Clark Beckham is back on the stage. He's slicked back his hair and changed up his look for this round. He's behind the piano for "Moon River." He looks for the red dot on the camera, squeezes his eyes shut, and then opens them, trying to make that connection with the camera. His eyes sparkle, but he looks nervous. This is a very sweet performance, but it's not very emotionally charged for me.
Jennifer loved it and felt like she was in a movie. Harry says he's an incredibly talented young man but this sounded a little like a cocktail hour performance. He wants Clark to use different chords. Keith calls it warm and fuzzy like an epidural. 8/10
Tyanna Jones steps up next. She's going with "Proud Mary" and I could not be more excited for this. She starts it slow and then kicks it up a notch and works the crowd and stage with that way she has. The song needed just a teeny, tiny punch near the end because it kind of trailed off, but still, it was a great performance.
Harry calls it as close to perfect as she could've gotten. Keith loves that she's this good at 16 and can't wait to see where she's going to go. Jennifer wants her to find songs that let her do what she just did every single time. 10/10
Now it's Nick Fradiani's turn. He's bringing "Only The Good Die Young" to the audience. He's definitely changed his voice a bit for this, trying to pick up a little more Billy Joel, but it's nice. I like it. He doesn't know how to work a stage and always seems awkward without a guitar, but he was feeling the lyrics. 
Keith kicks it off by giving credit to the arrangement for making the performance shine. Jennifer also loved the arrangement and that he stood up. Harry didn't feel like he was singing to a person and thought the arrangement threw him off. 8.5/10
Quentin Alexander is singing "The Sound of Silence" for his second choice. He's definitely still suffering from pitch issues. AND the band is overpowering him again. He has a few nice moments, but it's a typical dark, moody Quentin performance. 
Jennifer calls it dramatic and moody and tells him to control his emotions and put his heart out first. Harry compliments him again on interpreting lyrics and loves the tone of his voice when he holds notes. But he's still very pitchy. Keith loves that he tries different things even when he doesn't always nail it. 6/10
Jax hits the stage to sing "Beat It." It's the same thing as every other time. She's choreographed herself to death so there's no emotion in her very energetic performance. There's also about four lines in this arrangement, so it's a terrible song choice for that reason alone. 
Harry has always wanted to see her run around the stage like an idiot and have fun. Keith called it contagious. Jennifer says she made it look cool tonight. Maybe they've all experienced something that didn't translate via camera. 7/10
And now it's time for the Idol Fan Save. Joey and Rayvon will each sing and then we'll take to Twitter to vote.
Rayvon Owen goes first with "Always On My Mind." His voice is like butter and this song is a great choice to showcase that. But I don't get the sense that he's singing it about or to anyone which is what would kick this up a notch. He can be technically perfect week to week but the connection is what's missing.
Keith called it the right song and beautiful. Jennifer had goosies. Harry thinks he's a ballad singer and that's his sweet spot. 8.5/10
Now Joey Cook gets to sing what might be her swan song. She's picked up her ukulele for "Somebody to Love." This is a Bluegrass-y version of the classic that sounds like something Mumford and Sons might sing. It's a great way to go out if it is, in fact, her final performance. She's so fresh and she just put it all out there.
Jennifer definitely felt that performance. Harry says it's a different kind of groove and that's what always impresses him. She's inventive and talented and that's what has kept her here so far. Keith loved that she showcased two sides of herself between her performances. 9/10
52% of the Twitter votes went to save Rayvon Owen. Joey Cook is going home. BUMMER. She does an amazing job at not showing her disappointment. 
It's beyond time for Quentin Alexander to leave the competition, but for some reason, he keeps getting votes. My hope is that he and Rayvon will end up in the bottom 2 next week and Rayvon's Idol Fan Save winning ways will edge Quentin out.
Here's hoping I'm right. 
Miranda Wicker is a Staff Writer for TV Fanatic. Follow her on Twitter.