American Idol Top 6 Recap: Arena Anthem Anarchy
Miranda Wicker at . Updated at .
The drama was real last week as Harry Connick Jr. called out contest Quentin Alexander on what the crooning judge perceived to be an intense amount of disrespect on last week's American Idol.
Replaying that is how the producers chose to set the tone for tonight. Instead of explaining what, exactly, "arena anthems" are. Ryan will probably get to that in a minute, right?
Right.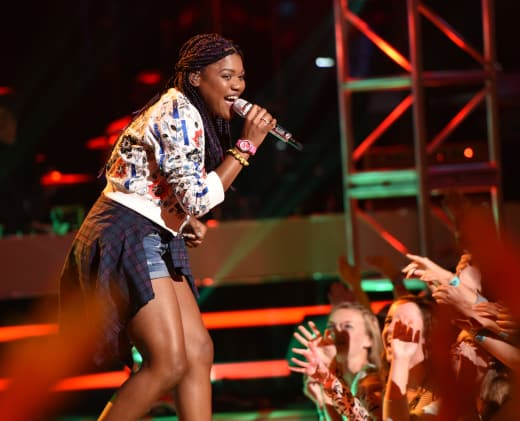 "Epic songs from mega-superstars." That's the definition of Arena Anthems. Okay then.
The first person moving forward and grabbing a spot on the Idol Summer Tour is...Jax. She's....playing the tambourine on "Are You Gonna Be My Girl." This is an amazing vocal, super well-mixed with the backing music. She's not being overshadowed by the band behind her. Plus, this performance doesn't look and feel over-choreographed. It's a nice start to the night.
Keith loved the song and thought she did great. Jennifer says she's ready for tour. Harry says he's starting to understand what it would be like seeing her in concert. 9/10
Nick Fradiani is also safe! He's channeling his inner Adam Levine with "Harder to Breathe." The verse is a little weird for me, but he settles into the chorus nicely and then just starts jamming with the band while he sings and plays, but the guitar is distracting. He feels too...bound by it. I can almost guarantee Keith would tell him to drop it lower. It was solid, but not my favorite of his.
Jennifer, who danced along the whole time, says he's getting more and more comfortable every week but she wished he'd had the whole audience participating. Harry calls it really scary...for the other people in the competition. Nick is getting better every week. Keith thought it was a really strong vocal and tells him to center on the performance. 8.5/10
The next contestant  to hit the tour will be Clark Beckham. (Whew.) He's chosen "Yesterday" as his arena anthem. It's a little...not anthem-y. But dang, this guy's voice is amazing! Just fabulous. Way to slow it down, Clark!
Harry says one of his favorite things was that he didn't use high notes gratuitously. Keith called it beautiful and thought it was an interesting choice that worked. Keith reminds Clark that it's okay to show vulnerability. Jennifer thought it was risky but it paid off. 10/10
Tyanna Jones is the next contestant to make it through! She's changed up her hair this week. She's bringing us to a "Party In The U.S.A." The song choice is PERFECT! Seriously perfect. This girl is just amazing! I love her.
Keith calls it "fun," but he likes to see her doing things that are more weighty. Jennifer says she looked more comfortable than she's looked in weeks, so she loved it. Harry believed the song choice was super smart because she was so relaxed and effortless in the performance. 10/10
Quentin Alexander and Rayvon Owen (yes, again) are in the bottom two, which means they'll both sing for the Idol Fan Save.
Quentin Alexander sings first. He chose "Light My Fire" by The Doors for his anthem. It's a typical Quentin trying to be sexy, vocally subdued, kind of eh performance. Not his worst. Not his best.
Jennifer kicks if off by saying he always seems centered on the stage but she always wants more vocal "pow" from him. Harry thought he sang pretty conservatively while the band changed up the arrangement. Keith says he swims in his own direction and plankton can't do that. Quentin is anti-plankton. 7.5/10
Rayvon Owen, no stranger to the bottom two, goes super current with "I'm Not The Only One" by Sam Smith. This is a song in his wheelhouse, for sure. This is the kind of artist he could be today. It's a super well done performance and I'm not sure why this guy keeps ending up in the bottom two.
Harry starts out by saying the fantastic vocal performance wasn't even his favorite part. That was the breath he took near the end of the song. Keith loved it. Jennifer thinks he's the dark horse in the competition. 9/10
For Nick Fradiani's second song, he's going with "Maggie May" by Rod Stewart. It's an interesting choice since it's an older song. It kind of makes him sound a little dated, to be honest. I love him, but this is such a well-known older song it's hard to imagine it on the radio today. It needed something though. Something was missing.
Keith gives him props for lowering his guitar strap a little. Jennifer thought it was a really good song choice but he needs to make moments. Harry decides to ask a question: Can he sustain a two or three hour show on the road? "I know I can. I've done it before." Okay then. 8/10
Tyanna Jones sings "Heaven" and she looks like an angel. She sounds like one too. Tyanna's singing is effortless. She just opens her mouth and these amazing notes start spilling out like she's not even trying. It's beautiful.
Jennifer liked that she took a different direction. It wasn't perfect, but people needed to see it. Harry asks another question: What type of music would she record on her first album? "I'm a mix of everything." Keith calls that a great answer because she's a fusion artist. 9/10
Singing Justin Bieber's "Boyfriend," Clark Beckham takes the stage for round two. He slows it down with the acoustic guitar while simultaneously speeding it up. This is amazing! Go download this one, guys! So, so good!
Harry starts the critique by saying he did himself a disservice by setting his own bar so high and that he shouldn't have done what he did with that song. Keith wants him to feel the songs more. He's too technical and not dangerous. Jennifer didn't think it was a stadium anthem. They are all insane. All of them. 10/10
Jax sits down behind the piano for "White Flag." Once again, the song is decidedly not anthem-y. (Did these guys misunderstand the theme?) This is when I like her best, though. When she plays piano she comes to life. There's no over-doing it. She just plays and sings and something beautiful happens. 
Keith loved seeing her play the piano and was riveted for the entire performance. Jennifer said that this song and performance was exactly what she needed to do in this moment. Harry makes jokes because he doesn't have anything critical to say. 10/10
For his second song, Quentin Alexander chooses one of my favorite songs EVER, "Shake It Out" by Florence + the Machine. I feel absolutely confident saying he just earned a spot in the tour with that. It was his best performance to date. If he does leave tonight, that was definitely a way to go out.
Jennifer thought he dug into his vocals this time. Harry thought it was really good and asks if he were in the studio would they let him autotune him on a CD? He says "I would not." He wants to be raw and pure and if he makes a mistake he wants people to hear it. Keith loves that he does his own thing and tells him to take the reigns if he gets to make his own record some day. 10/10
Rayvon Owen closes the night and hopes for the save by singing "Go Your Own Way." Jennifer starts dancing almost immediately and Rayvon breaks free of the mic stand to have some fun on the stage. The song seems a little too low for him and this is just not great and he knows it. Not even that high note at the end is going to save him. Absolutely everyone goes nuts for him though.
Harry asks what kind of guidance he would take from a record producer. Rayvon says making a record is a collaborative effort; listen to those with more experience but know who you are as an artist. Keith screams into the microphone. Jennifer says it was a great way to finish the show and calls him a fighter. 7/10
In terms of the Idol Fan Save, Rayvon and Quentin are tied. Now Twitter will have five minutes to decide their fates.
Can Rayvon make it out of the Bottom Two for a FOURTH week in a row? Or will Quentin be going on tour? 
Survey says...Rayvon Owen! 
The entire time they were waiting on Ryan to make the announcement, Quentin just kept congratulating Rayvon. Over and over "congratulations, congratulations." I'm shocked! I'm not upset, but I'm shocked. 
Will Rayvon Owen go home next week? We'll find out on Wednesday.
Miranda Wicker is a Staff Writer for TV Fanatic. Follow her on Twitter.