The Good Wife Season 6 Episode 16 Review: Red Meat

Christine Orlando at . Updated at .
The drama of election day and a heated debate between a Republican and a Democrat made The Good Wife Season 6 Episode 16 one of the best episodes of the season. 
Kurt and Diane headed off to Wyoming on a luxury hunting trip with Kurt's rich, Republican friends and it turned out to be far more entertaining than I ever expected.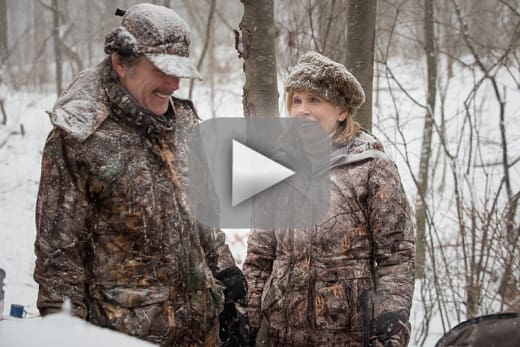 First off, Diane made camo look good and the dialogue between she and Kurt sparked with chemistry. From Diane's chagrin at her husband being more turned on by a hunting outfit than standard lingerie to joking that she was in a room with the top 1% of the top 1%…
As Kurt pointed out, this is what he deals with when he's surrounded by all of her friends. I would have expected this trip to be more awkward, yet somehow it never was, even when Diane mistook Gill's call girl for his wife.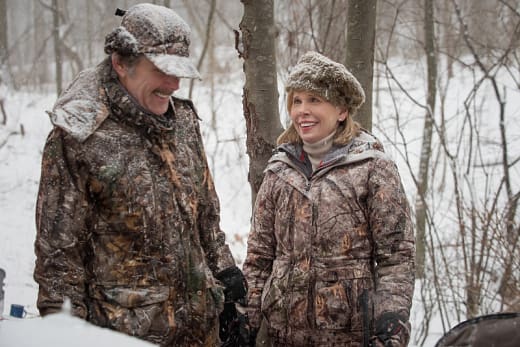 Diane and Kurt are a rare breed both on TV and in real life. They are one of the few couples who can accept and embrace each other's differences while recognizing that those differences don't have to define them as a couple. They love one another, whether they agree or not. 
R.D. debated with Diane for two hours in a deer blind and it was fascinating because it was civil and intelligent. There was no evil villain in this conversation, just two people who saw an important issue from different perspectives. How I wish we saw more of that in real life. 
I respect The Good Wife for giving us this type of intelligent debate while keeping it in character and entertaining.  That's far from easy which is probably why we see so little of it on TV.
As happy as I would have been to spend the entire episode in Wyoming with Diane and Kurt, it was election day back in Chicago and with one interview, Peter took Alicia's campaign out at the knees. 
He tried to play innocent but no one was buying it. The look on Eli's face made it clear he knew what was happening and Alicia certainly knows Peter well enough to know when she's being played.  
As Alicia told her incredibly smart but manipulative husband in this The Good Wife quote…
(to Peter) Let's just get through this, then we can get back to you using me politically.

Alicia
As Josh and Johnny debated over last minute calls, they tried to find a voice that would persuade people to get out and vote. I didn't know whether to laugh or cry when they wanted Mrs. Landingham from The West Wing. Not only did the beloved character die during the run of the show, the actress who played her, Kathryn Joosten, passed away back in 2012.
One of the most unexpected perks of this entire election was hearing Marissa's off the cuff one liners as she frequently said what most of us were thinking on subjects ranging from politics to men to video games…
Every girl's bra size increases a letter when they become an avatar.

Marissa
With the campaign over, I hope she finds a way to stick around. 
Alicia's win left me with mixed feelings. I look forward to this new chapter in the show but what will it mean for Florrick, Agos, and Lockhart? And I was surprised that Prady didn't take her up on her offer. The two could have made one heck of a team.
And where were Grace and Zach? Their mother just won the election. Shouldn't they be celebrating with her?
Despite her hot kiss last week with Elfman, it appears that dalliance has ended before it even began. He took one look at her and Peter and decided to head to California. Finn is supposedly seeing someone else and Alicia and Peter are farther apart than ever. Why tease us with a love life for Alicia and then not follow through on any front? 
Finally we get to Kalinda and Lemond Bishop. Can a drug dealer really retire? Will Kalinda survive this storyline? So many questions as we head toward the end of the season.
Check back next week to read our review of The Good Wife Season 6 Episode 17 and if you can't wait, you can watch The Good Wife online now right here at TV Fanatic.
C. Orlando is a TV Fanatic Staff Writer. Follow her on Twitter.