The Good Wife Season 6 Episode 15 Review: Open Source

Christine Orlando at . Updated at .
Louis Canning is alive and well and calling Alicia to his bedside in the ICU on The Good Wife Season 6 Episode 15. That some poor 13-year-old girl died playing a game of soccer and now Canning lives is proof that life is not fair. 
I almost believed Canning when he said he wanted to gift the family millions. Who wouldn't want to do something for the family that lost so much, yet made a decision that allowed you to live? But, this is Louis Canning.
Like Alicia said, she seems to have a thing for the bad boys, perhaps that's why she always seems to come when Canning calls. Partly because she feels like it's the right thing to do and partly because she just can't make herself walk away.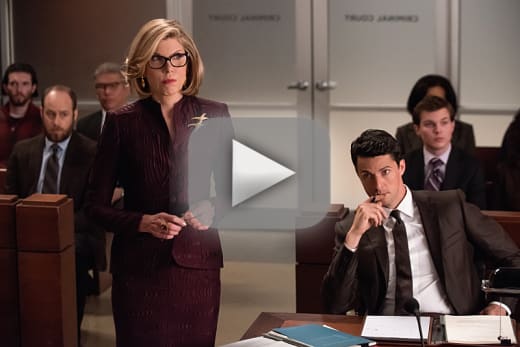 If it was all a scam, and I think it was, David Lee really had me fooled when he explained his fears about the charity to Alicia in this The Good Wife quote…
It's too new for the State Department to make a determination and I'm not spending ten years in a Federal prison for aiding and abetting terrorists.

David Lee
Linking an unwitting Alicia to Hamas would have been a brilliant way to destroy her campaign. Thankfully, Eli was quick to smell a rat. 
Eli was also livid with John's plan to have Alicia criticize Peter, and I could see both sides. Alicia needs to be seen as her own person and not just an offshoot of her husband if she wants to win this campaign. But the opposing argument is equally valid. The Florricks are a brand and agree with it or not, Alicia has stuck with Peter this long, why change tactics now? 
Did anyone else notice that Alicia almost looked happy when John gave her the go ahead to attack Peter? Personally, I think Eli brought up the most important point…
You may not want Peter as a friend but you certainly don't want him as an enemy.

Eli
For as much as the promos played up Alicia's and John's quick kiss at the end, I thought we'd see a lot more of this lip lock, especially considering last week's fantasies. 
Finally, we get to the court case. Remember when this show was all about the court case? It seems to have gotten away from that this season; not that I'm complaining. I've actually enjoyed most of Alicia's campaign, but after that snippet of Will last week, it makes me miss seeing Will and Alicia in court together. They had a definite spark; even just as colleagues that was always fun to watch. 
As much as I like Diane and Kurt, the same spark isn't there. This is a different couple with their own issues. I appreciate that even though they frequently come at cases from opposite sides, they always seem to find their way back together. 
The case of the week scared the heck out of me. That anyone who can afford a 3D printer can print out their own weapon that can easily bypass most security measures is truly frightening. As if regular guns weren't dangerous enough, now we've made them untraceable, undetectable and uncensored. 
What could go wrong with that?
Don't forget to check back on Wednesday for our next The Good Wife round table and you can always watch The Good Wife online right here at TV Fanatic. 
C. Orlando is a TV Fanatic Staff Writer. Follow her on Twitter.