The 100 Post-Mortem: Why Did Clarke Leave? What Did Jaha See?
Jim Halterman at .
See ya, Mount Weather!
On The 100 Season 2 Episode 16, Clarke, Bellamy and the rest of our group finally put the horror of Mount Weather behind them... and then Clarke left!
While there were many shockers on the finale, having our leader decide she needed to distance herself from everything (and everyone), based on what she had to do to get her people to safety, likely topped the night.
Also, is this Promised Land that Murphy and Jaha find going to be another Mount Weather, with it looking all awesome at first and then being a nightmare?  And did that look on Jasper's face make you think that we may see a very different man on Season 3?
Those were just some of the questions I posed to series creator Jason Rothenberg about the finale of The 100 Season 2. Scroll down for his summary of what happened and his preview of what will happen next...
TV Fanatic: First, tell me about Clarke leaving. Was that an easy decision for her and/or for you and your writers?
Jason Rothenberg: It was a hard choice for her, for sure. It was less hard for me. I sort of knew from the beginning of us breaking the season that at the end of this season Clarke was going to have accomplished her goal, which was to save her people or those who were alive anyway, and yet not be able to sort of participate in whatever celebration or whatever sense of relief the others were feeling, that she was going to have to do so much and go so far that she couldn't live with herself, she couldn't be reminded of it every day.
So that was really something I've known from day one in terms of how this season would play out. But I think it certainly puts her in an interesting place as we start the journey in season three now, out there, alone. What's she doing? Is she just going on a walkabout? Is she actually still on some type of a mission? How does she handle herself in a world after the job is done, you know? I think these are all things that we're going to explore with her next year.
TVF: Jaha sees this AI/woman, Allie, at the very end. Because his mind has played some tricks on him, should we believe what he's seeing is really there or is that a question for season three?
JR: You should believe it. A hundred percent. I think the design of the storytelling lies in the epilogue of the episode. Murphy discovers a little part of the story and Jaha discovers the rest of it and of course there's still quite a bit of blanks to be filled in and that's intentional because we don't want to lock ourselves into too much with the ending of season two in terms of what we're going to do with it in season three.
But the guy on the video, the sort of Elon Musk/Steve Jobs, who created the software that went sentient and ultimately led to the end of the world…that's his house.
TVF: When we first saw Mount Weather we thought it was going to be this good place for everybody. Should we have those same kind of feelings about the Promised Land?
JR: I think, yeah. I mean, I think if anything by the end of the episode, it doesn't look so good. One of the questions I really wanted to answer was how did this world end? We never really told that story before in the show. We know it was some sort of a nuclear Armageddon but we don't know what caused it and so we're beginning to sort of turn the ship into telling that story, what does Allie want when she says, "We have work to do"?
So that could mean a myriad of different things just like I think the white room at the end of season one appeared to be at the end of the finale last year. Then at the beginning of season two we twisted it and suddenly, 'oh my God, Mount Weather doesn't look so bad,' but that didn't last very long. And then I think similarly you could expect that nothing will quite be as it seems with the reveal of the Promised Land, of the so-called City of Light.
TVF: Is it safe to say that we might see a different Jasper in season three? Because that look he gives to Monty at the very end scared me a little bit!
JR: Yeah. I think that Jasper obviously is brokenhearted over what happened to Maya and he and Monty are going to have some trouble for sure. Whether he openly comes to realize that they had no choice or not is something that I think we'll have to wait and see about, and he's already a different Jasper.
The Jasper who was sort of the funny, fun-loving guy, the journey for him this season really has been a coming of age. He's had to take responsibility and become a leader in his own right. Mount Weather, once Clarke left…[and] obviously Bellamy not there for most of it and he needed to step up and he did. So he's already a different guy. I think that's a good question. It's certainly something we'll have to wait and see about.
TVF: I need to ask if we're really done with Cage? I just never fully believe it when people get taken out that they're really taken out, ya know?
JR: Yes. I think when you see the visual effect of his hand pumping blood and stops pumping blood, he's dead. He is dead. At the end of this episode, and it's funny, the only survivor from Mount Weather is Emerson. Emerson is out there. Emerson is alive. But everybody else is dead.
TVF: Are you and your writers already thinking deep into season three?
JR: First of all, it was an incredible luxury to have been picked up for season three so early by The CW, so we thank [and] sort of kiss the ground that Mark Pedowitz [President, The CW] walks on every day. I've got to have this period of just thinking and brainstorming, and last season we had seven weeks between the time they picked us up and shooting the first episode. This season we have from January to July. So we're going to start the writers in April, but I'm already embracing the story with the writers that I know are coming back, and right now anything is possible.
The 100 has already been renewed by The CW for Season 3.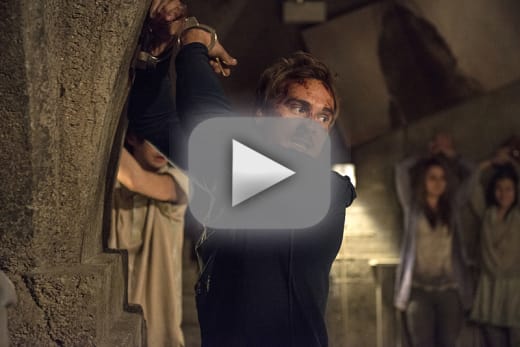 Jim Halterman is the West Coast Editor of TV Fanatic and the owner of JimHalterman.com. Follow him on Twitter.