Survivor Season 30 Episode 2 Review: It Will Be My Revenge
Paul Dailly at . Updated at .
When the going gets tough, just argue with your tribe mates. 
That appears to be the motto taken by all on Survivor Season 30 Episode 2 as the fractures continued to appear in all three tribes.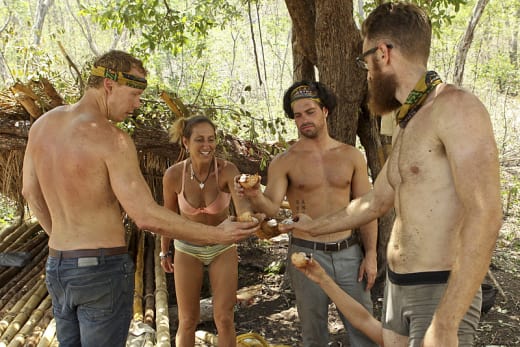 I did expect to see the aftermath of So's departure back at camp, but we didn't see any of it. What we saw was a tribe that just plodded on and continued trying to grow stronger, by any means necessary.
Max appears to be the wild card in the tribe. He seems like the type of guy that would be a swing vote if it bettered his game. That's not entirely a bad thing, but there's a high probability that his other tribe mates think so, too. 
Something isn't quite right about Shilin. Sure, she probably feels like she owes her tribe a huge debt because they kept her over the much stronger So. The tribe appears to have made a huge mistake since Shilin doesn't cotribute much to anything. That's two immunity challenges she has screwed up and it made me wonder what is keeping her in the game. 
My best guess is that she is just a number for the merge. She seemed a tad more reliable than So.
Over on the white collar tribe, Dan continued to do anything for screen time. That whole story about how he lost his underwear was just plain dumb. If you had one set of underwear, would you take the risk he apparently took? Either that, or he just doesn't care about his belongings. 
Thankfully, Lindsey and Sierra proved they aren't dumb girls and spoke out about his antics. I loved how brutally honest Lindsey was about taking him to tribal council and eliminating him. Lindsey seems like she is a much stronger player than a lot of the others on her tribe. 
The no collar tribe continued to argue. Vince extended his reign of crazy and practically made an alliance with everyone from his tribe. Yeah, he's one of those players. 
Vince scares me a little bit.

Jenn
The minute Vince notices a weakness in a player, he exploits it and tries to take them under his wing. All he wants is the votes on his side, but is everyone ready to give him them? Nope. 
After the immunity tribal was one by the white collars and the no collars, it emerged that the red tribe would face tribal council. How did Vince set out to save himself? Well, he tried to blame the failure of the task on Will's medical condition. 
Like, get it together Nina. You're crying on day 4.

Jenn
This is when the show is most interesting, when everyone starts getting caught up in their own lies. Nina let will know about Vince's comments and he took action. He had every right to. 
So... who got eliminated?
Vince!
I know it's a week to late, but the guy was a creep. He had to go. It'll be interesting to see which way Nina and Will go on Survivor Season 30 Episode 3. Will they make a two person alliance, or will they scramble to be included in the other alliance?
"It Will Be my Revenge" was a decent episode of this CBS competition series. As expected, everything was pulled from under us and we realized that nothing is set in stone. 
Remember you can watch Survivor online right here on TV Fanatic. Get caught up on all the scheming now!
What did you think of the episode? Are you glad Vince is gone? Who will go next? Chat with me in the comments about what you make of the developments. 
Note: Survivor Season 30 Episode 3 airs Wednesday 11th March at 8/7C on CBS. 
Paul Dailly is the Associate Editor for TV Fanatic. Follow him on Twitter.