Suits Finale Q&A: Gabriel Macht on Love for Donna, Flashbacks & Season 5!
Jim Halterman at . Updated at .
What do you say after you say "I love you?
If you're Harvey Spector, and you've said those words to your longtime secretary/confidante Donna Paulsen (as he did in Suits Season 4 Episode 15), there's so much that needs to be said.
First, what kind of love was Harvey talking about? Is it time for their relationship to go to the next level? And what will we learn from the flashbacks on Suits Season 4 Episode 16?
To get all the answers, I hopped on the phone last week for some time with Gabriel Macht, who brings Harvey to life every week on the USA legal series. Let's see what he has to say about Season 4 and even Suits Season 5...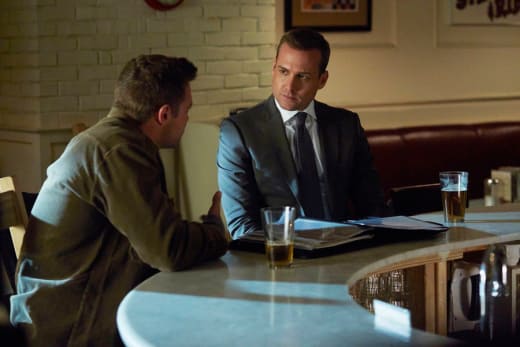 TV Fanatic: The last episode ended with a nice little cliffhanger of its own with the L word coming out between Harvey and Donna. How difficult was that for Harvey to actually even say those words? Or was it not as difficult as you would think?
Gabriel Macht: It's hard to draw the line where Harvey starts and Gabriel ends and Gabriel starts. It was a really big conversation on set. The whole episode Harvey's fighting for Donna's life and we've sort of seen that before. The stakes have just gotten much higher because it wasn't just her being fired. It was her being put to the test and possibly going to jail.
I think that sort of was just a wakeup call for Harvey to do whatever magic he had up his sleeve to get her out of it. I think it also told him how much she means to him. He does say 'Donna, I love you at the end.' But prior to that there's multiple times that he sort of professes his love in different ways. But that love is not necessarily like 'I'm in love with you' or 'I want you to have my children.'
I think what works is that it's really up to the viewer to decide how that was properly meant, which makes it not so easy on the fans, which I like but there's a ton of fans that are like 'oh, for sure. Oh my God! They should be together!'
TVF: Do some of those answers get addressed as far as what kind of love it is and do they bring it up again?
GM: I think they do. I think they do become addressed in their own way. I think it's really difficult for both of them to engage in the subject because what could happen if it goes either way? I think they're also just a little bit confused because I don't think Harvey is super in control of his emotions and what he says.
As much as he says the quippy, witty, amazing, quick-witted thing, sometimes he says stupid things without thinking about them. I think what's complicated about the L word moment and about the fallout is that it's not clear cut. I think that's what I like about it. 'Okay, I'll play my hand.'
TVF: Talk about the flashbacks we see in the episode. a little bit. We've seen flashbacks before but we get to see how Donna and Harvey meet!
GM: Right. That's the first time they check in with each other. It's also one of the first windows into seeing how he really believes that she gets him and knows what's right and what's wrong for him. She has a sure fire feeling about Forstman. Harvey doesn't really listen to that voice and it comes back to haunt him.
TVF: How is it for you and Sarah to shoot those scenes where you're kind of going in the past? You two have a long history as friends but you're also playing the history of these characters that goes a long way as well.
GM: It was fun. We have a good time in the past. They're characters but we have a very full friendship in our 20 years. We've been to weddings together, we've had close family members pass and dealt with the mourning of that. We've had our friends divorce and gone through births and there's just been a full friendship there. We're able to tap into a lot of different things in our acting. I guess more than anything we just trust each other and we try and just go to where the characters were at. They're very different from us. Harvey and Donna are just really super-different than us. Look, we're having a good time and we always have a good laugh. It allows us to be open.
TVF: We also get a little bit more of Harvey's family in this episode. Do you hope in season five we might get to see more of his family?
GM: Yeah, I would like to see more of that. I did have a conversation with Aaron [Korsh, creator] who mentioned that to me. He was sort of leaning into that. They haven't written any of the episodes yet but they're throwing stories around. He had engaged in the idea because he loved the dynamic between Harvey and [his brother] Marcus. Harvey in many ways feels responsible for some of the issues that Marcus has been dealing with. That creates drama. I think Billy Miller did a terrific job. I think [Aaron] is going to try and follow that story a little bit. I hope he does.
Suits Season 4 Wednesdays at 10/9c on USA. 
Jim Halterman is the West Coast Editor of TV Fanatic and the owner of JimHalterman.com. Follow him on Twitter.