Person of Interest Season 4 Episode 17 Review: Karma

Sean McKenna at . Updated at .
Finch going dark. Reese opening up. The truth about a possible killer left unanswered.
Person of Interest Season 4 Episode 17 was very much a case of the week devoid of New York turf wars or villainous artificial intelligences.
This was an hour that, although it did center on a vigilante out for revenge, was really a way to provide some character insight into members of the POI team.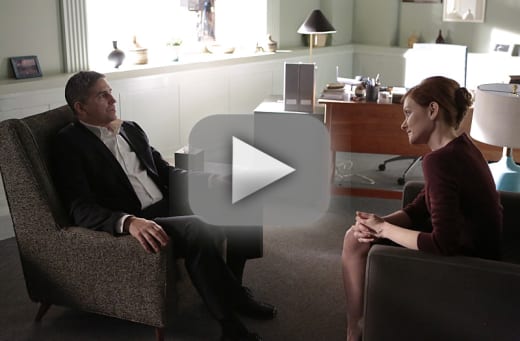 The most fascinating parts had to be Finch's flashbacks and just how far he was willing to go after his friend Nathan Ingram died.
Of course, Ingram is connected to the Machine and that overarching story, but it was far less about the mythology of the early days (though I loved the communication solely through telephone rings) and more on the emotional moment Finch was going through.
To see him in a wheelchair was certainly a sight, but his flashbacks in tracking down Alicia Corwin (who wound up tracking him down years later in Person of Interest Season 1 Episode 23) was the real difference. He was grieving so much for his friend's death that he was willing to blow her up.
It was definitely different seeing him rather broken, but I was glad that the Machine was able to do a bit of coaxing to keep him from following through. And hearing Alicia admit some of her faults and acknowledging that all they wanted to do was make a safer world helped bring Finch back from the brink.
It wasn't like Finch was going to pull the trigger, especially because we knew she was alive years later, but I still liked seeing that alternate side to the bespectacled hero.
So it wasn't a surprise that Finch confronted the psychologist trying to convince him not to kill, that revenge doesn't bring closure.
I liked that Reese and Finch had disagreements about the number they were dealing with for the hour. They weren't on the same page about him being a killer, even when presented with the same clues.
What's more, it was a solid twist that we never would find out if the suspected killer did indeed commit the act. It wasn't about getting that answer, it was about being there when the number comes up and saving or helping the person that is the victim.
I'm surprised we didn't get some more character stuff with Fusco, but he did manage to get some great sarcastic lines as well as taking part in the case.
It was good that in addition to some Finch reveals, Reese opened up to his therapist. It's been a long while since he's talked about his love, the one he walked away from. But, to hear him at least mention her, even if he's unsure about how to grieve, was a big step for him.
The therapist and Reese relationship has been far more than a chance for Reese to flirt and have some possible romance. It's also really allowed us to see him as the human character that he is beneath all the sweet action moves and cool whisper-talks.
If anything, it's good to know that even with their bumps in the road, Reese and Finch (and Fusco) have grown and focused themselves into helping others. That's the POI team we know and love.
I'm sure we'll be back to the major story what with Person of Interest Season 4 winding down, but it was a decent stop on the regular old case train, while really getting a chance to pull back at the layers of the POI characters.
What did you think of the hour? Make sure you catch all the cases of the week when you watch Person of Interest online, and be sure to sound off about the episode below!
Sean McKenna was a TV Fanatic Staff Writer. He retired in May of 2017. Follow him on Twitter.