Once Upon a Time Season 4 Episode 17 Review: Best Laid Plans

Christine Orlando at . Updated at .
The road to darkness was paved with the best of intentions on Once Upon a Time Season 4 Episode 17 and it all began with a unicorn. 
I've never really trusted those creatures and this one showed Snow and Charming two different futures; one where Emma was an innocent baby and the other where she turned into an evil young woman who literally crushed her mother's heart. 
The vision sent Snow into a panic, so when the Sorcerer's Apprentice gave her the possibility of keeping Emma from darkness, she grabbed it. Unfortunately, magic always comes with a price, and this one would cost someone else their child. 
It's difficult to view Snow and Charming as heroes knowing how they justified stealing Maleficent's offspring, even if they did believe it was a dragon. When Maleficent begged Snow, "Mother to mother. Have mercy. I can't lose my child." I couldn't believe that Snow was able to go through with her plan. 
Her belief was that a child born of a mother of darkness must inevitably turn dark. Wouldn't the same logic imply that a child born of goodness would remain good, and if that were the case, there would be no reason to worry about her own unborn child?
Most people make poor choices when they're scared, but Snow's were particularly heinous, no matter what she believed the outcome to be. She was willing to turn a still innocent being dark. There's nothing heroic about that, and the same cowardly behavior popped up again in Storybrooke when she and David decided to burn the author's page. 
Thankfully they both came to their senses, but was it too little, too late? Emma was horrified by her parent's actions and hurt that they'd lied to her for so long. It's taken years for Emma to learn to trust. Can she forgive them and move on?
Elsewhere Mr. Gold visited with Belle. Of course she was unconscious, but nevertheless he had something to tell her…
My magic comes at a cost, as you know, and I've racked up so much debt I can never be clear of it unless I find a way to change the rules.

Gold
He also mentioned something else changing and it could possibly keep him from coming back to her. It was very cryptic and certainly made it sound as if there's more to this story than we know. 
Elsewhere, Maleficent begged to know the truth about her lost child. Her desperation really struck an emotional chord. No matter what the pain, she needed to know her child's fate and I don't blame her. 
Baby Lilly was sent to this world 30 years ago. Who is she in Storybrooke now, and is she good or evil?
Once again, Hook and Emma provided one of the few lighter moments of the hour. I loved how she now referred to him as Killian and his hint of jealousy over August's return was sweet, as he said in this Once Upon a Time quote…
Why would I be jealous, though I do know you're partial to men in leather jackets.

Hook
Finally, August shared that there have been several authors throughout history. They have been charged with recording what they see, but this final author decided to write the stories he wanted to see…and they weren't always kind. 
The moment I saw actor Patrick Fischler as the Peddler, I knew he wasn't as innocuous as he appeared. The actor has had guest roles on several shows, and he always ends up being the evil guy in disguise. This was much the same. The Peddler that sent Snow White and Charming on their quest decades ago turned out to be the author. 
Unfortunately, once he was set free he didn't stick around long enough to answer any of Emma's questions. Is he capable of continuing to write his own stories, and if so, who will get their happy endings and who will wish David had burned that page?
Don't miss a minute of the magic. You can watch Once Upon a Time online here at TV Fanatic.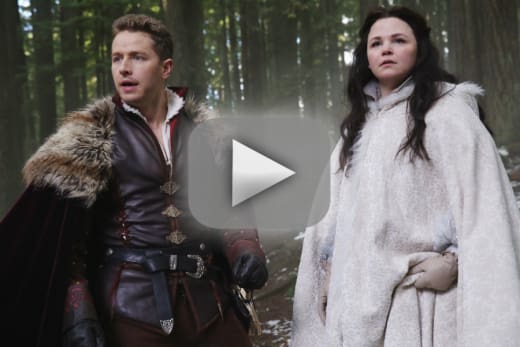 C. Orlando is a TV Fanatic Staff Writer. Follow her on Twitter.