Finding Carter Season 2 Episode 1 Review: Love the Way You Lie
Carissa Pavlica at . Updated at .
Did you see that coming?
In hindsight, it makes a lot of sense and it's something, especially in our current environment of fertility problems and scientific advancement, that I should have guessed. It never crossed my mind. I can only chalk it up to good storytelling.
Yes, in Finding Carter Season 2 Episode 1 we learned Lori is the biological mother of Carter and Taylor, as she was an egg donor for Elizabeth when Elizabeth was unable to conceive on her own.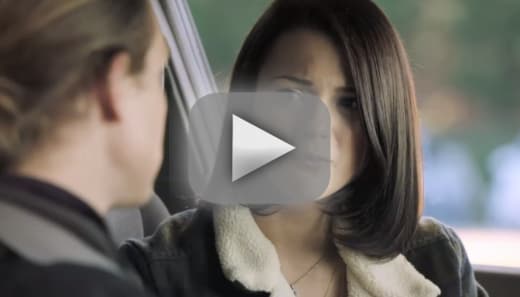 It was surprising the kidnapping drama part deux was done so quickly, essentially within four hours or so from the time Lori took Carter. Lori masterfully slammed the wrecking ball at the Wilsons' lives, this time dragging every last member into the equation, even if they aren't aware of it as yet.
Carter handled it wonderfully, never doubting Elizabeth's love for her, and even after spending her formative years with Lori, still realizing the weight of motherhood belonged to Elizabeth. Taylor, on the other hand, seemed to have turned the switch to "off," choosing to pretend it never happened at all. 
The scenes both Carter and Taylor recall of the day Carter was taken are heart wrenching. While it's not necessarily the norm to remember in such detail at that early an age, the trauma surely made the difference. 
Ever since I stood in that doorway and watched Lori drive away with Carter, I have had to live every day knowing that I couldn't help anyone, not Carter, not you; no one. And I've dreamt a thousand times that I ran down that street and stopped them. And now I get to look that woman in the eye and do something. I'm going.

Taylor
It was the first time Taylor really mentioned how much of an impact it made on her to stand by, not doing anything while Carter disappeared. I hope they eventually delve into how she feels now, after she  learned Lori purposefully left her behind because she's such a peach and wanted to leave Lori with at least one daughter. Did anyone else want to reach in and slap the crap out of her when she said that?
As Lori was tossing around the notions of humanity, motherhood and God she had the nerve to disregard Taylor's feelings completely by saying she just left her behind for Elizabeth. She chose one daughter over another, which is never good, even when the creep is a kidnapper. It's hard to see how Taylor can come out of this unscathed.
At least Taylor has Max back, and gosh I loved how he apologized to her.
Max: I made a really big mistake, breaking us up. I was going through a lot.
Taylor: That will happen when someone shoots you.
Max: Yeah, but I don't want to be apart. We had a really great thing going and I think we should have it again, now, if that's OK.
The entire family rallying around him to make sure he stayed with them during his recovery was also perfect. His decision to sleep downstairs (why didn't I ever realize they actually slept together in that house?!) didn't sit well with her, though, and now I'm worried.
Elizabeth's run-in with Lori at the station was also of concern. Although Elizabeth and David were united going through the kidnapping, his behavior last season wasn't all that noble. Their marriage was far from solid and he didn't treat Carter with the best intentions when he wrote the book before getting her permission. 
If Lori says there's more to his story, there most likely is, but she's sure to have embellished it. But who was she talking to when Carter woke up in the motel room? Carter was sleeping, and Lori doesn't seem so crazy that she would have been talking to herself. Who, other than David, would know about her status as the egg donor? 
Also, those commercials that were airing all summer on MTV with Max in an interrogation room...were they total fake outs or will those scenes be coming later? As the episode began, he was still hospitalized and only four hours passed since Carter's abduction, so that couldn't have happened. They could have also been a PR stunt. What do you think?
It appears the tables have turned and Carter will be the strong, responsible sister, while Taylor might experience a bit of a free fall. To suddenly find herself feeling a bit of what Carter felt last season would make her head spin, but seeing Carter want to be free of lies and live on the up and up is extremely refreshing. She's come so far since we first met her.
It's kind of odd seeing both Elizabeth and Taylor, formerly so strong, in very vulnerable positions. More than once the genetics and hereditary state of the Wilson women was mentioned and when the full weight of the truth settles on the family, it's going to send even more shockwaves over Grant and their grandparents. This is going to be one hell of a reveal.
Last summer's surprisingly addictive drama has grown up. Finding Carter has gotten real, and all bets are off. What other truths are going to leak out, further exposing the Wilson family? I can't wait to find out.
What did you think of the premiere? Were you surprised Carter was found and Lori caught so soon? What's next for the Wilson family? If you missed it, you can watch Finding Carter online via TV Fanatic.
Carissa Pavlica is the managing editor and a staff writer for TV Fanatic. She's a member of the Critic's Choice Association, enjoys mentoring writers, cats, and passionately discussing the nuances of television and film. Follow her on Twitter and email her here at TV Fanatic.