Criminal Minds went to a few unexpected places this week... and it paid off handsomely!
Not only did Criminal Minds Season 10 Episode 16 take place entirely in a prison, it concentrated on the prisoners and guards much more than it did on the BAU team itself.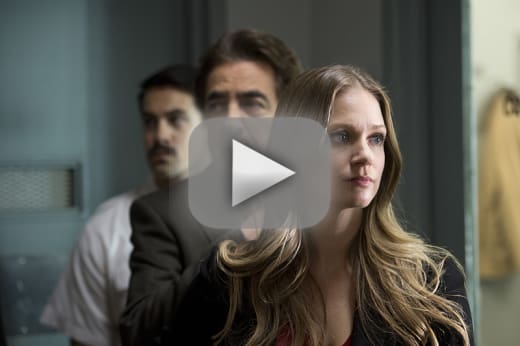 The case they investigated involved the murders of two prison guards, each of whom were found with socks stuffed in their mouths and seven of their fingers broken.
The mystery of the broken fingers was resolved only after we heard lots of Reid-generated dialogue (I guess monologue would be a better description) about symbolism and religious references. He finally landed on a simpler explanation: the number represented a cell number, specifically cell 34.
There were two reasons for the broken fingers. One was chutzpah on the part of Captain Shavers who wanted to taunt investigators.
They also served as a warning to the members of his unique little fight club: "don't say anything or this could be you."
When Morgan and Kate first realized that they might be investigating an unsub who wasn't necessary a prison inmate, the paranoia was intense. Kate said it best with: just means we got to be careful who we can trust.
Indeed. That observation put a whole different perspective on their investigation. I suppose we can forgive them for their lapse in forgetting about the video network that was happily in place while they interviewed the prisoners and guards. They interrogate people all the time, and there's almost always a camera in the background. They were probably so used to it they forgot about its significance in this instance.
Still, I don't know why they didn't catch on to those cameras, especially given Kate's warning and the nervousness of Officer Tom Polinksky, right before he spilled the beans.
There's a sense they may have realized their error, in that legendary "oh s**t" moment, right when Polinksky told them to keep his daughter safe – and about two seconds before the prisoners broke into the interrogation room.
Speaking of the prison break....wow what a scene that was. It never occurred to me just how vulnerable Kate, Morgan and Polinksky were in that tiny little room. This flashed all the way back to Criminal Minds Season 9 Episode 24, when the team was opposed by almost an entire town's sheriff's department.
The way the show was moving along, I just never expected the excitement to ratchet up quite so high. That scene with the escaped prisoners put me on the edge of my seat. The only thing I wondered was how far would the prisoners go before the good guys got rescued.
It makes sense that another group of prisoners intervened, only because we know that the prison system breeds all kinds of groups vying for power and territory. Even so, Kate and Morgan weren't exactly safe until the SWAT team showed up.
Jennifer Love Hewitt nailed it with her portrayal of Kate as worn out and haunted at the same time as she finally escaped the prison doors.
The unspoken though very present character in this episode was the prison system itself. While the aim of the show was to entertain, there was an important message being given about the effectiveness and ethics of a "prison for hire". We know these exist all over the place, but as the evil Captain Shavers correctly opined, they were only concerned with the bottom line.
The line between public service and private enterprise has everything to do with motivation. On the public side, the need is to ensure the goal of prisons remains intact: to protect society adequately and to rehabilitate prisoners effectively. In fact, it can be argued that the one purpose serves the other. A rehabilitated prisoner becomes a potential member of civilized society, there to make his way through life by means of hard work rather than graft.
In fact, private prisons open themselves up to scenarios just like the one in this story: where a concentration on bottom line profits may mean that higher-ups like the warden may miss out on bothersome seemingly inconsequential details. Details like the establishment of a prisoner fight club, with guards making bets on the involuntary participants.
There was one other interesting message, and it came at the end with Rossi's quote of Dwight D. Eisenhower. I wonder if the quote "If you want total security, go to prison. There you're fed, clothed, given medical care and so on. The only thing lacking is freedom" was a passing reference to stricter anti-terrorist laws. There was no reference to those law in the episode, which is why I find the quote so curious. Dwight D. was utterly correct: there's a tipping balance to be observed when we relinquish our freedoms in the name of security.  Food for thought anyway.
Final notes:
This episode was directed by Thomas Gibson. It's his fourth.
There were so many subtle messages. Like the message borne by the montage of prisoners being photographed at the start. We saw many characters: hardened faces, nervous faces, goofy and fun faces. No two were alike.
Another message was that "prisoner" does not equal "evil". Witness the prisoners who attempted to rescue Morgan and Kate, as well as the guy who lost his books to the evil captain of the guards. Not to mention Devon White.
The songs in the episode were amazing. At the start was the song "The Gospel Whiskey Runners" by Muddy Waters. in the middle of the episode they played "Echo" by Handsome Jack. And at the end was the song "Ancient Light" by Allman Brown.
Kate's niece Meg returns in next week's Criminal Minds Season 10 Episode 17 offering, entitled "Breath Play".
What did you think of this unusual episode? Let us know in the comments below. And remember: you can always catch up on anything you've missed when you watch Criminal Minds online.
Douglas Wolfe was a staff writer for TV Fanatic. He retired in 2016. Follow him on Twitter
.