Chicago PD Season 2 Episode 18 Review: Say Her Real Name
Paul Dailly at . Updated at .
Will the intelligence unit of Chicago PD ever live by the code?
On Chicago PD Season 2 Episode 18, a young woman named Felicia is murdered, which sets up a crazy whodunit storyline that took up the bulk of the hour.
We can't forget that the team will stop at NOTHING to close a case. Even if they have to break the law themselves.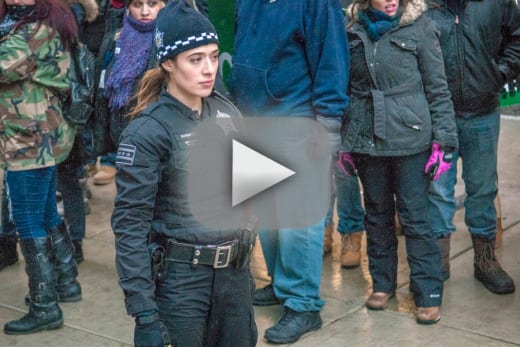 I completely understand that the police get a lot of people complaining that they have been mistreated, but it really does happen with Voight and his crew. It's only going to be so long until they are filmed or something to get proof about this.
Ruzek was an emotional wreck this week. It was understandable. He was undercover and met Felicia and got on well with her. It must have been a little surreal, what was happening. Sosa looked very guilty, but that would have been far too easy, wouldn't it?
Whenever Sosa was speaking, I just kept calling BS at everything. I wouldn't have been surprised if he was really the killer, but he wasn't.
There was a lot of suspense in the case of the week. Everyone else at the precinct looked a little shocked by how Ruzek reacted to news of Felicia's passing. It looked like Burgess was jealous, but thankfully those doubts were brushed away by the conclusion of the episode. She was so understanding and wanted him to go to the memorial to say goodbye.
I doubt I was the only one who pegged Burgess as this possessive girlfriend, so it was a pleasant surprise that she was okay with it all.
Elsewhere, Chicago Med is continuing to fill out the cast for the upcoming back door pilot. Halstead's brother, Will showed up. We know that he is going to be a surgeon over at the hospital. His introduction was quite comical and he is a very witty guy. Platt looked frightened when he was checking the marks on her neck.
She looked like she was about to call an ambulance. Did anyone else laugh out loud when he told her it was a hickey? She must have been so darn embarrassed.
Will's appearance also set the stage for some meetings between Halstead and Lindsay. These two characters need to just suck it up and stop letting Voight rule their relationship. Fans are going to tire of this really fast. It's similar to the Dawsey situation over on Chicago Fire.
The scenes with the protests were strong moments for the hour. It kept me wondering what was coming next because of the weapons the group had created.
Mouse is fast becoming one of the best characters. He has done really well in his new job so far and managed to get results that helped the case significantly.
"Say Her Real Name" was another solid episode of this NBC drama. There were a decent amount of shocks and enough drama to keep me glued to the screen throughout.
Other tidbits from the episode:
Olivia Benson sent Voight alcohol. Yes, the Law & Order: SVU veteran is still keeping in contact with Voight. Could another crossover be on the cards?
The motorbike scene was hilarious. On the bridge, I kept expecting him to knock someone down.
Nadia is so underused nowadays. She was a large part of Chicago PD Season 1, so why not now?
Remember you can watch Chicago PD online, right here on TV Fanatic. Get caught up now!
Over to you! What did you think of the episode? What's next for our characters? Will Linstead ever be able to make a go of things with Voight being in their ear? What do you expect to him on Chicago Med? Chat with me in the comments.
Note: Chicago PD Season 2 Episode 19 airs Wednesday 1st April at 10/9C on NBC.
Paul Dailly is the Associate Editor for TV Fanatic. Follow him on Twitter.