Castle Season 7 Episode 18 Review: At Close Range

Christine Orlando at . Updated at .
A conspiracy was afoot on Castle Season 7 Episode 18, but this time it wasn't Castle who came up with the crazy theory. 
As Seamus Dever put it in his earlier interview here at TV Fanatic, this was Kevin Ryan's action adventure. That was made clear with the opening scenes of Ryan covered in blood as he chased down a suspect on the red carpet and ended up facing several police officers with guns pointed at him. 
It was clear from the beginning that this was not going to be a good day for Kevin Ryan.
Ryan's brother-in-law was certainly giving him the hard sell about having a better life working security. More money and less danger seemed to be the selling points. Unfortunately, that appeared to be more of a sales pitch than anyone ever expected, least of all Ryan. 
Even if it were true, I don't ever see Ryan being satisfied spending his career protecting rich politicians and celebrities. Kevin believes in justice. He believes in finding the truth. No matter what the struggles, it feels as though Kevin is meant to be a cop.
But Kevin Ryan was definitely on the edge. He felt responsible for Carolyn Decker's death and when he and Espo ran down Eric Chambers, it was Esposito keeping Ryan from losing his cool. 
This time it was Ryan up all night staring at the murder board. We've seen Beckett do that many times in the past and it highlighted how connected Ryan felt to this case. When he came up with a breakthrough, he didn't call Esposito or Beckett. As he explained in this Castle quote, he called Castle…
Kate Beckett: You texted Castle and not me?
Kevin Ryan: Well, when you have a crazy theory you don't call the voice of reason.
Castle was more than happy to come to his aid and with the help of basic physics, they proved that Eric Chambers couldn't have been the shooter. 
That led to several twists, some expected and some not. 
I suspected that the congressman was having an affair with Carolyn Decker the moment I saw the two together. They were just a little too close to be casual acquaintances or friends. However, I didn't expect Ryan's brother-in-law Frank until I saw the video Tori had uncovered. Poor Ryan. He obviously looked up to Frank. 
Somehow Frank made me think even less of him when he assumed that Ryan would let him walk away after their clandestine meeting. That was arrogant and I was proud of Ryan when he pulled out his gun and wouldn't let Frank leave. That had to be difficult on many levels, not the least of which was the probability of many awkward family holiday dinners in his future. 
I wish we had gotten to see more of Kevin's relationship with his sister, although in the end she just seemed relieved to have her husband home. I wonder if we (the audience) will ever find out if Frank gets that plea deal. 
Because this episode was centered on Kevin, we didn't get to see a lot of Castle and Beckett but what we did see was interesting. 
I appreciated Beckett's reluctance for going through the victim's purse.
Beckett's gotten the attention of people in political circles. Is that because she took down Senator Bracken?
Kate's studying for the Captain's exam. (Don't you need to be a Lieutenant before you become a Captain? Maybe someone with more NYPD knowledge than me can answer that one.)
Rick and Kate finally get new bedding.
My only disappointment was that we never did get to see Jenny or Sarah Grace. I would have loved to have seen Kevin go home to his family at the end. Other than that Seamus Dever did a wonderful job portraying Detective Ryan's tenacity and angst as he took on a tough case that hit close to home.
Don't forget to check back in next week for our review of Castle Season 7 Episode 19 and if you can't wait another minute, you can always watch Castle online right here at TV Fanatic.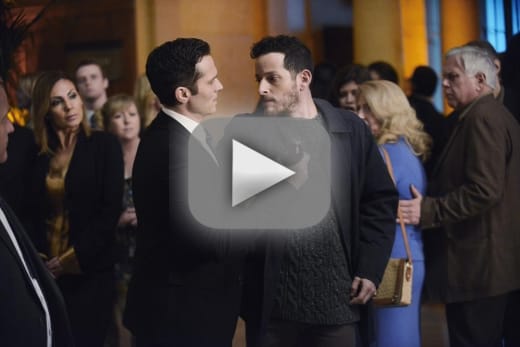 C. Orlando is a TV Fanatic Staff Writer. Follow her on Twitter.