Bates Motel Season 3 Episode 4 Review: Unbreakable
Carissa Pavlica at . Updated at .
Talk about high anxiety!
The less stable Norman appears, the more worried I become for everyone around him. At this point, not only is Norma's fate setting me on edge (I mean, we already know her resolution), but Dylan's and Caleb's gets cloudier by the minute.
As Bates Motel Season 3 Episode 4 drew to a close, I was actually torn as to whether it was a good idea for Norman to crush all of the progress Dylan has made with Norma in their relationship or for Norman to keep the secret about Caleb when it could cause him to do something really drastic to his brother (or his uncle) in retaliation.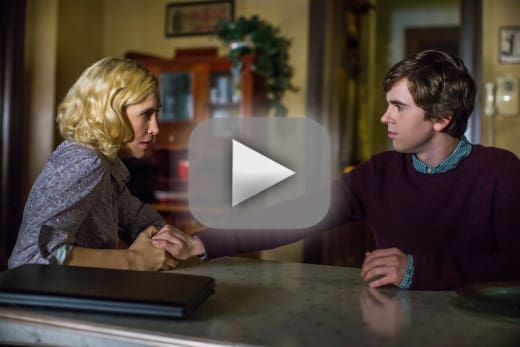 Norman was shifting from side to side this week. As emergency personnel occupied the parking lot, he honestly had no idea if he was involved with Annika's death and it was awful seeing him so terrified, stumbling around asking "Did I do it?"
Then seeing him so quickly turn around when he was attempting to make Norma jealous by preparing the picnic lunch for Emma and making out with Emma in the hallway was like running full speed through a revolving door. Watching him as his personality thrusts him to and fro is downright frightening.
What does he think when he's going through these transitions? There must be a part of it that he's completely unaware of, but it's hard to tell where the line is. On one hand, he's still a boy who wants the unwavering affections of his mother, but on the other, he wants to control her.
I've mentioned before that I believe Caleb when he talks about Norma, and after this hour I can't shake that feeling. The way he described his relationship and feelings to Dylan made perfect sense. They were caught up in something they shouldn't have been, but he didn't have the strength or smarts to turn it off.
It just happened. You know, she was more than a sister to me. I mean she was my whole world, my whole life, and I loved her. You can't help who you love, but your mom? She was smarter than me. One day, she came home and said it was bad, you know, we couldn't, anymore. And the way she looked at me, I couldn't breathe. You know, I loved her more than anything and I just couldn't let her go. I hate myself for it. I know I don't deserve it, but I wish I could say I'm sorry. That's all I want. She doesn't have to forgive me, I just want to tell her I'm sorry before I never have another chance.

Caleb
I couldn't help but feel for him when he saw Norma in the street and hid from her in the car. He doesn't seem as if he wants to hurt her, and being spotted definitely isn't on his agenda. That fall he took from the roof was horrific!
Now that Dylan's faced with Norman spilling the beans to Norma, will he race over there and try to explain the situation to her? Given their new relationship, could she maybe listen and see some good in her son even as he struggles with his connection to his uncle and father? She knows more than anyone it's not as easy as it seems, as she sleeps in bed with her own son.
As far as the murder of Annika her pal Lindsay are concerned, they sure made the quest to find a password on a flash drive interesting. Norma's determination is quite enviable and she has a different story for everyone she asks for help.
Dylan was so pleased to be trusted enough by his mother and he had no intention of letting her down. Of course, neither he nor Norma has any idea Norman was listening in on their conversation. The last thing the boy wants is to be kept in the dark to learn he's not the favored son.
Even though Annika confided in him, there's nothing on that flash drive he'd be interested in even if he knew it existed, so he's not being left out of anything. With the way he's in and out of consciousness, the more he knows the more dangerous he becomes, but nobody would want to admit that to themselves.
It would be horrible if another victim was on Norman's horizon, and I'm not embarrassed to say it would pain me to see Dylan and Caleb torn asunder. As frakked up as what they are, well, is it was a long time ago and they're making something ugly into something better. I'm holding out hope Norma gets a chance to see that and Caleb gets the opportunity to apologize.
Other bits:
I really like the Professor, James. The way he sees Norma is refreshing. Why does that give me a sense of unease?
Norma tried the password "sexcrazed" for Annika's drive. HA!
Emma can't be all there if she can't see how off Norman is. She's otherwise very intelligent. She hasn't lacked for love interests even considering her health issues. Why is she blind to Norman's oddities?
Max Thieriot and Kenny Johnson have an uncanny resemblance which really comes out when they look forlorn. Spooky.
What do you think is on the flash drive that could be of use to Norma and her son? That was such an odd turn of phrase for Annika to use before she died.
Will Norman tell Norman what he saw at the farm (I want to call it the cabin...where's the farming happening??)? Are you worried for Dylan and Caleb? 
If you haven't caught up with Bates Motel Season 3, you can watch Bates Motel online via TV Fanatic. Don't miss out; it's stellar!
Carissa Pavlica is the managing editor and a staff writer for TV Fanatic. She's a member of the Broadcast Television Journalists Association (BTJA), enjoys mentoring writers, wine, and passionately discussing the nuances of television. Follow her on Twitter and email her here at TV Fanatic.