On the Arrow Season 3 Episode 17 Round Table, the panelists are talking about Diggle's wedding, whether the death of Deadshot and Lyla's departure from ARGUS means the end of the Suicide Squad on Arrow and what we'd change on Arrow Season 3 if given the chance.
Join TV Fanatics Allison Nichols, Paul Dailly, Carla Day, Hank Otero and Carissa Pavlica as they debate those topics and more. Be a part of the conversation by dropping your own thoughts in the comments.
What are you waiting for? Let's get started!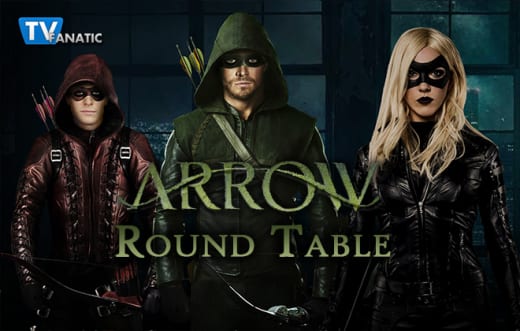 What did you think of Diggle's and Lyla's wedding?
Allison: I enjoyed it, but it was a little brief. I was hoping we could have more character moments. I loved Oliver's comment about how he was actually early for once in his life, but he was still late.
Paul: There really wasn't much of it. I liked Laurel and Ollie talking like normal people for a little while.
Carla: It wasn't long and I was okay with that. Arrow isn't a soap opera (well, it shouldn't be, but that's another question for another day), so I thought it was perfect. The ceremony was fitting for Diggle and Lyla and we got to see some lighter moments between other characters that we don't get often. I particularly liked the scene with Oliver and Laurel and then when Felicity walked up with the bouquet.
Hank: There was a wedding? I really felt cheated as far as Diggle and Lyla's special day. The writers crammed too damn much into this episode.
Carissa: I wish there had been a little more to it, or more to Diggle within the overall installment given it was his big day. Cramming Deadshot's swansong into the hour felt extraneous and perhaps better served elsewhere. When will it be all about Dig?
With Lyla quitting Argus and Deadshot dead, is there any further need for Amanda Waller and Co.?
Allison: In the present day? I'm not sure, unless something from the Hong Kong flashbacks pops back up in the present. She won't be missed, that's for sure, although is anyone else suspecting that Waller may force Lyla out of retirement?
Paul: Not at all. Every storyline that relates to Amanda Waller bores the dear life out of me. We need to move on from the flashbacks full time and focus on the present, rather than the past.
Carla: Is Deadshot dead? I didn't see a body. I've never been a fan of Amanda Waller. She's a government-sponsored villain who uses threats and blackmail to force people into fulfilling dirty jobs. That said, I'd be disappointed if she and/or the Suicide Squad never showed up again. They are an integral part of the overall story.
Hank: Honestly, like Paul, I've been bored with the Amanda Waller stuff for a while now. I've said it a million times, the flashbacks haven't worked for me at all this season. I do love the Suicide Squad though, hopefully they'll leave what's her face, Cupid, back home next time.
Carissa: Everyone wants Deadshot to be alive, but the name of the squad is SUICIDE, so isn't that their purpose, ultimately? While it was a great idea in theory, I don't think the Suicide Squad or Waller ever fully meshed into the series, and with Lyla quitting, I'd like to see them disappear.
What are your thoughts on how things went down between Oliver, Felicity and Ray?
Allison: Ray's plan with the A.T.O.M. suit is to be a vigilante, yes? It's like he hasn't quite realized how similar he and Oliver are. They both want the same thing, except Oliver knows what it takes to get it done. I loved that Oliver made it clear he wasn't proving anything to Felicity because she has made her choice and it's Ray. There wasn't any battle for her heart or anything annoyingly love triangle like.
Paul: Ray really bugged me this week. His whole tirade against Oliver was fueled by his jealousy of the bond he has with Felicity. He's a very unlikable character and I don't think his presence is relevant for much longer. If he's part of the new spin off, then count me out as a viewer.
Carla: I love Ray. I disagree with Paul over Ray's motivation in going after Oliver. Ray thought he was doing what was right and best for Starling City by targeting the Arrow and he went after the Arrow BEFORE he even knew Oliver was Arrow. I give Oliver credit for doing right by Felicity in regards to Ray. Felicity is happier now and smiling more than ever before with Ray. For me, that's what it's about. I want what's best for Felicity and right now, that's Ray. That's what Oliver wants too.
Hank: I'm with Paul, it seemed like Ray was just being bullheaded and later things felt rushed to me. That said, unlike Paul, I do dig the Ray Palmer character. Since this is Arrow, there's really no room for him to do his thing. I'm looking forward to the spinoff to learn more about Ray, rather than having him butt heads with Oliver all the time. Ray needs room to grow as a character, and that's not going to happen on this show.
Carissa: I really like Ray Palmer and was proud of Oliver for the way he handled things with Ray, even if I didn't agree with him about Felicity's choice, as I don't believe he ever gave her one to make. Like Carla, I think Felicity is happier than she's ever been and I'd like to see that change, no matter what the future holds for the three.
Is Roy still twitching in the alley after Ray super-tasered him and Oliver just turned and walked away? What's up with all the loose ends lately?
Allison: Oliver had to make his dramatic exit! He couldn't have just dropped his wisdom and then gone to go check on Roy. It wouldn't have been cool. Plus, Roy was obviously cheering on Oliver while groaning in pain and trying to walk it off.
Paul: I don't get it. It's like the people behind the show are just looking for stylized scenes in favor of having consistency.
Carla: The ending to that scene was very odd and unfortunate. The moment between Oliver and Ray was brilliant and one of my favorite of the episodes, but overall it was tarnished by forgetting about Roy. Was it a script problem or an editing one? It would have been fitting for Oliver to leave Ray and walk over and grab Roy by the hand and walk off. Oliver has a team, while Ray is just Ray.
Hank: The writers have dropped the ball a lot this season, this is just the latest example. I'm not a fan of the direction of the show this year. Hopefully, when they brainstorm Season 4, the writers look at what worked and didn't in all three seasons. I'm all about The Flash this year, its been badass!
Carissa: That was one of the most egregious errors I've ever seen. Roy didn't even get so much as a "See ya!" let alone an "I hope you're OK over there, frying on the pavement." Very unfortunate, if worthy of a great laugh. Arrow and The Flash have both been suffering these little sticking points, like Cisco making a gold gun in under 30 minutes. Huh? We notice!
If you could change one thing about Season 3, what would it be?
Allison: Sara Lance wouldn't be dead. I miss her so much. She is a much better character than Laurel is, and I love her.
Paul: I agree with Allison, but on top of that, Malcolm Merlyn wouldn't have been given a single scene in the whole season.
Carla: Malcolm wouldn't have used Thea to kill Sara. That story has never made any sense to me and was poorly thought out and written. Malcolm's supposed reasoning for it has never felt authentic or logical given what we've known about his character. And everything resulting from his manipulation has been tainted. The only good thing to come out of it is the evolution of Laurel Lance into the Black Canary.
Hank: There's so much I'd change it's hard to pick just one... but I'm going to go with Merlyn. If he were gone Sara would be alive, the league would have no quarrel with Oliver and basically, they'd have to rewrite the entire third season. Now there's a cool thought.
Carissa: I wish they had never gone anywhere with Felicity and Oliver only to rein it in, because it's become the Olicity show instead of Arrow. Every storyline always comes back to "What will happen with Oliver and Felicity?" and that's not why I watch. I'd like more action and suspense, even if it's with ridiculous Malcolm Merlyn, and less romantic melodrama.  
Carissa Pavlica is the managing editor and a staff writer for TV Fanatic. She's a member of the Broadcast Television Journalists Association (BTJA), enjoys mentoring writers, wine, and passionately discussing the nuances of television. Follow her on Twitter and email her here at TV Fanatic.