Togetherness Season 1 Episode 4 Review: Houston We Have a Problem

Amanda Festa at . Updated at .
Underlying issues finally come to the surface on Togetherness Season 1 Episode 4, and the boiling over feels cathartic – for the characters, as well as the viewers.  
The series has been slow to build, carefully constructing the character dynamics like a game of Jenga. While this has its benefits, it also leaves viewers a bit frustrated by the inaction. Well, tonight they pulled out a load-bearing piece and the release was extremely satisfying. Brett wishes he could say the same.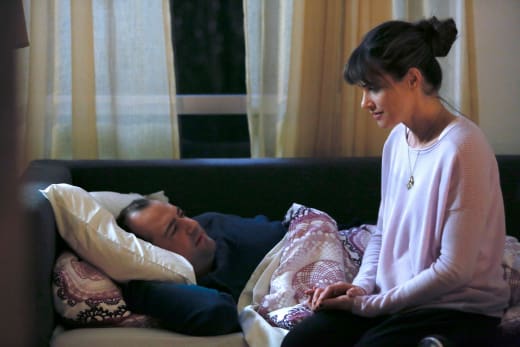 While longstanding tensions come to a head for both of the show's core twosomes, the feelings involved in each scenario are at opposite ends of the emotional spectrum. 
Alex and Tina are in Houston with Tina's family, and her loved ones' have clearly taken a shine to Alex. But when her friend Pam shows interest in him, Tina gets jealous. While we can see this happening a mile away, the feeling seems to catch her off guard and – big surprise – she cannot properly handle the emotion.
Tina, as the aging beauty queen who is accustomed to getting by on her looks, is exceptionally well-drawn, albeit not in the most flattering of light. She is not entirely unsympathetic, but out of the foursome, she is the most difficult  to digest.
After losing Alex's attention to Pam, Tina attempts to make him jealous by putting on a show with a handsome stranger. Her go-to moves all veer towards the sexually suggestive, and at a certain point her antics and general lack of self-awareness become sad. Later, she outright stops him from going home with the pretty lady – a much deserved opportunity for down-on-his-luck Alex. 
She's a little too busy getting felt up by the Marlboro Man.

Alex
In one of two stand-out confrontational scenes, Alex and Tina are stopped at a red light and Alex calls her out for her hypocrisy – she is, after all, hooking up with his favorite director. Tina believes her situation is different than Alex going home with Pam. Obvious to everyone, that is not the case, but she laughs it off and pretends not to get it. Tina is selfish and insecure in very ugly ways, but also very human ways. We can dislike her for her actions – and I did tonight visibly dislike her – but her character (and Amanda Peet's performance) is spot-on. 
That was the biggest c*ck block in the history of c*ck blocks.

Alex
While Tina was plying the flames of jealousy with alcohol, very different emotions were coming to the surface back in Los Angeles. Jealousy is the furthest thing from the minds of Brett or Michelle. They are going through the marital motions, doing all of the things that they think they are supposed to do to reconnect: fancy dinner, hotel room, well-placed compliments, sex.
Brett says he is "full of surprises," but when they reach the bedroom, their passionless lovemaking is about the most awkward sexual encounter I've seen televised on a show where the characters aren't losing their virginity.
The first red flag should be when they decide on the "regular" sex like they are ordering off the dollar menu at Wendy's. (Splurge on the bacon double cheeseburger every once in a while, c'mon.) We are treated to the added bonus of seeing the routine Michelle describes in Togetherness Season 1 Episode 2 play out: kissing, neck kissing, boob grab, etc. etc. Get the pillow.
I can't have an international peace treaty about the state of my boner in the middle of making love.

Brett
In the second stand-out scene, as Michelle struggles to vocalize what she wants and Brett tries to stay present in the moment, their issues finally come to the surface, though not in the most constructive of ways. However, finally, someone is saying something.
The argument is painful, but it felt honest and real and for the first time these characters are not dancing around their problems or burying them under the superficiality of their daily life. Michelle wants him to let loose, but her attempts to vocalize her needs still fall a little short ("Can I voice an opinion?"). Brett acknowledges he is aware that his wife dreads having sex with him – a painful and unfortunate sentiment to express. 
I'm not a f*ckin' steel-rod boner man, okay? I'm 37 years old. I can't have a boner 24/7.

Brett
In the end, there are apologies all around. Tina wakes a sleeping Alex to eat crow and offer him a hand job (even though she's kidding, she is still falling back on her sex appeal to solve her problems). Similarly, Michelle approaches a visibly upset Brett in the bathroom and he apologizes for his harsh words. Although, when pressed, he can't take them back completely. 
It seems fitting that this emotional crescendo takes place mid-season, and I look forward to seeing how the repercussions of these refreshingly honest outbursts impact the two relationships going forward.
Will counseling help Brett and Michelle solve their problems? Will Alex and Tina develop into a relationship or will they remain just friends? Is Tina a sympathetic character? With season 2 recently picked up by HBO, where would you like to see the show go from here?