Stalker Season 1 Episode 17 Review: Fun and Games
Paul Dailly at . Updated at .
Was that really the end?
Stalker Season 1 Episode 17 found the team kicking the pursuit of Ray and Perry into high gear as the threat from them reached new heights of craziness.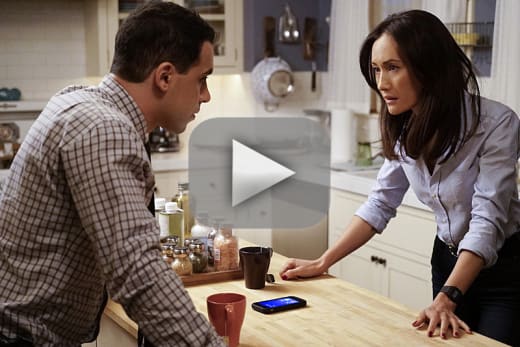 CBS needs to give us the next installment soon. They can't just build us up to that freaking point and leave the final three episodes unaired. That was probably one of the harshest cliffhangers this TV season. We need resolution.
It all began with us getting word that Amanda was safe. Come on, we all knew this would be the case, right?
Ray sure showed his true colors and they weren't pretty. The guy practically went on a killing spree. All in the name of getting Michelle back.
I had a feeling going into the episode that we were not getting a case this week. That's a good thing. We needed this episode to bring the storyline to a conclusion. It didn't do that and I don't get why they would want to drag the resolution over to another episode. The hour moved at a brisk enough pace that they could have easily added in Ray's comeuppance.
Don't tell me to calm down, Jack. We need to find her now.

Beth
One thing for sure is that both Beth and Tracey will struggle to trust new people in their lives going forward. When you've been a victim of stalking, you need to take the relevant measures to remain safe.
Was I the only one left in shock that Perry bit the dust? I still find Perry way more interesting than Ray. Ray was far too predictable. We all knew he was going to snap and take things too far. I was pleasantly surprised at Perry growing a back bone. It ultimately cost him his life.
It's OK, Perry, I'm here to help you out. As usual.

Gene
It all seems a bit absurd that Perry would be set up as this bad guy, doing all the things he has done and then try to redeem him. It's almost like the writers wondered where the story would go to with him gone and attempted to keep him in the loop, before deciding to kill him off.
The episode seemed like the final act of a really long, horror movie. It's really frustrating, knowing we don't know when, or if the final three episodes of Stalker Season 1 will air.
I knew that Ben was getting shot, purely because the CBS promo teased that. I've not been Ben's biggest fan, but the guy doesn't deserve to die at the hands of Ray.
He has proven his loyalty to his boss, so it would be good for him to pull through, but I'm not going to hold my breath, considering they struggled to find a pulse on him.
Beth's reaction to Perry's corpse was terrifying, but at least she knew one of her enemies was down, right?
"Fun and Games" leaves us with much unanswered. The episode felt a little half baked and not as good as it could have been. It'd have been better for viewers if the show concluded this storyline and then showcased how the show can run without it on the back burner.
Other tidbits from the episode:
I'm really digging Vicky. She seems like she would be a nice new addition to the TAU. I'd like to see more of her.
Tracey pulled some annoying moves in the scrap yard against Ray. Heck, she could have probably escaped. She's lucky Ray never planned on killing her.
It was nice to see the guy who helps fix all of Perry's problems. Money clearly can get you out of jail free.
The acting in the episode was fantastic. Our leads continue to effortlessly pull of these fine characters.
Remember you can watch Stalker online. right here on TV Fanatic. Get caught up with all the drama now.
What did you think of the episode? Where you surprised by Perry's demise? What's next? Hit the comments below.
Paul Dailly is the Associate Editor for TV Fanatic. Follow him on Twitter.