Person of Interest Season 4 Episode 13 Review: M.I.A.

Sean McKenna at . Updated at .
The more the POI team learns about Samaritan and what its up to, the scarier the enemy machine gets.
I can't help but think of Samaritan ultimately turning into something like Skynet and a series of Arnold Schwarzenegger-like Terminators, but the fact that its still accessing cameras and databases and emailing commands to its human "pets" is unsettling.
The fact that it can take a broken town and turn it into its own "ant farm," building it up to perfection and than "shaking" things up all so it can study humanity really adds to the power and capability of the artificial intelligence.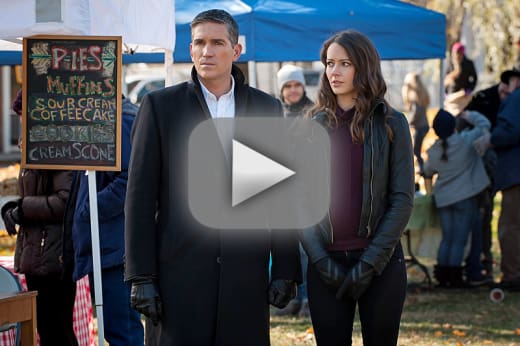 Perhaps because it was the small town of Maple, New York, dealing with the weird changes behind a mysterious company called Carrow, I kept thinking of a Stephen King novel, just dealing with a techno monster instead of something supernatural.
Samaritan is continuing to grow, and it really makes me wonder how the Machine and the POI team can ever hope to truly defeat it.
Even with the revelations inside the factory, Reese and Root were much more focused on finding Shaw.
Right away, and throughout most of Person of Interest Season 4 Episode 13, I kept telling myself there was no way the team would find Shaw. Even with all the clues and bloody gurney, it just felt like it would be too easy.
So I liked that there wasn't any closure for the team, but I loved Finch's moments involving the search. From his desperate pleas for Reese and Root not to turn into monsters during that tense interrogation or his discussion with Root about not letting the obsession with knowing Shaw's fate consume her.
Finch may have been in the lair most of the hour, but he had a major part in the emotional moments.
It was even interesting to see Root dealing with the Machine's lack of help in finding Shaw. She's always been so eager to follow the Machine's orders that to hear it say S.T.O.P. must have been terribly frustrating.
Might Root be leaving the team now? It certainly looked like she was walking away at the end.
I never really expected that last minute reveal that Shaw was indeed alive. But just what does Greer have in store for her (maybe they can find some way to implant a mind control chip so she has to fight the POI team?) or when might she even make her return?
Either way, it was great to know she survived, even if the POI team is still uncertain about her fate.
I did like that Fusco had some more screen time as he got to team up with Silva, but the hunting down of the killer wasn't a truly memorable case. Yes, it was nice that the focus did change to a perpetrator rather than a victim, and Fusco got to partake in a full case, but it wasn't nearly as intriguing as what Samaritan was up to or if Shaw was alive.
I can only imagine what Samaritan's next move will be. I just hope the POI team, even reeling from the loss of Shaw, will be ready to face it. (But let's be real, of course, they will!)
Were you surprised to see Shaw alive? Sound off below, and be sure to see all of the POI team adventures when you watch Person of Interest online.
Sean McKenna was a TV Fanatic Staff Writer. He retired in May of 2017. Follow him on Twitter.