How to Get Away with Murder Season Finale: The Killer Is... Dead?!?

Whitney Evans at . Updated at .
Sam killed Lila. Sam killed Lila. Sam killed Lila.
Shall we all creepily chant that together along with Annalise and Wes? Too bad it isn't true. 
Pretty sure we all knew Sam didn't actually kill Lila but they sure were setting us up to believe that as How to Get Away with Murder Season 1 Episode 14 and How to Get Away with Murder Season 1 Episode 15 gave us some valuable insight into the night Lila met her demise. Was it who you expected?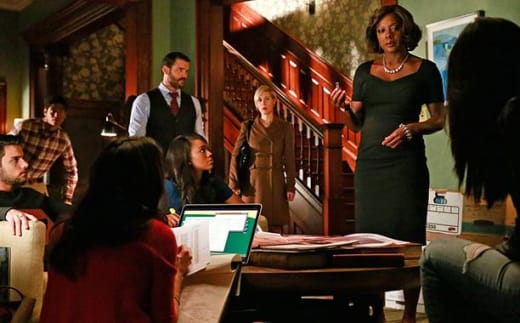 Before that reveal, let's delve into this two part spectacular, which was epic on pretty much all levels. 
Hour one swirled around a priest accused of killing another priest. Honestly, it was a pretty decent case of the week but it was hard to concentrate on that when everything else was just so much more intriguing. 
Annalise did her best with the case, getting little help from Father Andrew who flip flopped more than a politician. It was nice to see Tom Everett Scott back on my television screen and he did a great job conveying the emotions of a priest who did wrong but didn't regret his actions. 
Annalise: I humiliated myself in court for you Father, you do not get to lie to me.
Father Andrew: Brian and I spent considerable time together. The dark room had became a place where he felt safe enough to tell me, his friend, what was troubling him. That he was being abused by someone. Shortly after his death, I came to learn that person was Father Bernard. That's why I killed him. And I'd do it again.
Annalise got a fellow partitioner, whom Father Andrew loved, to lie for him, but that ended up being too much for him and he changed his plea back to guilty as a result. Come on sir, don't waste Annalise's time like that!
While that case ate up a lot of time, other parts of the hour were spent with Wes busy trying to prove that Rebecca may have killed Lila. By retracing steps, looking at police records and re-reading statements, Wes was pretty adamant that Rebecca was Lila's killer. When he brought it up to the group everyone was understandably pissed and they went right to Rebecca to get her side of the story. 
Shockingly, Rebecca was uncooperative. 
No! Do not look at him. You ruined our lives, don't you get that? I was supposed to be getting married and I'm not anymore. Ayden called off the wedding because of you. You dragged us into the horror show that is your life and now we're all screwed forever. So you're going to tell us the truth. Every horrible secret about that night that you haven't told anyone. Or I swear to God, I will personally destroy you. Tell us the damn truth, Rebecca. Did you or did you not kill Lila?

Michaela
I've never liked Michaela more than tonight. Between this verbal smackdown and her conversation with Mrs. Walker, she was really bringing the sass and I loved it. A little badass Laurel 2.0, if you will. 
Anyway, once Rebecca threatened them, they did the next logic thing, which was to tie her up in the bathroom and call mommy Annalise. She was less than thrilled about this new turn of events but she went along with it and before you know it that had moved Rebecca over to the Keating residence and got ready to put her on trial. 
Once Rebecca decided to stay put in the house, I figured she was innocent. I never fully bought that she killed Lila, but you never know with this show. Sometimes making the most obvious person the killer is a brilliant move because you never expect it to be that easy. 
Ultimately, Wes was going to be the one to get Rebecca to open up because, LOVE. And when she finally did open up, I believed her. 
The reason Rudy saw her wet was because she was hiding in the water tank with Lila's dead body, having discovered it. Pretty traumatizing stuff.
Speaking of Rudy, poor dude was drugged up on PCP and that purple haze, which caused him to overdose and claw into his bedroom wall. That was kind of anti-climatic, right? They built up those wall scratchings all season and it's like, just a crazy guy tripping out on drugs, breaking his fingernails off! No big deal!
Once the truth came out, Annalise was ready to ask Rebecca to keep quiet about everything but when she went to get her, she was gone. Who the hell let her go? Obvious answer is Wes, but he swore it didn't do it?
So who did you ask? NO ONE! And you know why no one? Because....REBECCA IS DEAD! That final shot was definitely a game changer, especially considering we have no idea who did it. 
Annalise: Was it you?
Frank: No. Annalise, you know I'm not that guy. Besides, I thought it was you.
Annalise: Because I'm that guy? Of course not.
Frank: Now what?
Oh Frank, you monstrous fool, never change. 
Frank has been a quiet guy a lot of the season but he was front and center tonight and I did not hate it. He may have blanched at being called a hitman by ladylove Laurel, but he proved tonight that there's pretty much nothing he won't do. 
Such as, KILL LILA STANGARD! And he did it because Sam asked him too. What did Sam have over him? And clearly Annalise doesn't know he killed Lila, right, so what's she going to do when she inevitably finds out?
THANK GOD FOR HOW TO GET AWAY WITH MURDER SEASON 2.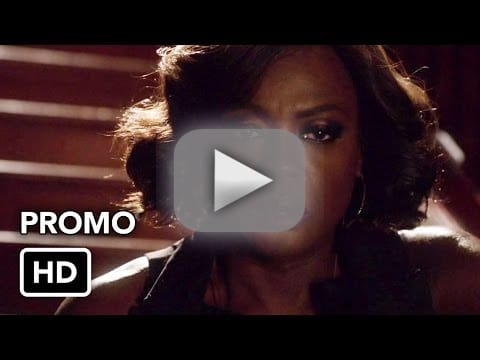 Random Notes
Bonnie ad Asher are very much a thing and everyone knows it. No one knows what to think about it or how to react, which is completely hilarious.
Laurel found Michaela's engagement ring the night of Sam's murder and held onto it, believing she'd be less likely to squeal knowing that ring was missing. Bad. Ass. 
Annalise got hot Nate beat up, but it was all to get him out of jail. He's out for now and he finally called that mysterious phone number Annalise slipped him in How To Get Away With Murder Season 1 Episode 13. Who do you think that number belongs too?
Oliver tested HIV Positive, while Connor did not. I'll be very interested to see the new couple navigates this situation next season. 
Annalise and Wes continue to be creepy together. Seriously, what is up with them?
The new prosecutor on Nate's case is digging around, looking for information on Annalise. She went to Asher first. Uh oh. 
Did I mention Frank killed Lila and Rebecca is dead! Yeah, I think I did but it's worth repeating!
This show came in with a bang and left with an even bigger one. While many of our questions were answered, we're left with so many more to ponder. Why did Frank owe Sam? Who did Rebecca text while she was being held captive? Is the new prosecutor targeting Annalise? WHO KILLED REBECCA?
We need to discuss this in the comments, you guys. We have a long way to go before Season 2, so lets talk it out! And remember to watch How to Get Away with Murder online right this instance so you can join in the chatter!
Whitney Evans is a staff writer for TV Fanatic. Follow her on Twitter.