House of Lies Season 4 Episode 5 Review: The Urge to Save Humanity Is Almost Always a False Front for the Urge to Rule

Ariana Guzman at . Updated at .
On House of Lies Season 4 Episode 5, Marty and Jeannie are once again at odds while trying to salvage the toxic relationship between Ellis and Maya so that a business-saving merger can go through.
But how can the team bring two people together when they obviously hate one another? 
Plus, what exactly made Doug buy a 15 year old alcohol and Clyde ask out his business partner? Let's dig in and find out!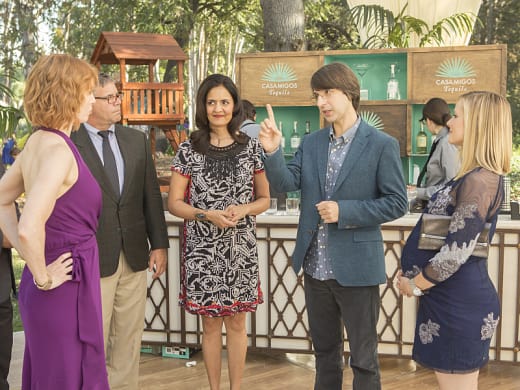 House of Lies is a smart, consistently funny show. This episode was no exception. The zingers flowed back and forth naturally. I really enjoyed Jeannie's thoughts on her physical appearance during late stage pregnancy.
Maya: Jeannie, you are just absolutely glowing.
Jeannie: I'm a bloated sack of meat stuffed into a cocktail dress but thank you.
The biggest problem between Ellis and Maya is that they have differing viewpoints when it comes to life and business. While Ellis is all about profit and making a product for the uber rich, Maya wants to create a product that the average person can afford. Maya's interaction with Denna proved very clearly how she feels about big business.
Maya: Any chance you'll be donating any of last year's crude oil earnings to the kids?
Denna: Gosh, kinda got that money earmarked for a blood diamond that caught my eye.
Can we all agree that, while Ellis is an interesting character, he is just an awful human being with no redeeming qualities? Maybe that's a little harsh. Maybe the writers have cooked up a scenario where we can see Ellis in a whole new light. However at present, I completely agree with Jeannie's assessment of him.
He is such a piece of shit.

Jeannie
There was an interesting dynamic between Marty, Jeannie and Ellis. While Marty held Ellis' hand and fed his ego, Jeannie was the tough disciplinarian making sure the job got done. Is this how it will be for Marty and Jeannie in terms of raising their own child? It certainly won't be an easy transition if Marty still refuses to acknowledge this situation head on.
Maya and Ellis together are fireworks in a can and it's incredible just watching those two explode.
Maya: Wow!
Ellis: What is your problem?
Maya: My problem? My problem is that you're the same pompous, dismissive, arrogant prick that you've always been. Cause you say these things that are supposed to be profound. They mean absolutely nothing. "The future is coming faster than any of us could have anticipated." Fuck you!
Just when you think the merger is dead, Marty stays true to form and goes for the underhanded ploy. He uses an oil tycoon that literally scares small children into bullying Maya into signing the contract for the merger. It's not exactly surprising. This is the Marty Kaan we have all come to love (and possibly despise) over the course of the season. He's mostly back, but he still has a long way to go.
Doug is the most gullible adult that has ever existed and he is completely aware of this fact. Knowing this, he still falls for the setups every single time. It took a Google search for him to realize that committing a crime to seek an investment maybe wasn't the brightest idea. Oh Doug, you are so foolish and this is why we love you.
It was pretty obvious that a love connection would be brewing for Clyde and Kelsey. I'm really starting to like Kelsey. She is smart, attractive, ballsy and totally direct. Seeing her knock Clyde down a few pegs was great.
Clyde is back to full asshole mode now that I won't go out with him.

Kelsey
While the merger is safe, the relationship between Maya and Ellis is still fractured. Will the Pod continue to achieve their goals or crack under the pressure. Will Marty step up and start to step up for his unborn child? We will just have to wait and see. As always, you can watch House of Lies online anytime. Until next time, Fanatics!
Ariana Guzman is a staff writer for TV Fanatic. Follow her on Twitter.