House of Lies Season 4 Episode 4 Review: We Can Always Just Overwhelm the Vagus Nerve With Another Sensation

Ariana Guzman at . Updated at .
Kaan and Associates refuses to go down without a fight so House of Lies Season 4 Episode 4 saw the pod desperately try to save the deal of their wealthiest client.
Meanwhile, Jeannie consults an old friend about her possible job opportunities and is rudely awakened.
Also, Monica is around for the ENTIRE episode and is out for blood. What exactly went down? Let's get down to the nitty gritty and find out!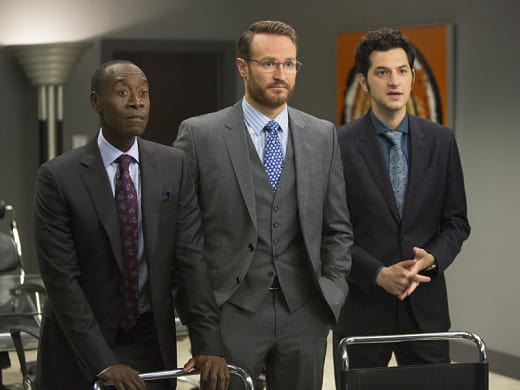 While Marty and Clyde seem to realize that Ellis Hightower is as unpredictable as they come, Doug seems a bit in awe of him and he really lays it all out there.
Doug: He commands their attention. It's almost Hitler-esque.
Clyde: I wonder how Ellis Gage matches up in the world domination and Jew killing.
Marty: Jew killing.
One of the great things about House of Lies is how unafraid the show is to really go there for its comedy. The Hitler jokes throughout the episode were not so over the top that it made you gasp, but just jarring enough to make you uncomfortable. But, the best part about them was that they were funny!
That was a mediocre pep talk. Calling God lazy because he rested on the seventh day? Amateur. I wonder if Friday Nights Lights exists in the House of Lies universe because if so, Ellis should watch any scene with Coach Taylor in a locker room or on the field or Tami Taylor literally anywhere.
After a little maternity incontinence, Jeannie was off to meet an old friend of hers who was a head hunter to see where her career was headed now that Marty had ordered her to leave the company. Marty is so unreasonable. I mean, you spend a few months in federal prison and it's like "I don't want to be around you!" Just kidding. Marty was not at all out of line in asking Jeannie to leave.
But it's obvious from the beginning of the meeting that Jeannie's pregnancy is going to be an issue.That whole scene was so tough to watch, especially when Jeannie tried in vain to convince her "friend" of this.
I've never had an abortion! Check my medical records.

Jeannie
It's horrific that Jeannie has to actually joke about child neglect in an effort to prove how dedicated she is to her career. Jeannie, who basically has had very little of a personal life except numerous hookups. Jeannie, up until her pregnancy, cared about two things only in her life: her career and Marty. Now, with half of that equation missing, her career is tenuous at best.
Just when you think there are enough insane people on the show, we were presented the wonderful prize that is Ellis Gage Hightower. Demetri Martin plays every facet of his derangement with ease.
Don't you fucking say my name. I'm peeing.

Ellis
Well, there you have it folks.
Remember when Sarah left Doug in financial and emotional ruin in House of Lies Season 4 Episode 3? Apparently, he's shockingly still dealing with this. He's looking to cash in quick and immediately tries to capitalize on the budding business venture between Clyde and Kelsey.
Clyde: It's a business, not a weekly poker game, which I also have, which you cannot join.
Doug: She sold my bird.
Clyde: She sold your bird?
Doug: Well, he's gone.
Here's hoping the business actually has a chance.
After Ellis Hightower destroyed the gorgeous prototype, Marty and the pod were working themselves ragged to get him to work with his old business partner Maya, played by Alicia Witt ,in an effort to save the presentation. Surprise, surprise, they didn't seem to like each other very much. The fate of Kaan and Associates basically hinges on those former business partners being able to stand each other long enough until the ink on the contract is dry.
Ellis had an emotional breakdown in the staircase, which lead to to some hilarious interactions between Marty, Ellis and Jeannie.
Ellis: (sobbing) My father died!
Marty: I'm sorry... When did you find out?
Ellis: Nine years ago.
Pure gold. But, let's not forget these beautiful words of encouragement.
Get back into that auditorium or I'm gonna beat the living fuck out of you. (pause) Did you think I was joking?

Jeannie
If that pure poetry wasn't enough, Jeannie then proceeded to carry out her threat when she started slapping the crap out of Ellis. Who says violence doesn't solve problems? Oh, everyone. Right...
What did you guys think of "We Can Always Just Overwhelm the Vagus Nerve with Another Sensation"? Will Ellis and Maya be able to maintain the delicate partnership? How will the pod be able to move forward if for some reason, this deal isn't the saving grace they need? But the most burning question of all: Where is Doug's bird?! Show your love in the comments and as always, you can watch House of Lies online. Until next time Fanatics!
Ariana Guzman is a staff writer for TV Fanatic. Follow her on Twitter.