Cougar Town Season 6 Episode 6 Review: The Wrong Thing to Do

Lindsay MacDonald at . Updated at .
As an avid Grey's Anatomy fan, can I say how much I loved the devolution of Tom into a douchey McSteamy? 
On top of the great Greys' references, Cougar Town Season 6 Episode 6 also had a few really heartwarming moments.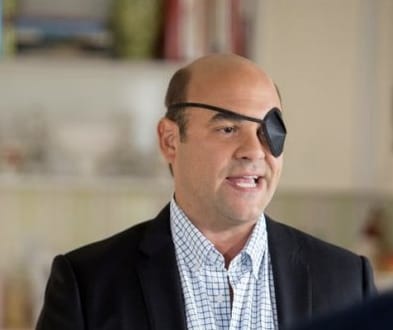 You have to sympathize with Ellie's totally fed up state of mind over Andy's unemployment. Two stay-at-home parents does not a happy home make.
My house has become the secret lair of Captain No Job

Ellie
Naturally, she goes in search of a hideaway all her own, which leads us to the first tear jerker moment of the night.
Guys, we've got to have a serious talk about Grayson and Ellie. As much as these two antagonize each other – with boats, sunglasses, guitars, or water balloons – their friendship is really something to marvel at. They don't share the screen all that often, so it's easy to forget they're connected by more than just their respective relationships with Jules. They're actually friends. And like any good friends, they might have fun pushing each other off ladders, but that doesn't mean they don't love each other.
Just don't try to get Ellie to admit that.
On a funnier note, Tom shocks everyone by revealing that he's kind of the rich, sexy neurosurgeon of his hospital, which is why so many young, hot doctors fawn over him. We even get to see a dramatic smackdown when three of the girls he ends up dating find out about each other and have it out.
Travis: Why are they taking their jewelry off?
Laurie: Because that's the last stop before a catfight.
Last, but certainly not least, Andy and Jules prepare for the slew of job interview he's got lined up. Since when do any of these people actually work?
Though the process is a little silly and unconventional, Jules realizes one very important thing about her friend: he's not ready to go back to work. All the time spent away from his home and his family will not make him happy, so like any good friend, she helps him pitch the idea to Ellie that he should be a stay-at-home dad, and she should go back to work.
Ellie thankfully takes the pitch marvelously. Her little spat with Grayson gave her a similar revelation; she realized that she's unspeakably bored, and she needs a challenge. Getting back into the working world could be just that challenge. I love it when a plan comes together!
I also never underestimate the cuteness of a good Andy/Ellie scene. They might play at being a belligerent old married couple, but when push comes to shove, these two would do anything for each other.
Relive all the touchy-feely moments when you watch Cougar Town online via TV Fanatic. Bring some tissues.