Chicago PD Season 2 Episode 14 Review: Erin's Mom
Paul Dailly at . Updated at .
A bunny was certainly boiling some drama on Chicago PD Season 2 Episode 14.
Am I right in saying we all had reservations about trusting Lindsay's mom? There was no way her appearance at the conclusion of Chicago PD Season 2 Episode 13 was off her own back. When has she ever done anything to help anyone but herself?
This sentiment was echoed into the episode when it was revealed she knew there was a $25,000 reward up for grabs.
I totally get that she was in a bad place and was at a loss and may have done this as a last resort, but she didn't stop to think about how this would affect her daughter. Lindsay still feels like she has to protect her mom, but the woman has never reciprocated the feeling to her. She didn't give her daughter the best start to life, but I will admit that these experiences shaped the nice lady that Lindsay is today.
Voight knows what she is like and that's why he was immediately skeptical when she just magically had this information to share with intelligence. The guy will never let anyone harm Lindsay, that's for sure. He's the one who has dragged her from back from hell. I liked how he said he was doing the case by the book. All he wanted was for her to own up at that moment to avoid her hurting Lindsay more. 
It was fitting that Voight went and dealt with the goons who were pestering Bunny. He put his life at risk just by speaking to them. I had a feeling he was going to be attacked, so it was surprising that he walked out unscathed.
One, or both of them might get to me, but not before I lay you out on the floor.

Voight
The case itself was heartbreaking. From the moment in the bank, I knew this wasn't going to end well. Lindsey and Halstead tried their best and they got results. Just not results that helped save the woman's family. Chicago PD is a gritty cop show. it's not one to shy away from hard hitting storylines. We all knew that the bodies would be in that truck, didn't we?
It really was a game of cat and mouse to catch the Milo. The guy was crazy. He managed to kill another inmate and pose as them to get released. This could indicate that there's a flaw in the system at the police department and that these inmates should have eyes on the the whole time they are locked up.
Platt's signature wit was nowhere in sight because she felt somewhat responsible the innocent guy died on her watch. Nadia succeeded a little in cheering her up. Although Platt comes off as a hard ass, she has a heart of gold.
Hasn't been the best shift of my career.

Platt
Elsewhere, Antonio went back into the dating game when he reconnected with Gina. It just so happened that she was waiting on her divorce being finalized. The woman obviously had a thing for him when she invited him to go for a drink some time. It was evident that would lead to the bedroom.
Linstead didn't share any steamy scenes this week. They resorted to talking dirty while out patrolling. Oh, and they continued to ponder telling Voight about them. This is being dragged out a bit now. One of them has to tell Voight so they both shut up about it and just be a happy couple. They deserve it.
Halstead: Do you wanna take a bullet so Voight will give us a blessing?
Lindsay: I'd take a bullet just to come over to your house tonight.
"Erin's Mom" was an excellent episode of the series. This show is going from strength to strength and is putting out some of the best episodes on television at the moment. I can't wait to see what's next for these characters.
Other bits from the episode:
How does Voight get away with his interrogations? He legit wheeled the suspect out of the hospital, in his bed, and chucked him in the snow to get answers.
Burgess still appears to not be herself. In all of the scenes pursuing the bad guys, she was never on the front line. She always had someone in front of her.
How cute was it seeing Nadia study? This girl has come a long way from when we first laid eyes on her.
Remember you can watch Chicago PD online right here on TV Fanatic. Get caught up on this gritty drama now.
What did you think of the episode? Do you agree with Voight's interrogation tactics? Will we see Bunny again. Hit the comments with your observations.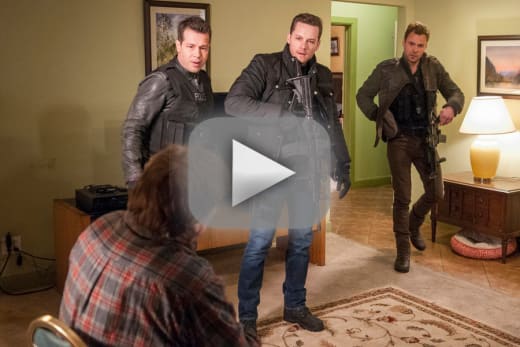 Paul Dailly is the Associate Editor for TV Fanatic. Follow him on Twitter.