Castle Season 7 Episode 16 Review: The Wrong Stuff

Christine Orlando at . Updated at .
Despite the title, Castle Season 7 Episode 16 had all the right stuff, especially after the previous week's wonderful but gritty two-parter. 
Castle's face lit up like a little boy's when he realized that the latest murder had taken place on Mars. OK, not Mars exactly…but a Mars simulator and due to noxious gases to make the simulation feel real, the team had to don space suits to continue their investigation. And in the process it appeared we've found the one outfit that not even Kate Beckett could make look good. 
There were only three extra suits, but that was fine. Detective Ryan had absolutely no interest in heading to Mars, real or otherwise. I have to say that I agree with him. Whereas both Beckett and Castle had previously signed up to volunteer for a mission to Mars (both did so while they were fighting with one another), I don't see anything fun about living the rest of my life on a harsh, desolate planet where I can't breathe the air. 
"The Wrong Stuff" had quite a few homages to popular sci-fi movies from 2001 to Terminator: Rise of the Machines but my favorite was probably Alien. Castle and Beckett chasing down the "alien" in the underground facility tunnel was creepy fun and the gas mask, air hose and strange hissing sound were used to good effect.
Castle also did a great tribute to Star Trek in this Castle quote as he and Beckett were doing something as mundane as looking for an address…
Space. The final frontier. These are the voyages of Castle and Beckett. They're ongoing mission to explore strange, new motives. To seek out new witnesses, new suspects for murder. To boldly go, oh, right over here.


Rick Castle
In the end it turned out Tim Ridgewood was such a pain in the rear to work with that everyone on the team hated him, so much so that they'd rather commit murder than live with him on Mars. I think that takes the meaning of a hostile work environment to a whole new level.
Mira's involvement in the plan was engaging, if a little predictable. Part Siri, part HAL, Mira was programmed to protect the mission. Perhaps someone should have changed her protocol to protect the people involved with the mission as well. 
There were a lot of fun little moments sprinkled into the case, as well.
Castle complaining that he's always on the bottom.
Rick checking Kate for alien impregnation!
Ryan addressing Rick and Kate as, "Hey Castles"
Back home at the loft, things had gotten a little crowded with Alexis and her friends and Martha and her new boyfriend, Ben traipsing in and out. Ben even took a liking to Castle's very soft pajamas. Yeah, I don't think Castle will ever wear those again. 
Before Castle could call a family meeting, Martha had an announcement to make. She had begun looking for her own place. She was moving out…
I am guessing that before too long there's going to be a few more little Castles creating havoc around here and I think the two of you deserve to have this place to yourselves.

Martha
It was very sweet as was Castle's shock. This show began not long after Martha had moved in with Castle and Alexis because her ex-husband had stolen all of her money. Despite Castle's complaints, he adores his mother and has grown to love having her there. 
Personally, I'm a huge fan of Susan Sullivan. I'd love to see more of her on the show so I certainly hope that this change of fictional residence doesn't mean we'll see less of Martha onscreen. I'd find that incredibly disappointing. Perhaps she can get an apartment in the same building so she can drop in often.
As Martha mentioned, there was yet again more baby talk. Should Castle and Beckett start a family? Yes, just not right away. I'd prefer to see the newlyweds enjoy their time together for a while…and a little one could make the crime fighting more difficult.
It appears that there's no new Castle for the next three weeks! But you can always watch Castle online right here at TV Fanatic.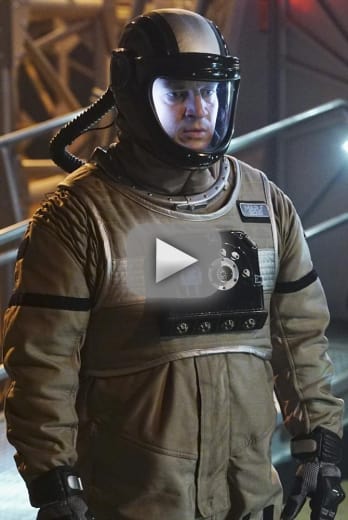 C. Orlando is a TV Fanatic Staff Writer. Follow her on Twitter.