Rick Castle took on the type of case he never wanted to handle in Castle Season 7 Episode 13, that of a cheating spouse. But when old friend Eva showed up at his office practically in tears, there was no way that Rick could say no.
Has anyone else noticed Rick doesn't have the best luck with friends? Boarding school chum Damien Westlake was arrested for setting up the murder of his own father, Sophia Turner his CIA muse was a double agent who almost shot Castle in the head and now Eva. Not only did she cheat off of his papers in high school, she used him to frame her husband for murder.  No wonder Castle is so quick to hand out Knicks floor seats to Espo and Ryan to keep their friendship.
But, I digress…Castle skipped "nap time" with Kate to take on a case of his own and Kate was completely supportive of her husband from beginning to end. From telling him to go "knock 'em dead, babe" to believing his story even when there were no signs of Eva having been murdered.
This case had so many twists and turns that it made my head spin and when it looked like Eva really had called Cole and taken the money from their account, I began to think like Rick in this Castle quote…
It's a work of fiction. It's a Hitchcock movie with me cast as the witness. I'm Jimmy Stewart in Vertigo.

Rick Castle
And he was…but that wasn't the entire narrative. Rick was so deflated when Eva turned up dead. He felt guilty for his friend's murder even though he had nothing to do with it and Eva had used him to set up her husband. But it was when Cole turned up dead that things really got interesting.
That's when Rick fell down his own rabbit hole. We've seen Beckett do it for years; obsess over a murder board until all hours as she searched for answers. Only this time Kate was the one bringing Rick the coffee and trying to pull him out of the darkness. This time not only was she his sounding board, she used her resources to track down his leads. When the boys questioned why, the answer was simple. Castle's theories had been right too many times in the past not to follow up on them now. 
Speaking of Esposito and Ryan, I found it amusing how Ryan and Beckett made it sound as though this was just another in a string of breakups between Espo and Lanie. I suppose that is true, but this one feels more permanent. 
Jenny and Ryan setting up a profile for Espo on Match.com without his knowledge was hilarious, but really over the top. I don't think Espo's ever had problems finding a date. Ryan and Jenny just wanted some control over who he'd be taking on their getaway and boy did that backfire. Now they'll be spending the weekend with the poet/exotic dancer. My only disappointment is that we won't be able to see it.
Back to Richard Castle Investigations. Rick took the murder of Eva and Cole to heart, somehow believing that his inadequacies led to their deaths. The truth was that he had nothing to do with their deaths and he may have been the only person capable unraveling the complicated story of their murders. 
I was proud of Kate for encouraging Rick to take some time before he threw in the towel as a P.I. As she pointed out, he's put a lot of time and effort into this endeavor. But as much as I've enjoyed this story arc and I love his office, I think it's played itself out. 
What do you think TV Fanatics, should Richard Castle Investigations close its doors in the hopes of Castle finding his way back to the 12th?
You can always watch Castle online any time here at TV Fanatic.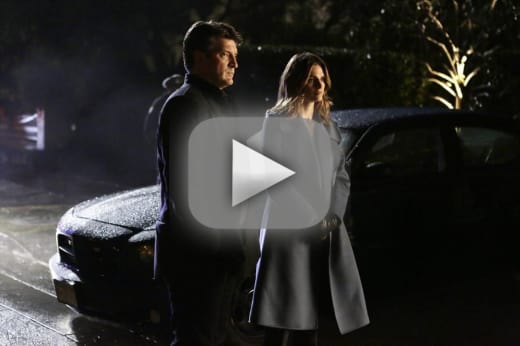 For the record: Castle Season 7 Episode 14 will be titled "Resurrection" and air on Monday, February 9.
C. Orlando is a TV Fanatic Staff Writer. Follow her on Twitter.