Black Sails Season 2 Episode 4 Review: XII

Henry A. Otero at . Updated at .
There were several power struggles this week, but ultimately each character made a definitive choice.
The highlight of Black Sails Season 2 Episode 4 was of course, Captain's Flint and Vane fighting over the fort that protects the island. Throughout the episode, I wondered whether or not Flint would back down. The answer came in the closing scene.
So far this season, each episode has propelled the story forward delivering a powerful hour of television.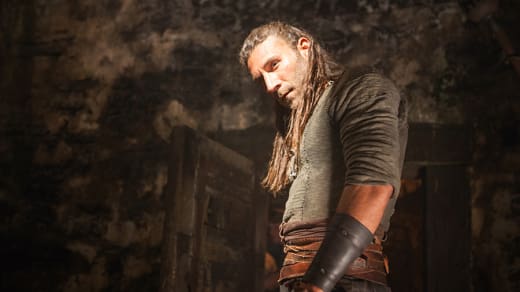 Though Captain Flint issued an ultimatum demanding Vane abandon the fort, I had this feeling he wouldn't intentionally destroy the island's primary defenses. Boy was I ever wrong. The showdown proved interesting, but it was no surprise Eleanor got involved.
Wasn't it curious watching the pirates revert to a more civilized behavior the second Eleanor stepped aboard the ship? They all stood up like gentlemen when she entered Flint's cabin. I've always been impressed by the strength she exudes, though she may be crumbling on the inside.
Eleanor: Captain Vane's issued a reply to your ultimatum. It's being read aloud on the beach as we speak. I think you should see it.
Flint: Give us the room.
Hornigold: I have as much right...
Flint: Now please. You must ask yourselves who represents the greater threat to your interests. My men in this fort or the madman on the water.

I tend to agree with Flint, that letter was way too cleverly worded to come from Vane. Did Eleanor have a hand in it even though she denied it?  Still, Vane was clever enough to make sure his ransom note for Abigail Ashe was delivered before anything went down at the fort. He set his backup plan in motion quickly; 250k pounds was a nice chunk of change.
Wasn't it great the way Silver knew he was the one going down to the beach to appeal to the crowd? I was as surprised as Silver was that Flint asked for his opinion. They sure have come a long way those two haven't they?
However, Silver did say it's all about the gold for him. Whereas on Flint's end, some respect and dare I say it, friendship, seems to have developed. Of course, I could be reading that completely wrong and it wouldn't be the first time. It was pretty ballsy of Silver to tell Flint it must be awful to be him. He's such a different person from the guy in the flashbacks.
Each episode I'm shocked by how much I like Thomas Hamilton, never imagined I would. Flint's betrayal is going to be devastating in much the same way it was with Gates. Isn't it amazing how we can loathe and love the guy from one minute to the next? The flashbacks have proven invaluable in allowing us to get a real feel for their relationship.
Hamilton: When my father arrives, I would like to propose to him that we don't hang the pirates; that we pardon them.
Flint: I'm sorry, what was that?
Hamilton: I want to pardon them.
Flint: You want to pardon them?
Hamilton: Yes
Flint: How many?
Hamilton: All of them.
Flint: Alright.
Hamilton: The island needs commerce to survive. It needs labor, it needs men and women vested in its interests. Don't these men fit that description? Couldn't they become part of the solution?
Doesn't that plan sound like a turning point in their friendship to you? I wonder if during those conversations something clicked inside Flint that lead him down his current path. After all, if Hamilton's plan worked he'd have his freedom and a real future on Nassau. Was this the beginning of his downfall?
On the beach, Silver learned that Billy Bones was alive. Though Silver will probably keep things under wraps for a while, it's just a matter of time before Billy makes a move. Things are going to get very complicated for Flint, especially since the first word out of Billy's mouth was Gates.
Yet another power struggle this week took place between Eleanor and Miranda Barlow. Sure, Eleanor had a strong case, but she overstepped asking Miranda if she cared about Flint. Seriously?!? Yeah, that would have pissed me off too.
Rackham and Max had their own little power struggle over Anne. I wasn't sure how this "love triangle" arc would measure up to the rest of the storylines this season, but things are getting interesting. Apparently, Anne is completely aware of the game Max is playing, yet she's enjoying herself way too much to worry.
Max: What is happening here - the three of us - it is only temporary. A state of denial until she finally makes a choice.
Rackham: A choice between you and I? Anne and I have been by each others sides since she was thirteen years old. We have sailed together, we've killed together, we have shared things you couldn't begin to imagine. You've shared a bed with her for a week.
Max: You would be amazed what could change in a week in my bed.
When Max talked of sex versus seduction, I think Jack realized she did indeed pose a threat. However, it didn't take long for Anne to make her choice asking Jack to have her back. Max has worked hard to set Rackham up with his new crew, I wonder what else is behind it.
Yes, Hamilton's father proved to be as close minded as Flint expected. Thomas held his ground though and Flint ultimately made his choice by throwing the old fart out of his own house. Brilliant wasn't it? I'm telling you, this relationship with Hamilton is a real highlight this season. Still, I can't help wonder if Flint had selfish reasons for supporting the controversial plan.
Finally, Eleanor made her choice taking Captain Vane's side in order to avoid the destruction of the fort. With Flint deciding to attack in the final moments of the episode - and despite Mr. Scott's brilliant speech - he sealed the fate of his relationship with Ms. Guthrie. Is there any going back?
What did you think of this week's installment? Was annihilating the fort a small price to pay for Vane's removal? Did Eleanor make the right choice? Your turn guys, hit the comments and share your thoughts on tonight's Black Sails!
As always, remember you can watch Black Sails online via TV Fanatic if you need to catch up.
NOTE: Black Sails Season 2 Episode 5 is titled "XIII" and airs on Saturday, February 21.