Togetherness Season 1 Episode 2 Review: Handcuffs

Amanda Festa at .
Togetherness is not a show for those looking for immediate satisfaction. In fact, if Togetherness Season 1 Episode 2 is indicative of the show's trajectory, each half-hour episode functions more or less like a puzzle piece, giving viewers an increasingly clearer picture, but leaving us to wonder what the final image will be.
If Togetherness is a puzzle, episode 2 titled "Handcuffs" would be a middle piece. While it gives us some further insight into the characters, it only slightly builds on the things we already learned in Togetherness Season 1 Episode 1. It gives us an idea of where the show may take these characters, but it seems to lack the momentum to get us from here to there. 
Nonetheless, the episode continues to provide a self-deprecating look at the stagnant, jaded adulthood of these four characters. Where the show may be slow to move when it comes to plot, it is expert at creating believable and sympathetic characters.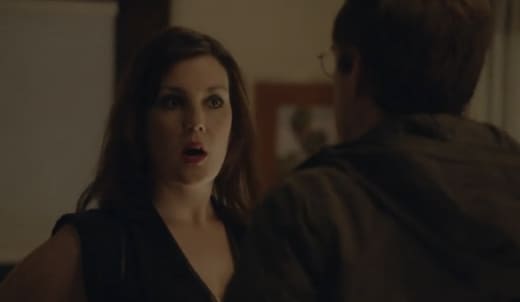 The series appears to be a conversation of the big questions (What are we doing? Why are we here?), told through the lens of existential suburban dissatisfaction.
It's that every part of my life... I know what it's going to look like.

Michelle
We first see Brett trekking through the Southern California outdoors. He is above the city, mic in hand, and he cordially greets an approaching coyote with the aplomb one would normally show to a house cat. He is in a rare position of power. Until we learn that Brett is a sound editor for a television crime drama, and his wilderness adventure was to record coyote sounds to be used as background noise for an episode. Turns out, his director prefers factually inaccurate wolf noises and his efforts are rewarded with a glorified time-out. 
I respect the hell out of your sonic acumen, but your coyotes sound f*cking stupid.

Director
And if Brett is unsatisfied at work, it is Michelle whose desires aren't being met at home. Brett and Michelle love each other, clearly, but their lives have taken a turn for the predictable. Their sex life has become the performance of an expected sequence of actions and Michelle is the first to admit she is not turned on by the routine. Brett, she laments to Tina in a stand-out scene, refuses to lose control. 
Yea, it's kissing, neck kissing, boob grab, genital touching, get the pillow.

Michelle
Even his nurturing behavior, a habit of placing a pillow behind her head to cushion her neck, has begun evoking a reverse Pavlovian response. It turns out she wants heat, the unexpected, and perhaps a little less concern for her ergonomic comfort.
With Tina's prodding, she starts planning a seduction, collecting erotic supplies and buying a lock for their bedroom door (all while wearing a baby bjorn!) -- prep for a little beginners BDSM that she may have picked up from her recent foray into 50 Shades of Grey. 
Tina: Who wears pantyhose?
Michelle: Kate f*cking Middleton
Meanwhile, the episode similarly deals with Alex's own sense of urgency (or lack thereof). He was told by his agent that he is a "tweener" -- too overweight to be a leading man, but not slovenly enough to play the unkempt supporting role.
Facing a Robert Frost type situation, the well-trodden road leads to pizza. But Tina insists that she can whip him into shape and get him back on top. As she coaxes him into tossing an entire pizza into the trash (my own personal existential nightmare), she asks: "When this is gone, what's going to replace it?"
And maybe that is one of the larger questions Togetherness asks. As Michelle takes on the role of pseudo-dominatrix, she can barely muster the strength to order Brett to his room without the inflection of a question seeping into the sentence.
These characters are bored, unhappy and dissatisfied, and are each on their own slow-moving mission to change their circumstances. But once they do, the question remains, will they be happy?
What did you think of the episode? Which of these well-drawn characters is the most relatable? What do you think is in store for Brett and Michelle? Is anyone shipping Alex and Tina? Let us know in the comments!