The Taste has always been an intense cooking competition, but on The Taste Season 3 Episode 6, there were tears, tempers, and screaming declarations. What else would you expect from the semifinals?!
Fittingly, the theme was "bring the heat" with a focus on spicy food. But some of the cooks were able to handle that idea better than others.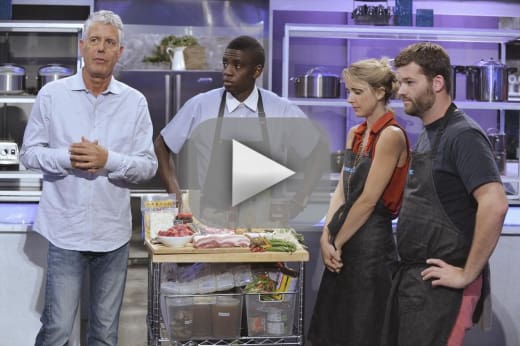 Before we get into the competition, we've got to talk about some of the emotion that was brought out this week. There's a reason why cooking shows are popular and why there are so many of them, and that's because food is something we are all able to relate to in some way. When Marcus asked Gabe what has inspired him to cook so well, his answer was all about his family. This was certainly something that Marcus was able to relate to.
Food can give you this sort of, sense and place of home. That's what this is about. Cooking from your heart, from your gut.

Marcus
This show is also inherently voyeuristic, even from the opening credits. We're watching the cooks prepare food and describe tastes in a way that it almost sensual. That's the point, isn't it? After all, the title is The Taste, and the focus has been on the pleasurable experience of eating food.
I do wish, though, that some of it wasn't so rushed. I've said this before, but I would love the chance to see more of how the cooks prepare their dishes.
You know what else I'd like to see more of? Nigella. I think she could have been useful in other ways once her team was eliminated, but instead, we barely saw her. What we did see was more of Ludo flipping out and more of Anthony antagonizing him. At least those bits are entertaining, and I like to see the competition between the mentors -- it shows how much they care.
As for the competition itself, that's where those tears and tempers come in. The drama always comes out when the chefs are asked which of their own teammates should be sent home. I honestly hate that. It doesn't seem productive to me. Of course, this time, it was actually very productive for Vanessa, who used one of Anthony's own arguments to convince him that she should stay.
Boy did that piss everyone else off, though. In her place, Tarik was sent home in the team challenge, who the other contestants regarded as a great cook with "class." Still, I understood Anthony's reasoning, especially since Vanessa had suggestions that might have helped her team stay in the game had someone just listened to her.
The individual challenge split the remaining six cooks in half, with three of them receiving gold stars and the other three receiving red stars. By the way, check out the bling on Gabe's apron at this point, kids! He might be the one to win this whole thing.
Jen has been our fighter all along, and she proudly raised her hand to say that she could handle a taste off. This time, she was spared from that challenge and sent right on to the finale.
In the taste off were Eric and Vanessa, both from Anthony's team. At this point, they are rivals, especially since last week on The Taste Season 3 Episode 5.
I appreciated that this time in the taste off, Anthony stayed out of the mentoring. What I appreciated even more was that the other cooks, from other teams mind you, gave advice from the sidelines. Even Eric acknowledged how Ben didn't have to step up and help him, but that it shows what kind of man, and what kind of a professional, that Ben is.
In the end, Vanessa did end up getting sent home, and she was devastated.
That means that Jen, Ben, Gabe, Tristen, and Eric are all headed to the finale next week!
What did you think of the competition this week, and which cook do you hope wins it all? Leave your thoughts in the comments below!
Need to catch up on past episodes? You can always watch The Taste online via TV Fanatic!
Ashley Bissette Sumerel was a staff writer for TV Fanatic. She retired in September 2017. Follow her on Twitter and on Google+.