The Simpsons Season 26 Episode 10 Review: The Man Who Came to Be Dinner

Stacy Glanzman at . Updated at .
That was an interesting and somewhat unusual installment.
The Simpsons Season 26 Episode 10 focused completely on the main family members and barely featured any of the supporting characters other than Kang and Kodos and briefly Grandpa. 
For the second time this season, we are treated with Homer exclaiming "What the? This isn't Halloween!"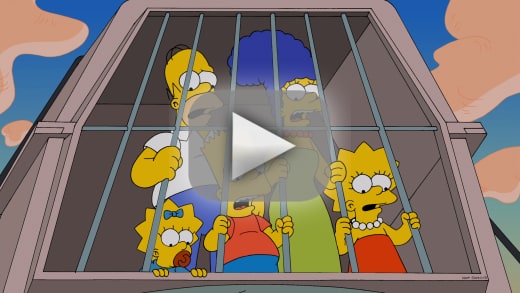 Seriously, what is with all the Kang and Kodos this season? I don't get it and I'm not sure I like it. It was a funny episode and it featured some great lines which can be found on The Simpsons quotes page, but I wouldn't put these two anywhere near the top of my favorite supporting characters. Are they going to keep popping up all season? Is this leading up to something in the season finale perhaps? I'm curious to find out.
I really enjoyed the parallels drawn between the trip to Dizneeland and the visit to Itchy and Scratchy Land. Practically every time I go to an amusement park I make a comment about parking in the Itchy lot. Maybe now I'll switch it up to the Ethnic Princess lot. I wish we could have gotten a glimpse of a Bort license plate in a gift shop window or something. 
While we're on the subject of shout outs to past episodes, how great was the scene of Homer and Bart floating around catching potato chips? Deep Space Homer and Itchy & Scratchy Land are two great, classic episodes and it was awesome for long time fans to get these little throw backs.  
Despite the call outs to past episodes and some funny lines, the actual plot was a little weak. As I mentioned, Kang and Kodos are not my favorite characters and I'm starting to get tired of them. They work best in small doses and I'd rather limit them mostly to the Treehouse of Horror episodes. 
What did you guys think? Are you getting sick of Kang and Kodos being thrust upon us all season? Did you miss not having more of the other supporting characters? I'm not counting the pictures flashed at the very end as appearances but speaking of those, it was strange they went for the Star Trek references at the end. Considering they started out spoofing Disney, Star Wars would have been more appropriate. 
If you didn't find the time to catch up during the holiday hiatus, you can always watch The Simpsons online here. 
Stacy Glanzman was a staff writer for TV Fanatic. She retired in March, 2019.