The McCarthys Season 1 Episode 9 Review: Sister Act

Krystal Sondel at . Updated at .
It was a night of sibling rivalry on The McCarthys Season 1 Episode 9.
As Marjorie's sister Eileen came in to town, Marjorie and the family worked out their talking points to list all the "great" things that happened to the family over the past year.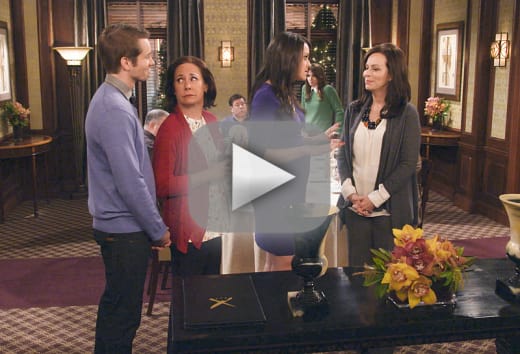 It made me flashback to those Christmas cards I watched my Mom open growing up. You know what I'm talking about. The ones where the family inserts a two page letter to tell you all about the wonderful things that happened throughout the year along with an absolutely perfect picture of the family in some tropical location. 
Come on, we all do it to some extent. We play up the good because frankly, we like to talk about ourselves. It's not a bad thing. We want to impress, we want to have amazing things happen to us all the time, but the honest truth is that sometimes a year goes by and nothing extraordinary happens at all. 
Which brings me to Marjorie's final comments of the episode – finding out that while her sister's kids are accomplishing lots of things, she never gets to see them. Meanwhile, The McCarthy children are always around. 
It's a tough balance to find, and is one I struggle with. How do you find time for everything? I know I've used the excuse that I've been too busy before, and this episode gave me a chance to remember what's really important; getting to play trivia with your family (or in my family's case, The Game of Things).
At the end of the day, relationships are really what's most important and, if you ask me, the McCarthys have that covered. 
There have been rumors floating around the TV world that The McCarthys may not make it past its first season. I hope they give it a little more time. While the last episode fell flat for me, things were back on track tonight, and it's been fun watching the McCarthy family dynamics. 
Guest star Jane Kaczmarek was great at Eileen. Her and Laurie Metcalf (Marjorie) look like they could actually be related. They had great chemistry as on-screen sisters. 
While I really enjoyed tonight's installment, I do have one some what major gripe about the writing tonight. Hey writers of the world, Buffalo is not a bad place to be. In fact, it's been undergoing a pretty incredible renaissance the past few years. Let's pick a new city to mock. Please?
On the flip side though – "triv and let die" was pretty genius.
Would you be bummed if The McCarthys was canceled? What is that perfect balance between never seeing family and having them over your house too much?
Comment below and let me know your thoughts. Don't forget you can watch The McCarthys online; you can even watch with the whole family.
Krystal Sondel is a staff writer for TV Fanatic. Follow her on Twitter.