The McCarthys Season 1 Episode 10 Review: Hall of Fame

Krystal Sondel at . Updated at .
On The McCarthys Season 1 Episode 10, we learned just how far Marjorie will go to shield one of her twins from feeling left out. 
It was Gerard she tried to protect tonight, after Sean finds out he is going to be inducted into the high school hall of fame.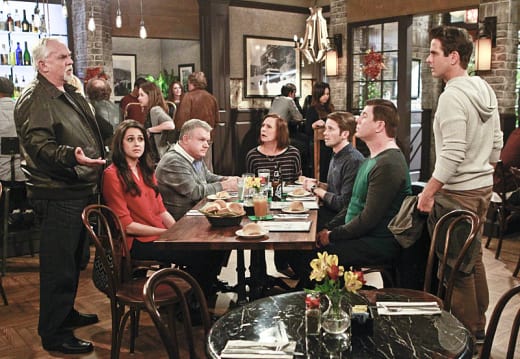 Marjorie has this thing about lying. Whether or not it's to protect her family, it's still lying. She is such an over-the-top character, you just have to shake your head. It's clear she means her best, but she really doesn't always know the right way to get there. I've been trying to come up with a character in television to compare Marjorie to when I tell people about the show, but Marjorie really is in a league of her own. It's some of her charm, but many times it is a little too over the top for me. 
Once her lies are exposed to Gerard things get awkward, but in true McCarthy style, they end on a happy note and we delve a little deeper into other McCarthy twin. I thought it was a great moment for Sean to call Gerard out and tell him that this was the one thing he was good at, and Gerard ruined it. That was some real talk there and I'm glad Gerard came to his senses and offered some great comments about Sean at the podium during the induction ceremony. 
Props to the writers for their line about McCarthy bingo; poor Ronny, he was the only one who didn't get a chance to get up to the podium – and he's the voice of reason in the McCarthy family. Even Jackie said some words about Fatty and let everyone (including Fatty's Mom) know she is pregnant with his child. I'm not going to lie, that storyline is a little creepy to me. I'm not sure how it will all play out for Jackie, but I'm still baffled as to why they are not having her "show" yet. The show started in October so she's a good four months pregnant now.
As usual, Arthur stole the show once again for me – he was the only who finally admitted to Gerard that he wasn't being inducted and his long winded speeches were great. Throw in his textmail and cassette comments and I just want to give him a big hug.
The McCarthys continue to be a fun break from reality on Thursday nights. Five more episodes to go, and then hopefully we get another round of The McCarthys next season. The ratings are slowly creeping up, so my fingers are crossed. 
Don't forget you can watch The McCarthys online if you aren't a fan yet to give it a try. Give it a few episodes and then you will be hooked – like me!
Which McCarthy character is your favorite? Do you have a family member who gives long winded speeches? Comment below, and let's keep the discussion going. 
Krystal Sondel is a staff writer for TV Fanatic. Follow her on Twitter.